A Guide to the New Romantic Comedy Power Couples to Love for Years to Come
Has this summer's rom-com wave given us the new successors to Meg Ryan and Tom Hanks?
---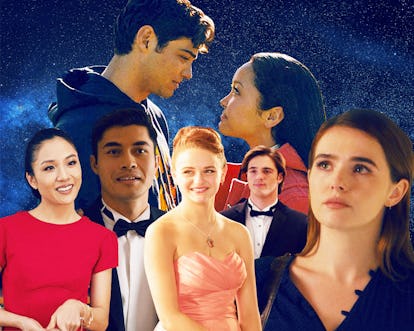 In the '90s, the queen and king of romantic comedies were, arguably, Julia Roberts and Richard Gere, who sizzled together in Pretty Woman and then re-created their chemistry in Runaway Bride nine years later. Of course, Meg Ryan and Tom Hanks also had a claim to that rom-com throne, going head-to-head in the Nora Ephron classics Sleepless in Seattle andYou've Got Mail. A few years later, in the '00s, came Renée Zellweger and Hugh Grant and their feisty repartee over three Bridget Jones movies (and counting?).
But it's 2018 now: Who are the iconic romantic-comedy couples of today? It's safe to say that for much of the past decade, there has been a dearth of charming leading ladies and gentleman starring and sparring in romantic comedies that didn't feel stale or tired—until now.
This summer, romantic comedies from streaming platforms to the silver screen have ushered in a whole new crop of couples you'll likely see opposite each other over and over again—we've got a new Internet Boyfriend (Noah Centineo from To All the Boys I've Loved Before and Sierra Burgess Is a Loser), friendly yet decidedly hunky leading men (Henry Golding from Crazy Rich Asians and Glen Powell from Set It Up), and plucky and often career-oriented leading ladies who are more than their match (Zoey Deutch in Set It Up, Constance Wu in Crazy Rich Asians, and Lana Condor in To All the Boys I've Loved Before).
In an era where the romantic comedy has waned, the streaming power of Netflix and the feel-good narrative of Crazy Rich Asians has reinvested the genre with the power to make its leading talents into stars together. And this summer, the most popular rom-coms are offering new meaning to the term "couple goals."
Henry Golding and Constance Wu in Crazy Rich Asians
Crazy Rich Asians is killing at the box office, and a sequel has already been given the go-ahead. If you've seen it, none of those statistics should come as a surprise—the movie, which is based on the book of the same name by Kevin Kwan, hits that sweet spot of family drama, cutesy romance, and some incredibly mouth-watering food scenes, and Constance Wu and Henry Golding are both equally charming as Rachel Chu, a Chinese-American economics professor, and Nick Young, the heir to a Singapore-based real-estate magnate. It cannot be stated enough how important it is to watch two Asian leads fall in love in a movie that is backed by an American studio and features an all-Asian cast. Not since The Joy Luck Club debuted in 1993 has there been a Hollywood film with a predominantly Asian cast, and that predecessor was not exactly a lighthearted rom-com. You'll definitely see these two play opposite each other again, especially now that the sequel has been green-lit, but don't hesitate to believe they'll be cast as the leads in other big blockbusters from now on, too.
Zoey Deutch and Glen Powell in Set It Up
She's an assistant, he's an assistant, and both of their bosses are nightmares. So they come up with a plan to make their bosses fall in love by hijacking their calendars so that they can pencil in free time for themselves. Even though they kind of can't stand each other, they somewhat predictably end up falling for the other in New York City. Zoey Deutch descends from a family of '80s film stars—her dad is Howard Deutch, who directed Pretty in Pink and Some Kind of Wonderful, both written by John Hughes, and her mother is Lea Thompson, from the Back to the Future trilogy—so it makes sense that she absolutely nails the trope of the goal-oriented matchmaker who must swallow her pride and fear when she realizes the frat-boy coworker frenemy played by Glen Powell is actually in love with her.
Joey King and Jacob Elordi in The Kissing Booth
The main plot of the The Kissing Booth focuses on the clandestine relationship between a high school freshman named Elle, who falls for her best friend's older brother Noah. It's a forbidden romance not because the age gap between Elle and Noah is a little bit questionable (she's just beginning high school, and he's about to head off to college, but the actors who play them are barely two years apart in real life), but because Elle and Lee (Noah's brother) made a pact that they would never date each other's siblings. The film's politics are regressive (Elle is told she was "asking for it" when she wears a short skirt to school and is catcalled by her peers), and Noah's bouts of aggression are hardly handled with tact. But you can't deny the chemistry the bubbly Joey King and Jacob Elordi have onscreen. In fact, their chemistry was so palpable they took their relationship off-screen and are now dating IRL, and you know what? Good for them! That's maybe the only salvageable component of this movie, and probably bodes well for their future of playing romantic opposites.
Noah Centineo and Lana Condor in To All the Boys I've Loved Before
When Lara Jean Covey's secret love letters are accidentally delivered to their intended recipients, her life is turned upside down, so she agrees to perform a fake relationship with one recipient, Peter Kavinsky. Droves of adult women are thirsting over Noah Centineo (he's 22 years old) online because of his performance in To All the Boys I've Loved Before as Peter, a surprisingly sensitive lacrosse bro. But Peter makes a good case for romance—he's a caring jock who is fully invested in protagonist Lara Jean's personal growth, not to mention he is a romantic at heart. The response to To All the Boys I've Loved Before and Peter Kavinsky is just one more shining example of the power romantic comedies have to turn their lead actors into superstars. In one weekend, Noah Centineo achieved "Internet Boyfriend" status, and soon he'll star as the love interest in Sierra Burgess Is a Loser and The Stand-In, two more rom-coms aimed at young adults. Lana Condor has become a cultlike figure in her own right, and she only recently made her big-screen debut in the X-Men franchise. The internet's obsession with Peter and Lara has sparked discourse online about the positive representation of an Asian-American protagonist who gets the boy in the end, and To All the Boys I've Loved Before propels the shift towards more socially conscious narratives (Condor's Lara Jean is Korean-American, and the film even takes a stab at calling out the racist tropes on display in its '80s predecessors) for teens. To All the Boys I've Loved Before is also based on a trilogy of books, so the potential for a sequel or two is there. Surely we'll get that Netflix press release any day now this summer.
Related: Noah Centineo From To All the Boys I've Loved Before Responds to Becoming the Internet's Newest Boyfriend