Crazy Rich Asians Takes First Place at the Box Office
Insert 'crazy rich' pun here.
---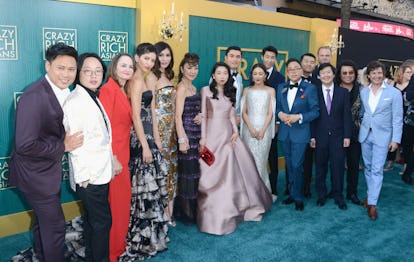 Albert L. Ortega/Getty Images
Crazy Rich Asians has taken the No. 1 spot at the weekend box office, beating out shark-attack thriller The Meg and Mark Wahlberg's movie about…some guy with a gun?...Mile 22. Warner Brothers opened the romantic comedy, the first all-Asian-American film by an American studio in 25 years (the last was 1993's The Joy Luck Club), with a wide release on Wednesday, a canny move that got good word-of-mouth brewing before the weekend. With rom-coms, audiences often like the films more than critics, so getting the buzz going may be what helped launch CRA to the top spot. That and the fact that Asian-American audiences are understandably hungry to see themselves represented onscreen.
According to Deadline, the flick finished with $25.2 million for the weekend, and has amassed a total of $34 million since its midweek release. That means the film has already easily made back its reported $30 million budget. It is also the best debut for a romantic-comedy since Amy Schumer's Trainwreck in 2015. For a fuller perspective, the opening weekend was bigger than for those recent classics of the genre like How To Lose a Guy in 10 Days, Crazy, Stupid Love, Notting Hill, and all of the Bridget Jones films, among others.
The site also reports that the film's opening week audience is around 38 percent Asian, one of the highest turnouts of all time, but indicating wide appeal with the 62 percent that is not Asian. Sixty-eight percent of the audience is female, not surprising for a romantic comedy. Still, the big business would also suggest that audiences were more than ready for the first true event rom-com in some time.
Headlined by fast-rising star Constance Wu, Crazy Rich Asians is the story of Rachel Chu (Wu), an American-born professor who suddenly finds herself in a world of high glamour when she visits Singapore with her boyfriend, Nick Young, who, it turns out, is from one of the richest families in the country. Directed by Jon M. Chu, the film is adapted from Kevin Kwan's popular novel of the same name. In fact, it's just the first in a series of three novels about Rachel and the Young family. So, does the strong turnout mean we're going to see big screen versions of China Rich Girlfriend and Rich People Problems? Nothing's been announced yet. But we wouldn't be surprised. It's a film literally about the buying power of the Asian market, which Hollywood studios are more and more dependent on for tentpole superhero franchises. It's about time the romantic comedy world wises up to it, too!
Related: Constance Wu's Hand-Embroidered 'Crazy Rich Asians' Premiere Dress Took 765 Hours to Make
2017 Beauty Trends: See the Best Hair, Makeup, and Nails of the Year