The Incredible Jessica Williams Is an Unconventional New Rom-Com Heroine
The actress, comedian, podcast host, and former Daily Show correspondent discusses her new Netflix film, The Incredible Jessica James, and her budding friendship with J.K. Rowling.
---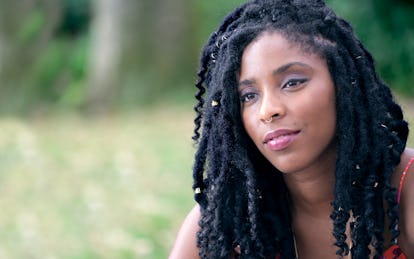 Courtesy Netflix
Jessica James is on a Tinder date. Reeling from a recent breakup, the Brooklynite played by the actress and comedian Jessica Williams in the new romantic comedy The Incredible Jessica James, out today on Netflix, sets out to rebound with a stranger who seems to promise quick, uncomplicated sex ("Want to bone?")—but when she arrives to the date, all she finds is small talk. Jessica intervenes: "I'm going to stop you right there, because I'm not loving the vibe of this whole interaction so far. I would literally rather have my period for a thousand years non-stop than to continue this portion of the conversation."
Just minutes into the movie from director James C. Strouse, we realize Jessica isn't your average rom-com heroine, and that The Incredible Jessica James, which premiered at Sundance earlier this year and was quickly scooped up by Netflix, isn't your average romantic comedy. Its protagonist, a playwright who keeps stock of her rejection letters and teaches at a youth theater nonprofit, is fiercely independent and radically honest. Co-starring Noël Wells as Jessica's best friend Tasha, Lakeith Stanfield as her ex-boyfriend, the sublimely good-looking Damon, and Chris O'Dowd as Boone, the recent divorcé with whom Jessica finds an unlikely connection, the film has all the rom-com tropes—the ex she's trying to make jealous; the straight-talking best friend; the odd match she may or may not eventually fall for. But at the same time, like fellow Sundance-approved breakout hit The Big Sick, it subverts those tropes in an unmannered fashion. For one thing, its protagonist is a woman of color, and her new love interest is white, but the film makes little of the politics of their relationship. Throughout conversations promoting this film, Williams has said that, while it's certainly important for race to be discussed in movies, not every one with nonwhite characters requires it.
"We get to exist. We get to have fun and be silly, and we don't necessarily have to have a discussion about race in a particular narrative," she said. "Some narratives we should, absolutely—and other narratives, oh, cool, we can just exist for the day and it's fine. There's so much room for both."
Williams, 27, also executive-produced the film, helping to develop a character that had been written specifically for her. She had appeared in director Strouse's 2015 effort, People Places Things—another Sundance-approved romantic comedy featuring an interracial couple, this one starring Regina Hall and Jemaine Clement—and, apparently, he was taken with her performance. "He said, 'I can't wait until somebody writes you a movie,'" Williams recalled. "Then, he said, 'You know what, I can write you a movie.'"
"More women of color should be involved in front and behind the camera, because we're pretty wicked, and we have a lot of values to add," she went on. "You always want different perspectives—you don't want to create in a vacuum. That can be really dangerous." And in addition to its understated treatment of race, The Incredible Jessica James represents both marginalized groups and complicated family dynamics that are seldom given space in the same film. Tasha is queer; one of Jessica's most diligent acting students, Shandra, is the daughter of a single mother, and her navigation of a recent custody battle forms a minor arc in the film.
And unlike much onscreen romance, sex in The Incredible Jessica James is rooted in female pleasure: After their first date, and having agreed they don't want to hook up, Boone and Jessica find themselves walking the same direction home. (Who in New York hasn't left a subpar date only to head to the same subway?) She giggles at something he says, tells him he's funny. "Yeah," he says. They walk a few more steps. "I'm also good at cunnilingus," he adds. She wakes up in his bed moments later.
It might seem that this would be the result of a woman's perspective behind the camera, but according to Williams, these moments were all Strouse—and "female pleasure rules," she added. Through improvisation and numerous conversations about the direction of the film, they made an effort to create dialogue that sounded as natural and real as possible—and at times, this means Jessica appears to be speaking almost directly for Williams.
"I am a 6-foot tall black woman and I have been since I was about 13 years old," Williams recently told Terry Gross, mirroring a line Jessica speaks in the film. "As a comedian and improviser and somebody who did a lot of sketch and was an actress, I got tons of rejection early on." That is to say, Jessica shares a lot with the woman who plays her, but she's also far more outspoken. In the opening scene, Williams would not have been so forthright: "I would have just awkwardly waited and then sort of dodge his kiss at the door," she said. "Then, I would have deleted Tinder and texted my friends about it." She paused. "And then I would have downloaded it again two weeks later." (In real life, Williams did once Tinder—"a long time ago," she said.)
The Incredible Jessica James finds Williams as the leading lady for the first time in her career—but, while she remains perhaps best-known as a former correspondent for The Daily Show with Jon Stewart and as the host of the hit podcast 2 Dope Queens with Phoebe Robinson, as a child, she had aspired to film and television.
"Lately, I've been thinking about what young me would think of me now," she mused. "I'm like, 'Oh, yeah, kind of cool.'" "Kind of cool" also applies to her new friendship with J.K. Rowling, whom Williams recently met in London. The actress, who has been reading Rowling's books since she was 10, didn't anticipate such a viral response to the Instagram she posted of her second meeting with the Harry Potter author—"She's still a new buddy," she said. "I'm just trying to, like, be cool." She laughed. I wondered why they weren't wearing shoes in the photo—and, scrolling through the comments, I realized others had picked up on the detail, too. So I asked Williams.
"I cannot disclose," she said with another giggle. "I cannot disclose."
Former Daily Show correspondents Samantha Bee and Jason Jones on falling in love: