Everyone We're Hoping Will Join Nicole Kidman in the Upcoming Roger Ailes Movie
There are still plenty of roles left to be filled—including that of Ailes himself.
---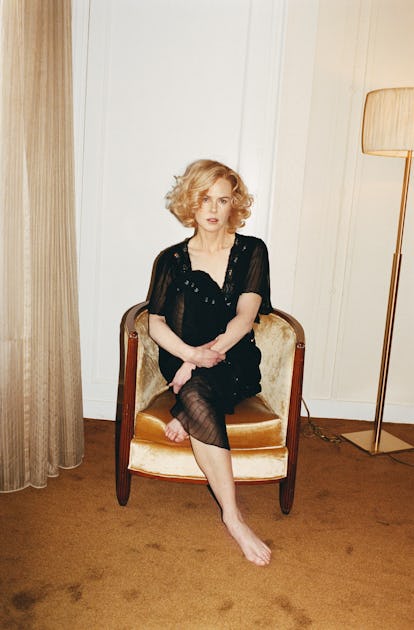 Photographer: Juergen Teller Stylist: Zoe Bedeaux
The cast of the director Jay Roach's upcoming film about the late former Fox News chairman and CEO Roger Ailes, which will no doubt be a story of demise, is starting to look livelier than ever. First came the announcement that Charlize Theron would take on the role of the former Fox News host Megyn Kelly, one of the biggest names to publicly allege she'd been abused by Ailes, after Gretchen Carlson opened the floodgates for dozens more to follow by filing a news-breaking sexual harassment lawsuit against her former boss, just two weeks after she left the network.
Now we finally have an idea of who'll be playing the former Fox & Friends host Carlson: none other than Nicole Kidman. While the news has been met with fervor, it has yet to be confirmed, leaving us wondering who else might appear in what's sure to be a(n extremely disturbing) blockbuster. (Particularly since another powerhouse Hollywood blonde, Margot Robbie, is rumored to be joining the cast as well.) Since only the best could tell such a serious story well, here's our wish list for who should fill in the remaining role, complete with apologies to some of the actors—and a bit of schadenfreude.
Katherine Heigl as Megyn Kelly
No offense to Charlize Theron, but since the cast is still being firmed up, it's good to have a few backups in mind. In case she doesn't end up playing yet another atomic blonde, it's reassuring to know we have Katherine Heigl, who could in fact fill in for plenty of the blondes with a hint of edge about them on the roster.
Laura Dern as Ann Coulter
There has to be a little light to be found somewhere in the film, and while a cameo from the conservative commentator Ann Coulter doesn't exactly seem like it'd fit that bill, it definitely would if it meant a little Laura Dern.
Jason Bateman as Tucker Carlson
Jason Bateman's almost always the good guy, but we know he's got it in him to take on the role of Tucker Carlson, whose Fox News show now airs during O'Reilly's former slot.
Leonardo DiCaprio as Sean Hannity
Now that he's an Oscar winner—and getting along in his 40s—Leo has proven himself enough of a master of transformation to take on the role of Fox News's host of the Sean Hannity Show. (At least if he ever gets rid of that facial hair.)
J.K. Simmons as Rupert Murdoch
Though he's more than two decades younger than Murdoch, J.K. Simmons could still get into character for the 87-year-old with some tuftier eyebrows, a pair of thick-rimmed glasses, and the right cosmetic magic.
Ann Dowd as Greta Van Susteren
She may be nowhere near as much of a villain as Aunt Lydia in the Handmaid's Tale (or, for that matter, most of those on this list), but Greta Van Susteren, who left Fox, defended Ailes, and then said she regretted that defense, all in 2016, is a role that needs to be played nonetheless. And Ann Dowd is more than equipped to do it.
Ashley Tisdale as Tomi Lahren
At just 25 years old, Lahren was no doubt familiar with High School Musical at at least some point during her youth. (Though the role might not have as much appeal to Tisdale, who's currently working on a pop punk rebrand.)
Kevin Spacey as Alex Jones
In a perfect world, Kevin Spacey, who's been repeatedly accused of sexual assault, would never have become an actor. At the same time, though, in a perfect world, Infowars's Alex Jones—who, for example, has had the gall not only to stand by his conspiracy theory that "nobody died" in the "staged" Sandy Hook Elementary School shooting but to ask the parents whose children were victims to pay his legal fees that resulted from doing so—also wouldn't exist. If there's anyone who should have to bite the bullet and play such a real-life villain, then, it might as well be Spacey, in what would be his fittingly awful last hurrah.
Ed Begley Jr. as Steve Doocy
Carlson's former cohost on Fox & Friends, who's still cohosting the show, will no doubt be around in the film—perhaps in the shape of one Ed Begley Jr.
Kristen Wiig as Elisabeth Hasselback
For an impressions pro like Wiig, playing Carlson's replacement on Fox & Friends would no doubt be a walk in the park. She did a pretty good job of it when she was on Saturday Night Live, after all. (And SNL alumnus Adam McKay, whos producing the film, loves to get dramatic turns out of comedians.)
Giovanni Ribisi as Brian Kilmeade
Along with Doocy, Kilmeade was also once part of Carlson's trio on Fox & Friends. He's still on-air, and might soon be yet again in the (more serious) form of Giovanni Ribisi.
Will Ferrell as Bill O'Reilly
Okay, hear us out here. Ferrell's proven himself capable of serious roles in the past, but more importantly, he's proven himself extremely capable of flying off the handle, which was essentially O'Reilly's resting position on the O'Reilly Factor, before (and no doubt after) Fox fired him. (Like Wiig, he's also familiar with McKay from SNL, too.)
Paul Giamatti as Roger Ailes
We're sorry, Paul Giamatti, but someone had to do it—and your forehead just so happens to fit the bill.
Related: The Kellyanne Conway Story Trailer with Diane Kruger Is an All Too Relevant Lifetime Spoof