Kurt Cobain's Nirvana "Unplugged" Guitar Is Awarded to Frances Bean Cobain's Ex in Her Divorce
Her ex-husband is walking away with a piece of history.
---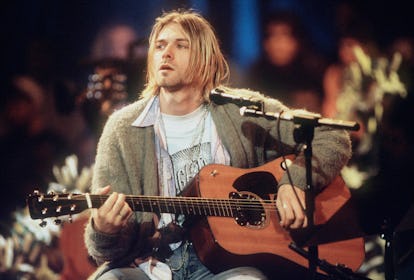 Frank Micelotta Archive/Getty Images
There are few guitars with more history than Kurt Cobain's acoustic one, which he played during Nirvana's 1993 "MTV Unplugged." Now, it has a new owner: the ex-husband of the late artist's daughter Frances Bean Cobain. The lingering legal issues of her divorce from Isaiah Silva, her husband of two years, were just finalized, and he was awarded the 1959 Martin D-18E, TMZ reports.
One year ago, in the midst of their divorce, Cobain filed documents requesting the court to return the guitar to her, which Silva had claimed was a gift from her to him. At the time, Cobain called it a "priceless family heirloom." However, her attempt to salvage the guitar ultimately failed. As sad as it is that Cobain wasn't able to retrieve a piece of her late father who died when she was just one year old, she otherwise made out well in the divorce.
Outside of gifting the guitar to Silva, Cobain will not be giving him anything else. Silva's request for $25,000 a month in spousal support was denied, and he also walked away without the house they bought or reimbursement for his legal bills.
Back in 2015, Cobain opened up about her father's musical legacy, revealing that, actually, she's not really a fan of Nirvana. "I don't really like Nirvana that much. Sorry, promotional people, Universal," she told Rolling Stone. "I'm more into Mercury Rev, Oasis, Brian Jonestown Massacre [laughs]. The grunge scene is not what I'm interested in. But 'Territorial Pissings' [on Nevermind] is a fucking great song. And 'Dumb' [on In Utero]—I cry every time I hear that song. It's a stripped-down version of Kurt's perception of himself—of himself on drugs, off drugs, feeling inadequate to be titled the voice of a generation."
Still, even though she might not put on Nevermind in her own home, Cobain welcomes hearing songs from it and her father out in the world. "I was around 15 when I realized he was inescapable," she said. "Even if I was in a car and had the radio on, there's my dad. He's larger than life and our culture is obsessed with dead musicians. We love to put them on a pedestal. If Kurt had just been another guy who abandoned his family in the most awful way possible .. . . But he wasn't. He inspired people to put him on a pedestal, to become St. Kurt. He became even bigger after he died than he was when he was alive. You don't think it could have gotten any bigger. But it did."
Related: Frances Bean Cobain Has Dreams of Creating the World's First "Comic Book Cookbook"
See Courtney Love and Frances Bean Cobain's Best Mother-Daughter Red Carpet Appearances
Courtney Love and daughter Frances Bean Cobain at the 1993 MTV Video Music Awards at in Los Angeles, California.

Getty
Courtney Love and Frances Bean Cobain during "The Grinch" Los Angeles Premiere at Universal City Amphitheatre in Universal City, California, United States.

Getty
Courtney Love dressed in a slouchy white satin dress and matching hat poses with daughter Frances Bean.

Getty
Courtney Love & Daughter Frances Bean Cobain arrive at an awards show in matching colorful slip dresses.

Getty
Courtney Love & Daughter Frances Bean Cobain attend a movie premiere, again matching in black dresses and festive jewelry.

Getty
Courtney Love and Frances Bean Cobain arrive at the American Idol Finale: Results Show held at the Kodak Theatre on May 25, 2005 in Hollywood, California.

Getty
Courtney Love and Frances Bean Cobain at the Mercedes-Benz Fall 2006 L.A. Fashion Week in Culver City, California.

Getty
Courtney Love and Frances Bean Cobain in Kay Jewelers Celebrity Retreat Produced by Backstage Creations at the 2006 Billboard Music Awards.

Getty
Courtney Love and daughter Frances Bean Cobain attend the Aquamarine premiere in Los Angeles.

Getty
Courtney Love and Frances Bean Cobain attend a Versace event in California.

Getty
Frances Bean Cobain and Courtney Love pose together at an event space.

Getty
Courtney Love and daughter Frances Bean Cobain are seen together during Mercedez Benz Fashion Week.

Getty
Frances Bean Cobain and musician Courtney Love attend the HBO documentary films Kurt Cobain: Montage of Heck Sundance premiere on January 24, 2015 in Park City, Utah.

Getty
Frances Bean Cobain and Courtney Love attend the premiere of HBO Documentary Films' "Kurt Cobain: Montage Of Heck" at the Egyptian Theatre on April 21, 2015 in Hollywood, California.

Getty
Courtney Love and daughter Frances Bean Cobain attend a special In Conversation event with Courtney Love as part of the Liberatum 'Women in Creativity' series presented by St Martins Lane on March 21, 2016 in London, England.

Getty
Frances Bean Cobainand Courtney Love attend LOVE Magazine and Marc Jacobs LFW Party to celebrate LOVE 16.5 collector's issue of LOVE and Berlin 1989 at Loulou's on September 19, 2016 in London, England.

Getty
Courtney Love and Frances Bean Cobain attend the launch party hosted by Christopher Bailey and Jefferson Hack to celebrate the Burberry and Dazed cover featuring Jean Campbell at Makers House on September 20, 2016 in London, England.

Getty
Frances Bean Cobain and Courtney Love attend Buro 24/7 Fashion Forward Initiative as part of Paris Fashion Week Womenswear Spring/Summer 2016 at Hotel Ritz on September 30, 2016 in Paris, France.

Getty
Frances Bean Cobain and Courtney Love attends the Givenchy show as part of the Paris Fashion Week Womenswear Spring/Summer 2017on October 2, 2016 in Paris, France.

Getty
Frances Bean Cobain and Courtney Love attend the Chanel show as part of the Paris Fashion Week Womenswear Spring/Summer 2017 on October 4, 2016 in Paris, France.

Getty
Courtney Love and Frances Bean Cobain attend the 5th Annual Hilarity For Charity Variety Show at Hollywood Palladium on October 15, 2016 in Los Angeles, California.

Getty
Frances Bean Cobain and Courtney Love attend the "Rei Kawakubo/Comme des Garcons: Art Of The In-Between" Costume Institute Gala at Metropolitan Museum of Art on May 1, 2017 in New York City. Photo courtesy of Getty Images.

Kevin Mazur
Courtney Love and Frances Bean Cobain attend KENZO presents La Collection Memento N°2 with a traditional Japanese Kagura performance during Paris Fashion Week,

Victor Malecot
Frances Bean Cobain and Courtney Love attends the Saint Laurent show as part of the Paris Fashion Week Womenswear Spring/Summer 2018 on September 26, 2017 in Paris, France. Photo courtesy of Getty Images.

Dominique Charriau
Courtney Love, Jeremy Scott, and Frances Bean Cobain attend 'Other Peoples Children launch and store opening' at Other Peoples Children on March 8, 2018 in Los Angeles, California. Photo courtesy of Getty Images.

Emma McIntyre