The Boy Who Cried, "Chic!"
Forget "My son, the doctor." Francesca Castagnoli wants her style-obsessed 8-year-old to rule the runway one day.
---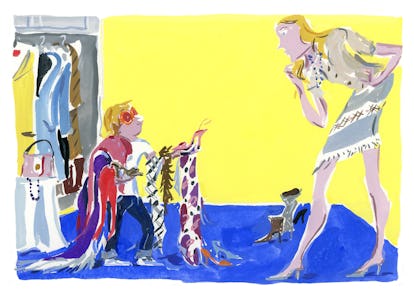 The first hint of my son's interest in glamour came when he was 4. One day at preschool, his teacher told the class that because gym was canceled due to rain, they'd have a makeup class later in the week. For the next few days, Dashiell asked his teacher repeatedly when the makeup class was going to happen. Finally, when Friday came with no sign of it, he demanded specifics. "Is this makeup class going to teach us about the stuff you put on your eyes?" he asked his teacher. "Or just the lipstick?" When she told him it wasn't that kind of makeup class, he was sorely disappointed.
Such fascinations can be a phase, of course, but Dashiell's fixation on style and appearance has persisted. In kindergarten, he had a tantrum because he thought his puffy down jacket made him look fat. And just the other day, my now 8-year-old was running around with a bunch of kids on the playground when he stopped short and shouted, "Nice purse!" to my friend, who had just splurged on a Mulberry Bayswater bag. His spontaneous critiques aren't always so positive. Sometimes when I'm about to leave the house, he'll approach me with a troubled look on his face and a coat or a shoe in hand and say, "Hey, Mom, why don't you try this and this instead?" Usually he's right.
The truth hurts, even when the person delivering it is a decade shy of a driver's license. But the way I look at it, Dashiell's precocious aesthetic sense is a gift far more useful than perfect pitch or the ability to master long division in an afternoon. When I watch him putting on neon soccer socks with madras shorts and a camouflage blazer, I see someone with the potential to influence our culture. There's something in the exuberant mix of Halloween costumes, sports gear, and dapper holiday formal attire he regularly puts together that makes me wish I knew what Junya Watanabe wore when he was a tyke. So while other mothers envision their sons at Ivy League universities or picturesque liberal arts colleges, I fantasize about Dashiell graduating top of his class from Parsons, where he'll learn the really important lessons—like measure twice, cut once.
I don't want to be the fashion-world equivalent of a tiger mom, of course, but I have tried to steer my son subtly toward Seventh Avenue. This past fall we watched Season 12 of Project Runway together—though we were split over who should win. He wanted Bradon. I knew it would be Dom. When Bradon was cut, Dashiell was crestfallen, but Dom's win taught him three important lessons: 1. Fashion is fickle. 2. Listen to your mother. 3. Prints are back!
Encouraged by his interest in the show, I suggested that instead of a bedtime story we should snuggle up with The Fashion Book—a 500-page A-to-Z guide to designers, photographers, and models. We flipped through the pages: Lacroix, Lagerfeld, Van Lamsweerde, Lang, Lanvin… He was serious and attentive until he we hit Alexander McQueen's ultra-low-rise "bumsters." He started to giggle. I closed the book and reached for Where the Wild Things Are.
A few weeks later, I saw that the Brooklyn Museum was hosting a Jean Paul Gaultier retrospective and decided to plan a field trip for Dashiell and two of his friends, both fellow fashion enthusiasts. The show opens with the designer's blue-and-white-striped mariner collection—an iconic moment in fashion history, if you ask me. But from the moment we entered, the kids were less interested in the clothes than the mannequins, which had moving human faces projected onto them. Before long, Dash began to complain that he was hungry. That he was bored. He tugged on my coat and said, "I want to go home." I turned around and, in a moment of exasperation, hissed: "I need you to stop complaining and really pay attention to this show!" A fellow visitor overheard and looked at me with disgust. I trundled the kids to the exit.
Maybe he's not the next Marc Jacobs, I thought sadly, envisioning a future without the custom-made boots, eponymous It bags, and front-row runway seats I'd been counting on as my due. But I needn't have worried. On the way out we passed an exhibit about Africa that featured a video of men dressed in leopard-print jumpsuits and elaborate kanaga masks. Feathers fluttered from their sleeves and pant cuffs as they performed acrobatic moves. Dashiell stood transfixed, watching the film three times, and then asked, "For Christmas, can I get an African mask?" Gaultier, it seems, just isn't his style.