Star Gazing
The Frick Collection's Young Fellows Ball was an ethereal affair
---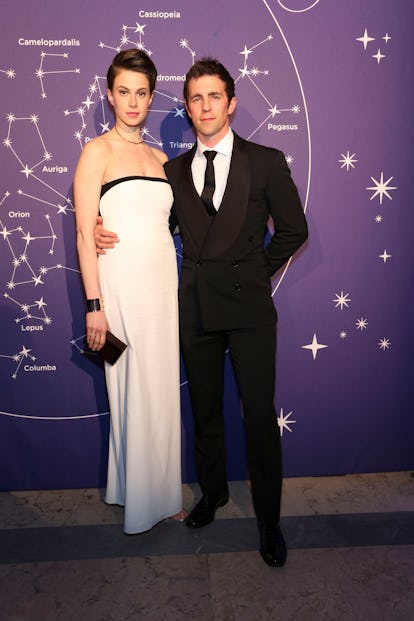 There are plenty of stars in New York City. You see them at restaurants, getting coffee, going grocery shopping, you know, they're just like us. But those of the burning gas variety that twinkle far past the Earth's atmosphere are harder to find. Really, when was the last time you spotted the Big Dipper on your way home from a party?
So it was quite the treat Thursday evening when the Frick Collection brought a studded night sky to city folk at its annual Young Fellows Ball, this year sponsored by Paule Ka. The museum's façade glowed bright blue and inside, the Garden Court's cornices and ceiling were covered in a projection of constellations, in keeping with the ball's celestial theme. Servers bore trays also imprinted with backlit astronomical sightings, making the Lobster BLTs and mini baked potatoes all the more appealing.
The fresh-faced crowd kept with the "ethereal black tie" dress code—the writer Cator Sparks donned a headpiece the better to be a "celestial turban twirler"—and maneuvered around long trains while sipping their clear drinks (according to one bartender, dark-colored beverages are no longer allowed, presumably due to the stains of past bad behavior).
"It sort of reminds me of Grand Central station," remarked one young lady as she gazed up at the ceiling (for those who have never looked up, the main terminal also bears a constellation motif). "But everyone is better dressed."
Elettra Wiedemann and James Marshall. Photo by John Calabrese.
Garden Court Atmosphere. Photo by Christine A. Butler.
Dylan Brant and Chloe Perrin. Photo by John Calabrese.
Olivia Chantecaille. Photo by John Calabrese.
Clare Mckeon. Photo by John Calabrese.
Cator Sparks in the Oval Room. Photo by Christine A. Butler.
Lydia Fenet. Photo by John Calabrese.