Inside the Dramatic Makeover of L.A.'s Thriving Art World
L.A.'s art world power players are transforming the scene, one museum at a time.
---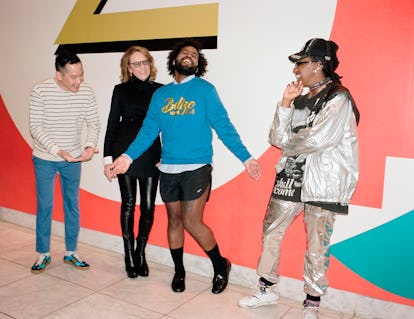 Photograph by Max Farago.
It was late at night, and guests at the Hammer Museum's kickoff event for its Adrian Piper retrospective this past October couldn't tell they were standing on an outdoor basketball court. They were high up in the hills above Mulholland, at a private home where Lauren Halsey, the breakout star of the Hammer's 2018 biennial, had created a dance floor and stage set. Halsey had placed an array of mirrored pyramid sculptures on the court, which was itself lined with reflective film, and had lit the whole thing with spotlights—echoes of Egypt mixed with the colors of a rave, set to live music by Kamasi Washington. Artists there included Henry Taylor, Barbara Kruger, Laura Owens, and Shinique Smith. As someone who attends countless parties and hosts a fair share herself, the Hammer director Ann Philbin recalls sensing a change in the air. "It felt like a new art world for Los Angeles," she said, "exciting but not elitist; incredibly diverse, expansive, and welcoming. You get tired of parties, but this was a great celebration of community."
Philbin, of course, has played a major a role in creating this expansive and generative momentum. Over the past 20 years, she has transformed a sleepy museum affiliated with UCLA into a can't-miss destination for cutting-edge art exhibitions and events. And now she is embarking on the museum's most visible transformation yet: working with the architect Michael Maltzan to make its corporate-looking building, which is located in Westwood and was once the headquarters for the museum founder Armand Hammer's Occidental Petroleum Corporation, more inviting and accessible. Next year, the Hammer will expand into a bank building next door, gaining 10,000 square feet of gallery space and a new public entrance. "Over the years, many people thought we should ditch our building," said Philbin, an early AIDS activist who has never shied away from challenges. "But I think it's gone from an ugly duckling to a swan." Kruger, an artist on the Hammer board, concurs. "What's always impressed me about Annie and her leadership," she said, "is that she could take this deeply problematic space and still do terrific, visually involving exhibitions. The expansion will add even more public visibility and power to the work that the museum is doing."
The Hammer is far from the only institution in town undergoing a dramatic makeover. The Museum of Contemporary Art, Los Angeles (MOCA), after suffering yet another regime change—it ousted the chief curator Helen Molesworth, and the director Philippe Vergne resigned in short order—is poised for reinvention under its new leader, Klaus Biesenbach, formerly the director of MoMA PS1, in New York. The Los Angeles County Museum of Art (LACMA) is embarking on a $650 ­million transformation of its campus, designed by Peter Zumthor. And then there are all the new players in town, which range from community-rooted spaces like the Underground Museum and the Main Museum to the contemporary art temples recently built by mega-collectors like Eli and Edythe Broad and Maurice and Paul Marciano. "All the people calling L.A. 'the new art center' keep getting it wrong," said Ali Subotnick, the former Hammer curator who is commissioning artist projects for the first Los Angeles edition of the Frieze art fair, to be held in February at the Paramount Pictures Studios. "L.A. has always been a place for creative production, with important art schools and a major artist community. That's not new. What's new is what's happening with the institutions."
One of the most startling reinventions—make that reincarnations—has happened in an unlikely spot across from a downtown Greyhound bus station. Elsa Longhauser, the longtime director of the Santa Monica Museum of Art, closed the space in 2015, then reopened it in 2017 as the Institute of Contemporary Art, Los ­Angeles (ICA LA). The process culminated in a light and airy new building, and a revamped team that has already staged important shows on the outsider artist Martín Ramírez and the nonconformist Swiss ­curator Harald Szeemann—outliers who are not art-market favorites are regularly the focus. ICA LA's next challenge will be to find a new director, now that Longhauser has announced plans to step down this year. Not far from downtown, the state-funded California African ­American Museum (CAAM) is earning comparisons to the Studio Museum in Harlem for bringing exciting contemporary black artists into the spotlight. This shift is widely credited to the arrival three years ago of the deputy director and chief curator Naima Keith, an L.A. native (and daughter of the prominent collector Joy Simmons) who has organized breakthrough solo shows of the identity-shifting photographer Genevieve Gaignard and the performative painter Kenyatta A.C. Hinkle, among others. The museum has already begun attracting a livelier crowd.
One reason for all of these growth spurts is that L.A. is a relatively young city and its leading museums are newer than many of their East Coast counterparts. "We're still like teenagers, so I think the museums here are growing more than in most cities," observes Kulapat Yantrasast, the Thai-born, L.A.-based architect who is designing the Frieze Los Angeles tent at Paramount. "We're still figuring out who we're going to be." Yantrasast should know. Celebrated for adaptive-reuse projects that update buildings while preserving their history and integrity, he has become the go-to architect for the ever-reinventing L.A. art world. He's the one who recently transformed an esoteric Masonic temple on Wilshire Boulevard into the expansive Marciano Art Foundation and turned a dark apparel factory downtown into the graceful and flexible bow-trussed space of ICA LA. Next on his agenda is renovating a 1911 concrete building in South Los Angeles into a satellite space for LACMA that could soon be pulsing with exhibitions and events if the Zumthor construction at the main site goes ahead as planned. As for the tent at Frieze L.A., housing some 70 galleries, Yantrasast promised it would be a "sexy tent—expect a surprise. Let's just say there are some components of nature in it."
It's an open question as to whether Frieze L.A. itself will be sexy enough to galvanize the local collector base and attract a sizeable international crowd. Historically, the city has been a graveyard for art fairs, with Paris Photo and the Armory Show both trying spin-offs that quickly tanked. FIAC announced its plans for an L.A. art fair in 2015, only to back out before the first edition. But Bettina Korek, the executive director of Frieze L.A. and a native Angeleno, said the ­timing feels good right now. She points to L.A.'s rising stature internationally and growing local support. "Now we have more of a ­constituency here—people are excited to be going to the fair," she said.
Museums in town are also benefitting from the expanding ranks and growing involvement of local collectors. For many years, museum directors would openly complain that the biggest L.A. patrons, like David ­Geffen and Michael Ovitz, supported New York arts organizations instead of those in their own backyard. They'd bemoan the entertainment industry's disinterest in culture, the scarcity of L.A. art-collecting dynasties, and the lack of civic pride found in older cities like New York, Chicago, or even San Francisco. These days, however, most everyone says that is changing, and not just because Geffen finally stepped forward with a $150 million gift to LACMA for the Zumthor facelift. "Ten years ago, the weakest link in the entire art ecosystem here was philanthropy," Philbin said. "Collectors and donors are now much more engaged with the art being made in this city and in supporting its institutions. It's a different city now." Philbin has already raised $140 million of her ­current $180 million capital campaign for the building transformation and endowment, with lead gifts of $30 million from the POM founders Lynda and Stewart Resnick and $20 million from the TV producer Marcy Carsey. "Annie has raised that money in the blink of an eye," said the ­artist Catherine Opie. "It shows you philanthropy is alive and well in L.A."
Opie, who used to be on the Hammer board, often plays the role of unofficial ambassador for the L.A. art scene, picking up where John Baldessari (now 87) left off. She is one of five artist-trustees on the board at MOCA, which suffered a near financial collapse a decade ago and has been struggling to rebuild confidence and staff ever since. She was also active on the search committee that tapped Biesenbach for the director job. "Klaus is a great listener and an unbelievable fundraiser who can grow our board internationally in an interesting way," Opie said. As for the initial blowback about hiring another white male—criticism that came from her friends, among others—Opie said she asked them to count "the number of queer men leading institutions this large—there aren't many." Also, at MoMA PS1, "Klaus really championed women artists, and that doesn't always happen, even if you get a woman director—sometimes they overcompensate," she noted.
During a visit at MOCA in November, just as Biesenbach got started in his post, he discussed the additions he had just made to the board: Hong Kong businessman and tastemaker Adrian Cheng, Sydney financier Simon Mordant, Dusseldorf new-media collector Julia Stoschek, and New York philanthropist Marina Kellen French. He explained that his conversations with another new board member, the one-time Facebook president Sean Parker, inspired him to think, The sky's the limit—why don't we reach out to great philanthropists? As for next steps, Biesenbach said he is focused on listening to his new staff and looking into different ways of "opening up" and putting to better use the Geffen Contemporary, MOCA's warehouse-style branch in the Little Tokyo neighborhood. He is also considering making the museum free of admission, in keeping with the Hammer, the Broad, ICA LA, and CAAM. Still, he stressed that none of this would happen overnight, using an analogy to botany, one of his personal passions. "You know everything that sprouts very fast is not sustainable," he said. "In order to grow in a stable way, you have to grow slowly."
Philbin is also a fan of taking one's time. "It's not like I woke up one morning and said I want a bigger, better building," she said. She describes the Hammer's evolution as "measured, incremental, and directly responsive to our audience and mission." So how would she define that mission, especially now that the landscape is so crowded? One goal is supporting local artists, she said, even those so new to the scene that they don't have gallery representation. The Hammer ­biennial "Made in L.A.," which began in 2012, has amplified that ­objective. The artist Lauren Halsey, for example, went straight from showing her hieroglyph-inscribed monument to South Central L.A. in this past summer's biennial to being picked up by the powerhouse gallery David ­Kordansky. That edition of "Made in L.A." was curated in-house by Anne Ellegood and Erin Christovale. The most acclaimed one yet, it dispelled early doubts that the pool of Los Angeles artists is too small to sustain a biennial. "The truth is," Philbin said, "we could send out 10 different teams of curators into the city at the same time and they could come back with 10 really great shows of emerging artists—and all totally different. That's how rich this city is in artists."