From Angelina Jolie to Titus Andromedon, Celebrity Wines to Embrace
The celebrity wine label is usually an embarrassing vanity project. But there are a few pleasant exceptions to the rule. For instance, Brad and Angie's star-quality rosé.
---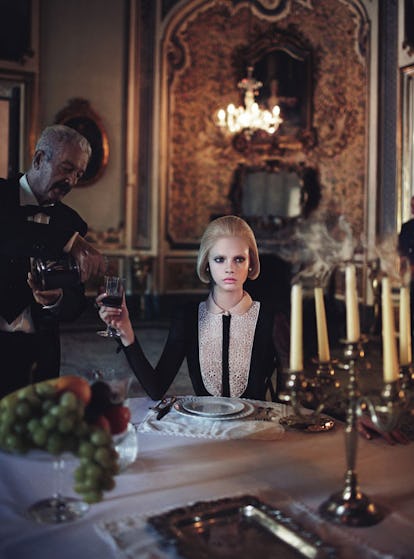 Christophe Dugied
For as long as there have been celebrities, there have been celebrity vanity projects – the ersatz clothing line, the self-help newsletter, the occasional DJ gig. But the most egregious of all these enterprises is the celebrity wine label. If you have plenty of money, it's not all that hard to get into the wine business. But a famous name does not necessarily make for a fine wine. In fact, it rarely does. Just like you might be wary of a top chef releasing his own clothing line, you should certainly be cautious of vintners who moonlight as Hollywood stars (See Fergie's Ferguson Crest). There are, however, some surprisingly pleasant exceptions to that rule. Brad Pitt and Angelina Jolie's rosé, Miraval, is famously a standout, not just amid its ilk, but in the market at large. Forget about your usual Whispering Angel or whatever your Provence-style rose of choice is, here are a few of the celebrity wines worth sipping.
Pinot By Tituss Who: Tituss Burgess, famous for his role as Titus Andromedon on the popular Netflix series Unbreakable Kimmy Schmidt Variety: Pinot Noir Price: $25, available at PBTWine.com
Actor Tituss Burgess decided to launch his own wine in March called Pinot by Tituss after performing that infamous "Peeno Noir" music video bit on Unbreakable Kimmy Schmidt. "I got so many tweets and Instagram messages from followers who would recite lyrics from the song and they would always bookend it with a picture of a random pinot noir by someone else," said Burgess, who admitted he's more of a Malbec fan by nature. "I thought they were trying to send me a message and it was a no-brainer." The wine, which hails from Santa Barbara County, is a delightful surprise. It's slightly jammy and it's more full bodied than a lot of pinot noirs, but it's got a little smoke and spice on the finish, and overall it has nice balance. How would Titus Andromedon describe it? "He would take a sip and have a laundry list of notes as if he were the expert in all things class," said Burgess. Use it for marinating your ribs or a great steak, or do as Titus Andromedon would do and just drink it. If we were trapped in a bunker, we would want to have this with us. Look out for a Gay Pride edition and a rosé from Tituss coming out in June.
Miraval Who: Brand Pitt and Angelina Jolie Varietal: Rosé Price: $21, available at Miraval-Provence.com
You might have seen this Provencal Miraval rosé at the wine shop and bought it without knowing it's Brad Pitt and Angelina Jolie's wine. Yes, that's right, Brad and Angelina have a wine! The wine itself is as sexy as its owners—it's a beautiful, pink blush color, and it's packaged in what looks like a small Champagne bottle. (As you might imagine, it makes for an excellent hostess gift for summer parties you might be attending.) But, again, kind of like Brad and Angelina, there is a lot more to it than meets the eye. This is a serious, silky wine with depth with a nice bouquet of strawberries and white flowers and packs just the right punch on the palate. Drink it ice cold, and preferably while you are sitting at the beach dreaming of being as glamorous as Brand and Angie. Jennifer Aniston, meanwhile? No wine yet. Score: Team Angie.
Saved Who: Scott Campbell Varietal: Rosé Price: $16, available at SavedWines.com
They say don't judge a wine by its label, but it would be hard not to give Saved "Magic Maker" rosé some major bonus points for its artfulness. That's thanks to celebrity tattoo artist Scott Campbell, who has inked the likes of Kanye West, Marc Jacobs, and Johnny Depp, and is also behind this California rosé with winemaker Clay Brock. The label design, according to Campbell, even includes a coded message to his wife, actress Lake Bell. "When designing the wine labels, I just wanted to make sure that the drawings would do the wines justice. He [Brock] doesn't direct me in the artwork and I am surely not about to tell him how he should make wine, but he certainly inspired a lot of the story and 'juju' that went into the design," said Campbell. As for the wine itself, made mainly from Grenache and Syrah grapes (for the 2015 vintage) sourced from various appellations around California, it's as interesting as the bottle. It's dry and fruit-forward, with a medley of grapefruit, strawberry, and honeydew soda on the nose. It's pretty straightforward rosé and very drinkable. Open it up and let it breathe for a minute, then serve it ice cold and drink up. Note: To the bros who are still afraid to drink rosé because it's pink and girly, this stuff is tough guy-approved.
LVE Wines Who: John Legend Varietal: Cabernet Sauvignon Price: $85, available RaymondVineyards.com
Unveiled last year at Auction Napa Valley, the biggest social event of the season in the region, LVE Wines (Legend Vineyard Exclusive) is a special collaboration between John Legend and Raymond Vineyards. Made under the direction of Jean-Charles Boisset of Raymond and Napa winemaker Stephanie Putnam, the Cab already garnered acclaim from Wine Enthusiast and won the magazine's first-ever "Wine and Culture Wine Star" Award. The Cab is rich and opulent, with plenty of romance, just like Legend's songs. Think: Dark fruit flavors, cassis, black tea, and a touch of minerality. Save this one for a night in for two, or perhaps just an evening of Netflix, chilling, and drinking your sorrows away with a mighty fine wine. It might even make Chrissy Teigen shed a tear of joy.
The Dreaming Tree Who: Dave Matthews Varietal: Pinot Noir Price: $15, available at DreamingTreeWines.com
For the purpose of this assignment, we put aside our Dave Matthews bias so we could judge the wine fairly. The verdict? Pretty damn good. The Grammy Award-winning musician partnered with winemaker Sean McKenzie and launched the sustainable, Sonoma-based wine label back in 2011. (And yes, the name The Dreaming Tree is named after the hit track from his band's 1998 album, Before These Crowded streets. They now have five wines in their portfolio, with the newest addition being the 2015 Sauvignon Blanc, but the 2014 Pinot Noir was our top pick. (Some of the others, we could do without.) Right after we opened and poured it, it was immediately a very drinkable and fun wine. Let it breathe for an hour or two and it made for very easy drinking indeed. With it's perfectly ripe cherry and strawberry flavors, it would be perfect for roast chicken or grilled salmon.