From Kardashian Drama to Political Beef, the Best Podcast Episodes of 2016 Answered All Your Most Pressing Questions
From veteran choices like Call Your Girlfriend to newer favorites like Crimetown, it was another banner year for podcasting. Here, we round up nine of our favorite episodes.
---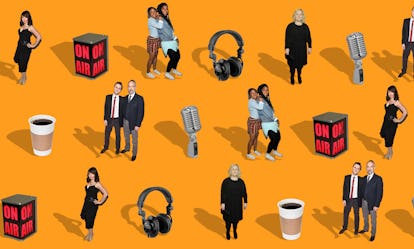 Art by Biel Parklee.
The ascent of podcasting is widely credited to Serial, the NPR production hosted, researched, and produced by journalist Sarah Koenig. A host of like-minded podcasts, combining the all-too-human fascination with true crime with a critical eye, sprung up in its wake: My Favorite Murder; In the Dark; Criminal; Embedded; Sword and Scale. But in addition to these myriad crime shows, so too the podcasting boom has produced variety shows, meditations on celebrities, histories, and political commentary. Here, we round up the best episodes from the best shows of 2016.
Crimetown: "The Art of the Deal" This episode starts, as all great stories do, with the simple words: "It was a dark and stormy night." Crimetown started in late 2016, a new venture from the team behind The Jinx. Much in the vein of the anthology format that's sweeping television, each season will focus on the criminal element in various American cities—so where better to begin than in Providence, RI, a city run for years by a mayor, Vincent "Buddy" Cianci, with deep mob ties and an actual criminal record? In "The Art of the Deal," the parallels between Cianci's tenure and our current political climate begin to emerge more clearly, as evidenced in the title, which shares a name with the bestselling book by the president-elect.
Call Your Girlfriend: "Twitter Ninja" If you're at all unclear about the still-developing Kardashian-Chyna-Rose-West-Khalifa-Tyga drama, let Call Your Girlfriend hosts Aminatou Sow and Ann Friedman clear it up for you.
Who? Weekly: "Blac Chyna" Pairs best with Call Your Girlfriend.
You Must Remember This: "Six Degrees of Joan Crawford: Douglas Fairbanks/Lucille LeSueur Goes to Hollywood" After a dark, political run of 13 episodes focusing on the blacklist of the '40s and '50s and the House Un-American Activities Committee's effects on Hollywood, You Must Remember This returned for a short, breezy summer season (the equivalent of a beach read, according to host Karina Longworth) centered on the life and legacy of Joan Crawford. It culminates in a devastating explanation of the events surrounding Mommie Dearest, Crawford's most immortal—and most troubled—screen role.
2 Dope Queens: "Make Man Buns Great Again" Ex-Daily Show host Jon Stewart makes a guest appearance on this September episode of ex-Daily Show comedienne Jessica Williams's podcast, 2 Dope Queens, which she co-hosts with Broad City actress Phoebe Robinson. It's hilarious.
Reply All: "Hello?" Two podcast hosts, 48 hours, no sleep, distilled into 90 minutes. Here's what happens.
The Read: "Lilac Lemonade" When Beyoncé released Lemonade on HBO in mid-April, few may have been more struck by the landmark visual album than The Read co-hosts Kid Fury and Krissle. As their podcast description indicates, Beyoncé (and her daughter Blue Ivy) is the sole celebrity immune to the duo's clever, scathing, profane criticisms of pop culture. (Well, they keep the profanity.)
Longform: "Wesley Morris" At the end of October, New York Times critic at large Wesley Morris published an essay entitled "Last Taboo: Why Pop Culture Just Can't Deal With Black Male Sexuality," a hybrid personal essay and history of depictions of black male genitalia on screen and in the media. A few days later, he appeared on the Longform podcast to discuss how, exactly, that essay came into shape—and what the aftermath looked like. (Follow this with Morris's first appearance on the show, as a Grantland staff writer in 2014.)
In the Dark: "The Crime" Any roundup of podcasts this year would be remiss to exclude In the Dark, the APM Reports series that has largely been hailed as the spiritual successor to NPR's smash hit Serial. If anything, In the Dark goes in even harder on the shortcomings of law enforcement while investigating the disappearance (eventually revealed to be the brutal assault and murder) of Jacob Wetterling, an 11-year-old kidnapped from his hometown of Paynesville, MI, in 1989. There's really no place to begin but with the first episode.
See W's most popular videos: