Full Circle
Serious painter-turned-fine jeweler Janis Provisor is returning to her roots, at least temporarily; starting next Friday, a selection of 50 of her chunky beaded gems is being given the exhibition treatment at Winston-Wachter Fine Art...
---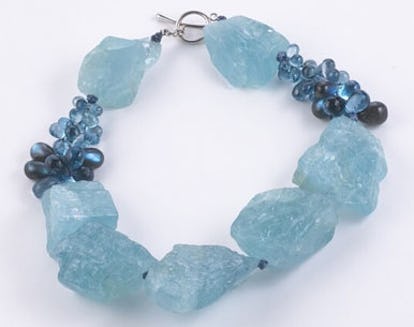 To prep for the three-day show, Provisor spent time in Bali tinkering, stringing and beading. "I've been working with one woman there for 10 years, but this is the first time I actually sat there on the bench next to her," she says. Provisor also sourced stones from all over the world, and used a cache of amber her business partner brought back from a trip to Africa two years ago. "I had no feeling for amber then," Provisor says. "I just let things sit with me until I'm ready." Another first in this collection: massive rough-cut aquamarines.
Although Provisor's paintings and prints are represented in the collections of the National Gallery of Art in Washington, the Ludwig Museum in Germany, Goldman Sachs and numerous other institutions, she seems committed to craft. In addition to the jewelry, she and her husband, fellow artist Brad Davis, continue to operate Fort Street Studio, a hand-crafted silk carpet business that has found fans in Madonna, Elton John, producer Joel Silver and thriller machine Tom Clancy.