Fulvia Farolfi Always Knew She Was a Makeup Star
Even in her teens, she was already judging other girls' beauty skills. An opinionated Italian – is there any other kind? – Farolfi still has plenty to dish on the subject.
---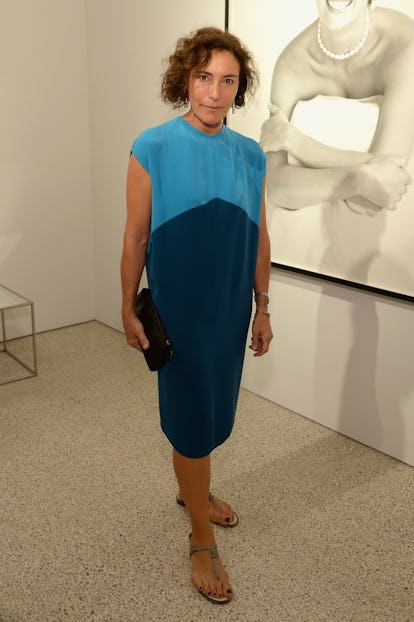 The makeup artist Fulvia Farolfi, a frequent collaborator of Patrick Demarchelier and Peter Lindbergh, has worked with and on a murderer's row of models, everyone from Linda Evangelista to Gigi Hadid. For W's April issue, she transformed Willow Smith, Kiernan Shipka and Zendaya into fashion-forward cover girls. In an interview, the Italian native with the colorful name recalls growing up admiring Sophia Loren and judging other teens with bad makeup. Plus, she breaks down the beauty hacks of the new cover.
How did you create the intense makeup looks for W's April cover? We created three different viewpoints of dark lips. Kiernan Shipka's were almost black burgundy; Zendaya's were dark berry and, Willow Smith's were blue. We knew these girls could handle something edgy, and since they each have their own personalities, it was important to tailor each lip differently. All three of them were really cool and up for anything. Kiernan is incredibly intelligent and trustful. We'd worked together before on an eyeliner story for Teen Vogue, and she was so patient! We did six different liners on her in a day, and she was completely game. Willow was game on this shoot, too. I don't think she'd done blue lips before, or gold shadow, for that matter. For Zendaya, it was an unusual look for her. She's more used to a red carpet look—red lips and mascara—and this was definitely more of a fashion-oriented one. The story inside is even more edgy. We didn't use mascara anywhere but the cover.
Tell us about you! Who was your first beauty icon? Sophia Loren. She is such a natural beauty, but later I learned a lot about how she did her own makeup from skills she learned on the job.
What beauty products are always in your purse? Chanel lip rouge, concealer, lash curler, brow gel and foundation. I love Chanel's Les Beiges.
Always? Yes, and here's why. One day I went to get my passport photo taken and I had no makeup on. The next day, I went back again. This time, I had the basics with me: concealer, foundation, Les Beiges, bronzer to sculpt because I have kind of a wide face. I also filled in my brows, and lip pencil, lip balm and mascara.
What's always in your makeup kit? I couldn't live without a great moisturizer (Chanel's Solution Ten) and probably a red lipstick like [Chanel's] Rouge Coco in Pirate.
What's your favorite beauty hack? Sometimes I use a mini blowdryer to warm up my lash curler. It allows me to put less pressure on lashes when I'm curling them. Of course, I always test its temperature with my hand first!
Which discontinued product or shade do you mourn? So many! Chanel's brow gel was amazing; I don't know why they discontinued it. Cambon was an amazing Rouge Coco red that I miss.
Do you have a favorite perfume? Either Chanel No. 19 or Frederic Malle Angeliques Sous La Pluie.
What's your first beauty memory? My first Biba compact. I must have been 12 or 13. It was my first purchase. I also remember two teachers whose beauty looks have stayed with me. My gym teacher always wore a shiny eye liner. She had green eyes, black hair, beautiful skin and the only makeup she wore was this thick eyeliner every day. It was perfect. And I thought, 'Wow.' Growing up in Italy, the cat eye was a staple (think Sophia Loren), but to see it on my gym teacher? I loved that. My art teacher had a perfectly beautiful odd orange nail and I loved to see her hands on my drawings when she corrected me. So I always loved color. Decades later, a friend told me that she remembers me as a teenager when we'd walk by people and I'd say, "Oh my god, that makeup could be so much better." So, early on, I had ideas.
What was your worst beauty blunder? I had very long hair that I shaved into a long mullet when I was 24. It looked OK in a ponytail but when it was down, not good.
What's your 5-minute morning beauty routine? Moisturizer, concealer, lashes, brow gel, blush, lip balm.
If you had an extra 10 minutes in the morning, how would you spend it? I'd add foundation, bronzer–and when I mean bronzer, I mean Les Beige, without anything metallic in the formula. Fill in brows with pencil and dust a touch of shadow around the lashline.
What trend do you look back on with regret? Pearly white eyeshadow below the brow.
Which beauty trend do you just not get? Visible contouring. It should be invisible. Also, applying lipstick on someone with fingers repulses me. I certainly wouldn't like it done on myself.
Is there a beauty professional you can't live without? My facialist, Mamie McDonald.
What are you currently obsessed with I love dancing. It's the best form of exercise.
Photos: Fulvia Farolfi Always Knew She Was a Makeup Star
Fulvia Farolfi. Photo by Raymond Meier. Courtesy of Bryan Bantry Agency.
Kiernan Shipka, Zendaya, and Willow Smith photographed by Willy Vanderperre, styled by Paul Cavaco, makeup by Fulvia Farolfi.
Willow Smith, Kiernan Shipka and Zendaya. , Makeup by Fulvia Farolfi.
Jessica Chastain, W, January 2013. Art by George Condo, photograph by Max Vadukul, makeup by Fulvia Farolfi for Chanel.
Michelle Williams, makeup by Fulvia Farolfi for Chanel.
Photo by Ben Gabbe/Getty Images for NYFW: The Shows