Premiere: Listen to Gabrielle Shonk's Love-Torn New Single "Raindrops" Off Her Debut Album (Exclusive)
The Canadian pop singer's debut album is out next month.
---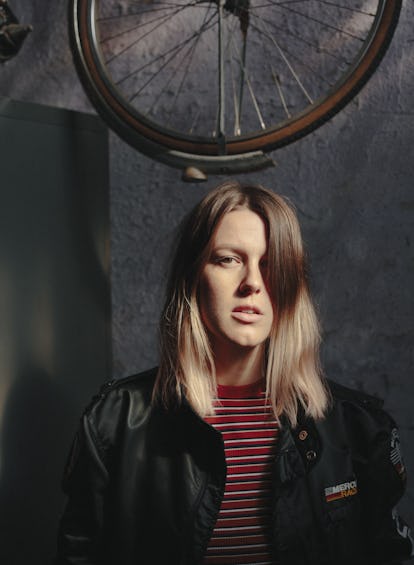 Norman Wong
Back in 2012, shortly after the Canadian-American musician Gabrielle Shonk completed her degree at Québec's Université Laval, where she studied jazz, she started writing a song called "Raindrops." In its earliest form, it had what Shonk described as "that acoustic, Sunday-morning jazzy feel"—but when she embarked on the process of writing and recording her debut album two years ago, she decided to revisit the song, in the process completely revamping it.
The song that emerged from that reimagining, which premieres exclusively here on W, took a darker turn. Gone was the acoustic guitar; in its place, the jangle of electric. Shonk's voice, part of the same throaty jazz-pop lineage as Amy Winehouse or Tony Bennett-phase Gaga, croons over a snare beat and a few sparse piano chords. But the essence of the song remained the same: It's about the point, just before the demise of a relationship, "where you know things aren't going that well" but can't help wonder, "is this worth pushing through and working through it, or is it just broken, and at the end, and I'm denying it?" Shonk told me, adding that she was going through a similar internal battle when she wrote the song. The lyrics are similarly candid: "Can't seem to decide if I stay or I go," Shonk sings, "Why is it that I never seem to know?"
And though five years have now passed since she first put down the words, the song—and the rest of the material that makes up her debut record Gabrielle Shonk, out September 29 on Universal Music Canada—continues to resonate. "It's funny how things are cyclic," she said. "I wrote them a while back, but they still feel accurate—I don't feel any nostalgia towards it yet."
Of the record's 10 tracks, three are in French; after Shonk immersed herself in Quebecois and French music, she decided to try writing it for herself (albeit with the assistance of a co-writer). "I really wanted to do it because I feel like my reality is very bilingual," she said. "Before creating, you have to absorb different things—I had to absorb a lot of French music to be able to create it myself."
Though Shonk, now 28, is just preparing to release her first album, she has been writing pop songs since the fourth grade. Her mother teaches graphic design at Université Laval in Québec City, while her father is a blues musician, and she credits her creative ambitions to his influence. Still, she wasn't set on pursuing music professionally until she finished high school; as she confronted with the decision about where to apply and what to study, "my dad was like, 'What do you love?'" she recalled. The answer was music.
After university, she began honing her style, moving away from the jazz music she had studied and towards a more folk-inflected sound. In 2014, she appeared on La voix, the Canadian version of the music competition series The Voice; the next spring, she decided to self-record and produce an EP, which quickly became a full-length record. As she began shopping it out to labels, she released the first single, "Habit."
"That kind of made a mini-explosion," she said, conceding, "not viral or anything, but pretty big for me." (In the past year, it's racked up more than 50,000 Soundcloud streams and nearly 1.5 million Spotify plays.) It was enough to earn her label attention; she signed with Universal Music Canada earlier this year, who will release Gabrielle Shonk next month. The label didn't even re-record the material—it's the same mix she financed and recorded last year, a document of her first six years as a working musician. "I've been saying it's an introspective record," she said. "It was this whole journey of this very personal, self-reflecting record." And so, she named it after herself.
Katy Perry must admit, she cries to some of her own songs: