Gabrielle Union and Dwyane Wade Welcome Their First Child Together, a Baby Girl
Their baby girl arrived last night via surrogate.
---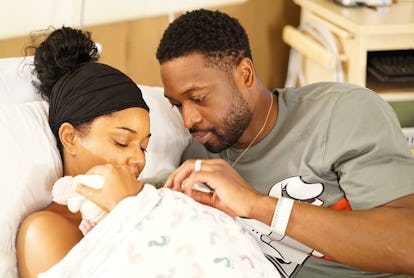 instagram.com/gabunion
Congratulations are in order for Gabrielle Union and the Miami Heat star Dwyane Wade. The pair just welcomed their first child together, a baby girl. Union took to Instagram to make it official, sharing the first photos of their daughter (although the name is still under wraps).
Quoting Bill Withers's underrated 1977 AM Gold song "Lovely Day," Union wrote, "We are sleepless and delirious but so excited to share that our miracle baby arrived last night via surrogate and 11/7 will forever be etched in our hearts as the most loveliest of all the lovely days. Welcome to the party sweet girl! #onelastdance #skintoskin."
The hashtag #skintoskin was a reference to the bonding that parents of babies delivered via surrogacy do immediately following the birth. To help lessen the stress of the newborn and equalize their temperature, as well as colonize their bacteria, newborn babies are held by their mothers naked, against the mother's chest. Of course, it's also a bonding mechanism. Judging by the looks of the first photos Union shared, she and Wade already share a close connection with their baby girl.
Before she got together with Wade, whom she married in 2014, Union said she never expected to have children. "I never wanted kids," she told People last fall. "Then I became a stepmom, and there was no place I'd rather be than with them.… For so many women, and not just women in the spotlight, people feel very entitled to know, 'Do you want kids?' A lot of people, especially people that have fertility issues, just say 'no' because that's a lot easier than being honest about whatever is actually going on. People mean so well, but they have no idea the harm or frustration it can cause."
She went through a lot of frustration and pain during her previous attempts to have a child with Wade, which she wrote about in her book We're Going to Need More Wine. "I have had eight or nine miscarriages," she wrote. "For three years, my body has been a prisoner of trying to get pregnant—I've either been about to go into an IVF cycle, in the middle of an IVF cycle, or coming out of an IVF cycle." Now, though, that's all in the rearview mirror.
The new arrival is also Wade's first daughter. He has three sons, Zaire, Zion and Xavier. The couple also parent Wade's nephew Dahveon.
Related: Gabrielle Union Reveals the Secrets to Her Never-Changing, Flawless Complexion