How Gaia Repossi Transformed Her Family's Business into a Cult-Favorite Jewelry Label
The effortlessly chic designer opens up about her unconventional new book, inspirations, and more.
---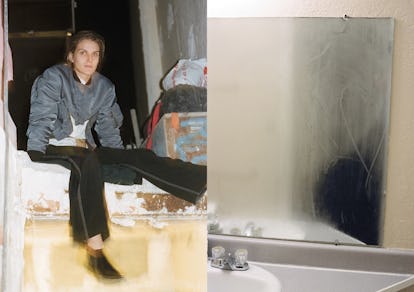 Gaia Repossi never planned to become a jewelry designer, but in 2007 she took over the family business, which was founded in Italy in 1920. In the past decade, Repossi has turned the brand into one of the most in-demand fine jewelry labels today, and built a loyal following amongst It girls and fashion editors alike. "Women wearing Repossi jewelry are looking for something they have never seen or owned," she says.
Repossi, herself, has become a cult style icon, thanks to her androgynous, effortlessly chic personal aesthetic. Her most recent project, a book titled Alternating Rose and Gold is a celebration of just that. The book, a collaboration with her partner, the photographer Jeremy Everett, which was produced by IDEA Books, is, as you could imagine, anything but a stereotypical fashion tome. But then again, Repossi is anything but a stereotypical designer. Here, she explains how the unconventional project came to be, what inspires her, and more.
You made this book in collaboration with your partner Jeremy Everett. When did you both meet for the first time and how did you develop the concept for this project? Jeremy and I first met seven years ago. The concept for the project was more Jeremy's idea, or a loose artist "commission" on his vision of the brand Repossi. It's more of a personal project than an actual Repossi book; that's how I see it. It's a gathering of images throughout the years, of Jeremy's own visual work, and images of the product or me. The book is very experimental, loose and following a certain freedom of expression. The title, Alternating Rose and Gold, is a reference to a Dan Flavin show from 1962 at David Zwirner, and an obvious reference to the material of our best sellers and iconic objects. There are themes that repeat throughout the book that reflect my personal obsessions and my work.
How would you define your aesthetic? I am always doing research in search of constant newness, using the same systems and codes endlessly. I try to stick to a style, a signature with an important base of research on traditions throughout the ages. The most exciting part is creating a language that resonates to a wider audience.
How does Repossi's history influence your work? I had a desire to pursue how I envisioned certain things from the old house of my father. I work and continue to work towards that direction; as Richard Serra says, "work comes from work." The heritage of the jewelry house continues to influence me, although it's important to explore constant newness. However, Repossi is now only partially a family business; LVMH has become an ally contributing to the development of the house [in 2017].
You never planned to take over the family business. How did that change? My family is driven by art, we can draw and paint; art will always be a priority to me. As a young woman I wanted to belong to the art world and express fully what I saw inside. However, my love for my father and my grandfather, the respect I've always had towards my family and its heritage is what's made me feel that I cannot ever abandon being a jeweler. As a jewelry designer, my work is an applied art, linked to technique, and an entire range of profession. Through my studies in Paris, I was projected directly into that world, and quite fast, I joined it.
How has passion for contemporary art and sculpture influence your collections? Did you look at anything specifically for those new pieces? Yes, of course. My own visual knowledge contributed to who I am, in addition to many books. Patterns, shapes, or ideas are vessels that slowly (if they are relevant) will be shown in my work, sometimes obsessively.
What do you find the most challenging? Respecting the fact that it's a very precise art craft. Objects have to offer a rigorous perfection in techniques and quality, and that has no freedom. Inventing new techniques or ways of wearing pieces is very difficult.
What places do you find most inspiring to your work and design? Mornings at the studio, travels, moments of isolation.
Chameleons of the Art World: The Humans of Frieze New York