Spanish It Girl Gala Gonzalez Loves a Fun Statement Hat on the Beach
The fashion blogger, designer, author, and DJ explains how to do beach chic this summer.
---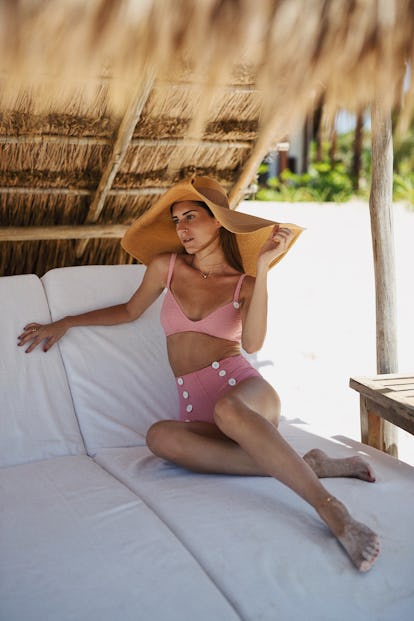 Jeff Thibodeauco
After the Cannes Film Festival and resort shows all over Europe from the likes of Gucci and Louis Vuitton, one would have though the jet set would be taking a weekend off for some R&R in the comfort of their own homes. But there's no rest for the weary when Net-A-Porter and Piaget invite you to explore one of the most covetable destinations on the Yucatán Peninsula. As the Spanish designer, DJ, newly minted author, and all-around It girl Gala Gonzalez noted when she arrived at the gorgeous Hotel Esencia in Tulum, Mexico, "It is only three and a half hours from New York, we should do this more often!"
It doesn't hurt that the retailer also basically did the packing for their guests, thanks to a fun pop-up shop featuring up-and-coming resort labels like St. Agni, Rhode Resort, and Kalita. Gonzalez was in good company: Alexa Chung, influencer Caro Daur, Nicole Warne, models Laura Love, Paloma Elsesser, and designers Brandon Maxwell, The Attico's Giorgia Toridini, and Alanui's Carlotta Oddi all headed down to Tulum as well for a long weekend of yoga and sailing, and quite a few envious Instagrams along the way.
If you don't know Gonzalez by name, chances are you have come across snaps of her attending all of the international fashion weeks or well-styled images of her on Instagram. With close to a million followers, the Spanish-born, London-educated, New York-based style maven did not exactly set out for a career in fashion, let alone blogging. "[Fashion] was always so present in my family, my first reaction was to refuse it," Gonzalez said. She is the niece of the famed Spanish designer Adolfo Domínguez, who, according to Vogue Spain, was the first Spanish designer to launch a line of clothing with his own name on the label. After moving to London, Gonzalez decided to study journalism for about a year, until she realized she couldn't escape the pull of the family passion. She decided to throw herself into fashion seriously, attending Central Saint Martins and then the London College of Fashion to study design. "I studied fashion because I thought that's what I wanted to be, a designer," Gonzalez said, "but the blogging kicked in in the middle [of school] and I kind of got stuck with it."
Generally acknowledged as Spain's first fashion blogger, Gonzalez can probably credit her elevated sense of style—chic and never overwrought, whether she's wearing a Gucci sequin dress or a Mango linen button-down—to her mother, of whom she has fond memories watching as she attended the shows in Paris. And after 13 years in London, it wasn't Paris that came calling for her, but New York. "It was a moment to go bigger or go home, and bigger was always New York."
Though she would not dare to compare the Tulum beaches to those of her home country, Gonzalez does certainly know what to wear on a chic beach vacation. "Right now I'm obsessed with Australian affordable luxury brands," she said. "I like Ellery, there's a bunch really. All resort is very appealing. I think women spend more money on clothes that you're going to be wearing on holiday. So when you travel, don't pack the basics that you can wear anywhere else," she advised. Wearing an enormous straw hat is never a bad idea, either. "Jacquemus!" Gonzalez exclaimed, tipping her brim. "He's really hot [right now], it's really trendy, it's fun!"
More of Gonzalez's summer holiday tips, and style notes, below.
Three words that describe your style:
"Effortless, eclectic, and sexy," Gonzalez said with a laugh. "With a Mediterranean twist for sure, I think my Spanish roots come through. I like to wear espadrilles, I like to wear hats. I dress like a real woman, normally you will see me wearing flats instead of heels, I believe a woman should feel comfortable in whatever she wears."
Daily uniform:
"White jeans, a sweater, and a pair of Converse. Especially white jeans, even if they get dirty!"
Style inspiration:
"I like real women. I like finding small accounts [on Instagram] of real women who don't have a lot of followers. I love Lauren Hutton, Anita Pallenberg, and Charlotte Rampling, certain icons that have inspired so many generations."
Best styling tip:
"Don't overdo it! I think when you overdo it, it just looks to forced. And right now, that's not real. When you look at someone, it needs to look comfortable, so even if it looks really hot, I know that's not comfortable, I won't go for [that style].".
Favorite piece in your closet right now:
"My white pants! They're from Jesse Kamm, She is from California, that is her biggest item she sells, she makes amazing sailor pants, I think that has been my uniform for the past year and a half. In all the colors! Insane. Your ass is never going to feel so comfortable and small in your life!"
Favorite new item you have your eye on:
"A lot of Jacquemus dresses for the summer. I just want the whole new collection, all that Moroccan- inspired collection is very me!"
Latest discovery:
"Karolin Studio jewelry. I think she makes these pieces that feel so unique. It is a different type of statement jewelry."
Go-to swimwear:
"Tough one. Actually I haven't found just one I can stick to. I like Brazillian style. But I would say Lisa Marie Fernandez does the ultimate, prettiest, most photogenic bathing suits ever!"
Best beach holiday fashion advice:
"Bring all your hats to the beach, never enough!"
Favorite song to get dressed to:
"'Shake Your Groove Thing.' This makes everybody dance.
Favorite place to shop in Tulum:
"You know what? At the Net-A-Porter pop-up at Hotel Esencia! It's perfect, you get anything you need! [Or] do your shopping before you travel, online."
Beauty advice:
"Wear a lot of sunscreen, even when I regret it afterwards!"
Most underrated Item In your medicine cabinet:
"A good waterproof mascara. It's not so much about the brands, it's about finding the one that's not going to leave you with a smudged, face. Sometimes even cheaper brands do a very good job."
Something you would never wear:
"Fluorescent colors! I mean I'm not that person. I try to, but I still don't vibe with it."
Summer vacation read:
"I would say probably my current book, Gala Confidential!"
What every girl should own:
"A good bikini bottom. You can go topless, but your butt needs to look decent when you go to the beach! It is the moment we need to feel confident."