A$AP Rocky Takes Us Inside Gucci's Harry Potter-esque Cruise Show in the South of France with Elton John and Petra Collins
See his exclusive pictures for W here.
---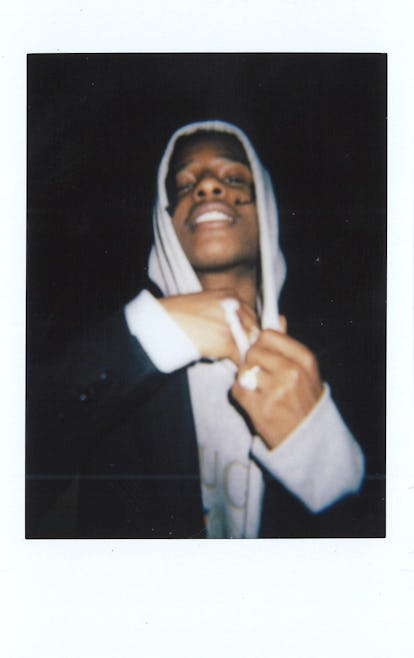 The Gucci Cruise 2019 show certainly didn't skimp on the dramatics. There was a fire-encased runway, a soundtrack of funeral music, and models accessorized with oversize crosses and blooming bouquets of flowers. And, of course, setting the scene for it all was the backdrop: the South of France city of Arles's Alyscamps burial ground, which is a large Roman necropolis—or, in layman's terms, a giant cemetery.
All in all, it would not have looked out of place on an episode of Game of Thrones. Or, according to A$AP Rocky, who attended the show in Arles, a certain other pop culture fantasy world. "It felt like I teleported to another world type shit. Each look told a different story," said Rocky. "My favorite piece was the black leather puffer; I need that right away. Also, the cloaks were amazing. I might need one of those, too, when I'm on my Harry Potter shit."
While the rapper may have been the only front-row attendee to make that astute observation, truly he's not wrong—this collection would make for some very chic Dementors. He was not the only star taking in the spectacle. Among the Alessandro Michele devotees also in attendance were Saoirse Ronan, Salma Hayek, Hari Nef, and Petra Collins. "I'm a fan of Alessandro because of how he changed the look of Gucci," said Rocky. "He was the underdog and he revived a heritage brand and put them back at the top."
Also sitting front row was Sir Elton John, who later treated the crowd to a multi-song performance at the show's afterparty. "Elton was amazing; I took an amazing pic of him while he was performing," said Rocky, who photographed the entire event exclusively for W. "After the performance he told me that he knows Jeffrey aka Young Thug and that he was happy that I put out another album."
About that album: On the date of the show, May 30, it had only been five days since the rapper had released Testing, his third studio album, meaning it had been quite the week for the 29-year-old, to say the least. He didn't even get enough time to visit the historic city, which includes the art patron Maja Hoffman's supersize cultural complex, the Parc des Ateliers. "It was my first time in this part of France and I was only there for the day so I didn't get to see the venue before the show, but it was crazy. I would like to come back," he said. "Right now everything I'm interested in and inspired by reflects in my music. My latest album, Testing, is all about testing sounds and getting people out of their own comfort zone. Taking trips like this, and seeing shows like the one Gucci just put on are very inspirational to me. "
Related: The Gucci Cruise 2019 Show Featured a Ghostly Clash of the Patterns