Can Telfar Make Gap Cool Again?
The Telfar x Gap collaboration could mark the beginning of a comeback for the iconic American brand.
---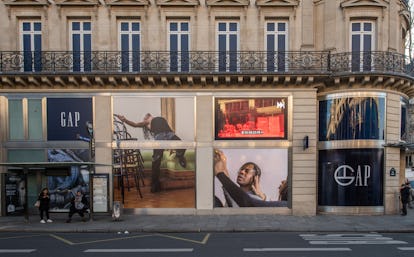 Most people who grew up in the U.S. in the '90s and early '00s have at least one Gap commercial etched in their memory. There was Khaki Swing, which brought '40s-era cool to the late '90s. There were the "Everybody in…" campaign that had models singing mumblecore riffs on Madonna's "Dress You Up," Depeche Mode's "Just Can't Get Enough," and Donovan's "Mellow Yellow," to promote brand's 1999 collection of vests, leather, and cords. The Gap went po-mo with a holiday commercial directed by Michel Gondry, adapted scenes and songs from West Side Story to sell a new wave of colored jeans in 2000, and showed the world that Patrick Wilson is actually quite a good dancer by having Claire Danes compete against him for the choreography crown in 2007.
And then, the idea of Gap as an advertising powerhouse seemed to fall off.
Over the past decade, Gap has tried to restore its status as a brand known for its perfectly cast ads, with a simple white t-shirt campaign starring Christie Brinkley, Wiz Khalifa, Yara Shahidi, and Adwoa Aboah in 2017; and a Metro Boomin remix of the Thompson Twins's "Hold Me Now" starring Awkwafina and SZA. But none of these ads seemed to hit. And if those idiosyncratic casts of pop culture mainstays couldn't do it for consumers, what would it take to bring a once-ubiquitous brand back into the forefront of the American consumer consciousness?
That's where Telfar—the cool, rule-breaking label that has taken the runways and streets by storm—and, oddly enough, the city of Paris, come in. After revealing more deconstructed denim, reimaginations of the cowboy boot and new colors of its famous "Shopping Bag" (colloquially referred to as the "Bushwick Birkin") at Florence's Pitti Uomo, Telfar announced a collaboration with Gap at a Paris Fashion Week Men's party along the Champs-Élysées. The guests wore their Telfar bags and denim chaps proudly, surrounded by performances from musicians like the classically trained rapper Hawa and a DJ set from Crystall Mess. The response online to the announcement that the gender-neutral collection will be available in Gap stores later this year was unsurprisingly ecstatic.
Initially, it might seem like an unlikely pairing, but on second thought, the collaboration between Telfar and Gap represents a convergence of two brands that embody the question of who gets to access the American dream. Telfar embodies cool in a way that few other labels do right now, having been embraced by the fashion community, downtown scenes, and even in-the-know suburbanites; it also follows through on its mission to promote visibility and inclusivity for black creatives. Gap puts its emphasis on the "normal"—in the sense of something more ubiquitous, not necessarily normative.
"The cool thing about Gap is that the 'Gap person' was not a specific race or background or class—it was actually for everyone. But it's the idea of everyone that has changed. I mean, our company credo is literally 'not for you, for everyone,'" the designer Telfar Clemens says. "We are obsessed with the idea of ubiquity and Gap basically turned that into a brand concept—and when it comes to our own brand, it's just a different vibe than fashion, to be honest. We want everyone to be in our clothes—not some particular cool group of people. And what inspires us is not actually what's in fashion but what the world really looks like. When you can change what the world looks like, that is power."
Former Gap CEO Mickey Drexler was responsible for the majority of those ads we all remember and love from the '90s and '00s. Now, nearly 51 years after Gap's inception, the brand's head of design, John Caruso, has taken a leap of faith into the future by bringing on a collaboration with a celebrated, hip label like Telfar.
Like many, Caruso was initially a fan of Telfar from afar. It wasn't until he met with Clemens in Bushwick in the spring of 2019 that the idea of a potential collaboration began to percolate. "I happened to have these Gap ads in my bag because I often refer to a lot of our older work, to re-create and make it feel new," Caruso said of his first meeting with Clemens. "I started laying them out, and that sparked all these other conversations and ideas and memories."
The ad Caruso brought out from his bag was the Khaki Swing campaign. "We all know the 'Khaki Swing' ad. That was amazing in itself, just the color and the movement. It sparked the conversation again, another connection point of not only making clothes, but how do you show up, how do you create an environment around it, how do you speak to a presentation?" Caruso said. "Telfar does that really well." (Clemens also took a dip into the archives, tapping The Gap's clothing archive in New York, and a marketing and design archive in San Francisco, which houses the print and digital ad campaigns, in-store manuals, and old store signage.)
Paris, it turns out, is essential to the beginning of this partnership, despite the fact that both Telfar and Gap were founded in the States. "What happens this week in Paris, with the buzz and the mix of people from a global, cultural, fashion perspective makes it feel like the right place and the right time. As a global brand with global reach, of course with iconic American roots, but really having that global reach, it just felt right to do something bold like this and something a little unexpected," Caruso said. This soirée was an experiential advertisement in its own right. We just won't know if it worked until the collaboration is released in Gap stores later this year.
Ultimately, though, everything still comes down to denim. Caruso insisted that the collaboration was born out of not simply an overlap of brand values, but also what he calls a shared "love of covetable essentials." Denim. T-shirts. Basic must-haves that people can actually wear, sometimes with the label's signature bold logo embellished on the front. "I think, fundamentally, for me, it was around denim and seeing what Telfar was doing with that at the time that he really gained my attention," Caruso said, referring to the label's signature manipulation of a simple fabric.
"It's about basics," echoed Clemens. "It's about quintessential and common things that you see everywhere. If you actually look at our clothes, they are all made out of 'normal' clothes—they all start from a basic as their base material. And it's also the idea of 'basic' as a derogatory term, and owning that. The sexiest look is a white t-shirt and blue jeans. If you can wear that and not look like anyone else—that's style."
Back to those ads—Clemens said that Telfar's past campaigns took inspiration directly from The Gap ads of the late 20th century. "We have literally copied those ads! We did a video in 3-D for spring/summer 2016 where we copied all the poses from '90s Gap," the designer said.
Caruso's personal favorite is the brand's "Individuals of Style" campaign, which was introduced in 1988, and prominently featured images of legends like Karl Lagerfeld, Spike Lee, Whoopi Goldberg, and Lenny Kravitz. "It was really great heroic images by great photographers really featuring the clothes as well. The clothes were there, but they weren't there," Caruso said. "Because it was more about the strength of the person it was photographed on and what they were doing in the world at that time. I think there's a really great story there to be retold."
For Clemens, it's the "Everybody in…" campaign that he took direct inspiration from when building out his own campaigns for Telfar. "The Gondry ads were genius—and the way they played with uniformity: everyone in khaki, everyone in vests. Buying Gap in the 90's was a way of saying that you didn't care about labels. It was about style not fashion—a very 90's attitude and it was accessible to basically everyone."
So, does the Telfar collaboration mark the beginning of a comeback moment for Gap? Caruso hesitates to employ that term. "I wouldn't consider it a comeback because I think we've always been in the heart of all of our customers and at the heart of culture," he said. "I think we have to speak louder and prouder and bolder, and that's exactly what we're going to do."
"For us this is about making Telfar accessible," Clemens says. "We sell bags all over the world, but what is really special to us is the places that are not on the fashion radar at all. The fact that we reach people in Maryland and Tennessee…Gap is part of how we grew up—which was not the freest environment—so penetrating that world means a lot to us. Like that a kid in the suburbs can go into a store and see a picture of a man in a halter top—next to a woman in the same top—and his parents have no excuse not to buy it for him."
Related: Meet the Classically Trained Rapper Who Lit Up Telfar's Pitti Uomo Show