Hair Today, Gone Tomorrow
For decades, Kenneth and Garren were the poshest salons in New York—and then, within a month, both closed down.
---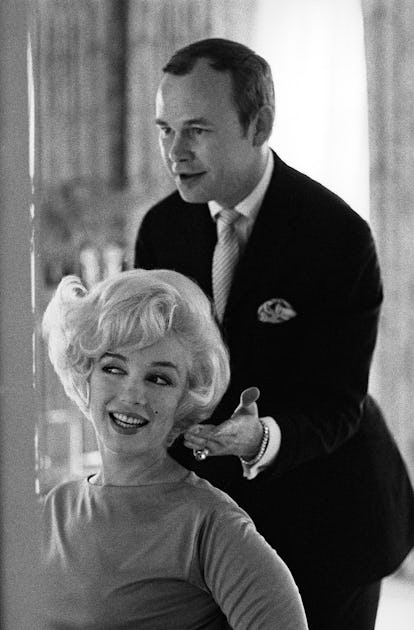 This past February, on a bitter cold evening in New York,several beauty editors were sipping cocktails beneath the glittering chandeliers of the Chelsea lounge Up & Down. The occasion was the unveiling of three new products for the hair-care line R+Co, a collaboration between the top stylists Howard McLaren (of Whitehouse in Los Angeles), Garren (who goes by only his first name), and Thom Priano (Garren's husband and cofounder of the famed Garren salon in Manhattan). As the DJ cued up "New Sensation," Garren, dressed in a dark suit and a crisp white shirt, his Mr. Clean pate catching the light, chatted up guests. Later, when he, McLaren, and Priano demonstrated hair trends on models, they were introduced simply as "having connections to the salon world."
The elephant in the room was that about a month earlier, Garren had shuttered his famous salon. It was a shocking move by the superstar stylist, who drew scores of models, celebrities, and fashion insiders to his always buzzing seat of glamour. Seemingly out of the blue, he and Priano called their staff on January 1 to convey the news. "It was an abrupt decision," says Garren cryptically a few weeks later, when asked why he closed the business, which seemed busy right up until the end. He chose not to comment on rumors of financial trouble.
Nine days later, at the Waldorf Astoria hotel, an eerily similar scene took place at the Kenneth salon. Its founder—also known by his first name—tended the locks of Marilyn Monroe and many a first lady before his death, in 2013; but the operation had been faltering of late. In early January, the team came in for work and, according to Joel Ludlow, a stylist who'd worked there for more than three decades, was told, "This is your last day." The salon just ran out of money, Ludlow confides. "It's like the old French restaurants: A lot of people just don't go to the fancy salons anymore."
Imagine Jean-Georges and La Grenouille going out of business within weeks of each other and you have some idea of the impact that the closures had on New York's luxury beauty landscape. Two salons defined by celebrity, fashion, and talent had imploded, and with their loss came an end of a hairdressing era the heady, decadent likes of which may never be replicated. "It was a seismic shudder within the hair community," says Tim Rogers, a stylist at Sally Hershberger, creative director of the Living Proof hair-care line, and onetime Garren protégé. "It's like a page turned."
The opening chapter of this particular book takes us back to 1954, when Kenneth was working as a young stylist at Helena Rubinstein. One day, the recently married Jacqueline Kennedy came in asking for her hairdresser, Lawrence. When he wasn't available, she ended up in Kenneth's chair. Deciding that her then short, curly style was wrong for her bone structure, he set her hair with extra-large rollers. "The difference was night and day. Jackie's look was softer, sexier, and much more youthful for that time," recalls Kevin Lee, whom Kenneth picked to be creative director in 2001. (Lee decamped for the new Julien Farel Restore Salon & Spa in the Loews Regency Hotel, along with three colleagues, a year ago.) "That was a turning point for hair."
Kenneth became known for his bouffant 'dos, his work with falls—he was one of the first major stylists to use them—and his impossibly starry clientele, which included Monroe, Lucille Ball, and, at one point, seemingly every society doyenne on Park Avenue. In 1962, with backing from the salon chain Glemby International, he opened his first namesake outpost in a five-story town house on East 54th Street, just off Madison Avenue.
Growing up in Niagara Falls, New York, Garren fell in love with Kenneth's handiwork in the pages of the big fashion glossies. "My fantasy was to be a name in a magazine," he says. He began working for Glemby in the early '70s and soon moved to Manhattan, where he began racking up stories for Vogue and Harper's Bazaar. He became Glemby's creative director in 1975 and was given his own place, Garren at the Plaza. After a break in the '80s to focus on editorial and advertising jobs, many with top photographers like Richard Avedon and Irving Penn, Garren reopened in 1993 in the department store Henri Bendel on Fifth Avenue. In 2006, he moved to the Sherry-Netherland hotel.
Combining impeccable service with the allure of a big-name maestro, Garren and Kenneth each staked a claim to a piece of New York's upper crust: Kenneth had a dedicated following among the society ladies, and Garren pulled in the fashion crowd. The original decor of the Kenneth town house was a fantasia of red, black, and yellow paisley created by Billy Baldwin. There was a cold-storage locker for furs, dry and wet saunas, a Pilates studio, and a drying room outfitted with a Murano glass chandelier. Sandwiches were provided by the posh caterer William Poll, and a chauffeur was on hand to whisk the ladies home. In 1986, the interiors were redone in an English chintz style. "It was like walking into a private home," says social fixture Pilar Crespi, who started frequenting Kenneth in the '70s, following in the footsteps of her mother, Countess Consuelo Crespi. "When you had a shampoo, there was a bench for your feet so you could practically lie down."
Nancy Kissinger, another longtime client, adds, "It was always very elegant. It was quiet. You didn't have to listen to any loud music, thank God. You could have anything you wanted, and it was just delightful. "
Presiding over his swans—who also included Lee Radziwill, Slim Keith, Katharine Graham, and Jayne Wrightsman—Kenneth was a polite man dressed in Savile Row suits. He prided himself on never uttering a word of gossip. "I always found him warm and very gentlemanly and always interested in your life," Crespi says. "He wasn't a great talker, and he was extremely careful. When he would cut your hair, he was so extraordinarily focused on what he was doing." After the salon was destroyed in an electrical fire in 1990, Kenneth decamped to the Waldorf Astoria.
A few years later, when Garren made his debut at Bendel's, he offered clients an altogether different experience. For the salon's opening party, the entire department store was transformed into a nightclub, and the guest list boasted Johnny Depp, Kate Moss, Bruce Weber, Cindy Crawford, and Garren's muse Linda Evangelista. The 800-square-foot salon had limestone floors and rosewood stations with bronze fittings. "Garren doesn't like anything showy. Everything was very discreet," recalls Christopher-John Zerebny, the salon's star colorist. Appearances mattered. "If you didn't have the right bag or shoe, you'd feel really uncomfortable walking in there," Rogers says. "It was very much a velvet rope place."
There was also an ethos of perfection that stemmed directly from Garren. "You never saw a piece of lint or a wrinkle on his collar," says Steven Fernandes, a former assistant to Garren who became one of his top stylists. "And people went to him for things other than just hair. They'd say, 'I'm redecorating my kitchen; what do you think?'"
The glamour factor was maintained in Garren's Sherry-Netherland digs, which he opened in 2006. Still, there's no denying that the landscape was changing. Blow-dry bars were popping up around town, catering to ever busier women who didn't have the time to spend all afternoon in the salon. The younger society set often opted for bedhead styles or quick blowouts over elaborate updos, even for black-tie. And with hip boutique salons dotting uptown and downtown alike, many with leaner staffs, the business was ever more saturated—and competitive.
Four years ago, Kenneth retired, handing over his roster of clients to Lee and Ludlow. And in 2014, Garren began working on R+Co, which sometimes drew him away from the Sherry-Netherland. Both salons lost top stylists. But whether the shutterings were inevitable is not clear.
"I don't think the blow-dry bars have to do with my world. I still think there's a need for direction, for what color someone's hair should be or whether she should cut it off," says Garren, who now makes house calls to important clients. He has plans to build an R+Co beauty school and salon in Miami and create a hair-care line under his own name. And he hasn't ruled out reopening in New York. "I need to be a part of that world," he says.
Still, the recent closings are a cold reminder that artistry, no matter how skilled, requires commerce. "To be a successful hairdresser these days, you have to be a good businessman," says Alessandro Mangerini, the owner of an eponymous salon on Madison Avenue, which took on six of Garren's former employees, including Zerebny and Fernandes. Others went to John Barrett. Meanwhile, Ludlow took 14 of his Kenneth colleagues to the nearby Miano Viél Salon and Spa. And the clients happily followed, albeit with some nostalgia. "It's not like Kenneth, but it's very efficient, and the people are cheerful and helpful," observes Kissinger of Miano Viél. "But I don't know whether, for instance, you can order a sandwich."
"I'm at a point where I don't need the trappings," says the art gallerist Suzanne Geiss, who is loyal to Garren veteran Valentino Longo for cuts (he is now at John Barrett) and Zerebny for color. "If they were working out of an apartment, I would be fine with that." And there are some surprise silver linings. "We've been in a windowless salon for eight years, and now there's all this natural light," enthuses Zerebny of Alessandro Mangerini. "I love the way my color looks. Sometimes my reds…I'm like, Oh, my God!"
Photos: Hair Today, Gone Tomorrow
Kenneth fluffs Marilyn Monroe, Hollywood, 1961. Courtesy of Trunk Archive.
Jacqueline Kennedy's Brioche hairdo, 1962. Courtesy of Everett Collection.
Linda Evangelista and Garren, at the Garren New York salon, 1993. Courtesy of Getty Images.
Garren's work on Natalie Portman for a 2002 Allure story.
Lee Radziwill, a Kenneth regular, 1971. Courtesy of CNP archives.
Kenneth's original salon, decorated by Billy Baldwin, 1960s. Photo by Milton H. Greene.
Joan Rivers and Kenneth at a benefit, 1988. Courtesy of Getty Images.
Garren and a model, in the Sherry-Netherland salon, 2007. Photo by Matt Jones.
Victoria Beckham, styled by Garren, 2008. Courtesy of Rex USA.
Garren fan Karlie Kloss, 2012. Photo by BFAnyc.com.
Kenneth and model Cheryl Tiegs in his salon, 1967. Photo by William Connors.