Garren Breaks Down His Meticulous Beauty Routine
The hairstylist to Madonna and Kylie Jenner gives a step-by-step guide to his exhausting morning and night routines. Take notes.
---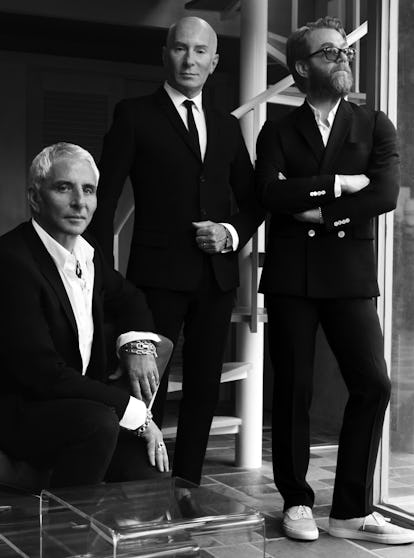 In the world of hair, there's a handful of celebrities. Garren, surely, ranks near the very tippy top of the list. Remember that famed Star Wars fashion shoot in Vogue in 1977? The one featuring a fresh-faced Jerry Hall as shot by Eisuke Ishimuro? Garren did the hair. From Linda Evangelista to Madonna, he's worked with them all, right up to Kylie Jenner, whose hair he styled for her recent Interview cover photographed by Steven Klein. The R+Co co-founder may only go by one name, but his beauty secrets are far from an all-in-one. Here, he goes deep on the nuances of his very specific morning and night beauty rituals.
What's your first grooming/shaving memory? My first grooming memory was when I was 10 or 11. I made my sister a blonde using hair color that I bought at the drugstore, so I decided to put the same color on my head so that my mother wouldn't know that we had changed our hair color. She turned blonde and I turned orange. I thought that if I kept the shades down and the room dark, no one would be able to tell I had died my hair. It worked until my neighbor came over and said, 'What did you do to your hair!?' I begged my sister to go back to the store to get dark brown hair color so I could fix it before I had to go to school the next day.
What was your first cologne experience? It was Jade East. My mother bought it for me.
Describe your daily grooming routine: First I use Erno Laszlo Sea Mud Soap. I shave using Edge Shaving Gel for sensitive skin with a Gillette razor. After that I take a hot shower and afterwards I start with Erno Laszlo Light Controlling Lotion and Ban Deodorant (roll-on, unscented) followed by Annick Goutal Mandragore under my arms. I apply Dr. Brandt Laser FX Brightening Serum on my face and the top of my head and then I apply Dr. Brandt Laser FX Perfect Serum for lines and wrinkles followed by Dr. Brandt DNA Transforming Pearl Serum and Sisley Sisleya Eye and Lip Contour Cream for daytime or Sisley Sisleya Supremya for the eyes at night. I use Dr. Brandt's DNA Firming Neck Cream and Sisley Restorative Body Cream for Body. Then I spray Annick Goutal Eau De Monsieur on the insides of my arms and wrists. For my brows, I use Nars Brow Groomer and then I finish with Siseleya Radiance.
If we opened your medicine cabinet, what would we find? It's meticulously organized with an arsenal of Dr. Brandt skincare products. I have every product from his line. I'm obsessed with the (Erno Laszlo) 3-9 repairing balm because Marilyn Monroe used to use it.
If we pulled back your shower curtain, what would we find? R+Co Sunset Blvd Shampoo and Conditioner for my husband, Thom Priano's gray hair, Dove soap & Sisley Energizing Exfoliant for the body.
Is there one product you can't live without? Each product is part of a whole routine, and I can't not have any one out of the routine.
Is there a system to what goes in your travel Dopp it? Everything that is in my medicine cabinet goes with me when I travel.
Is there a woman's fragrance that makes you swoon? Paris by Yves Saint Laurent because it reminds me of my mother.
Are there any women's products you envy? I've been obsessed with skincare since I was a kid, and I will use any product, whether it's meant for a man or a woman. In my mind, skincare is unisex and we should all use the best that's out there.
Women's products—or beauty rituals—you pity? I think, as women get older they tend to wear too much makeup. Mostly its too much eye makeup (liner) and the wrong lip color.
Which male celebrity do you think has the best hair? Bradley Cooper.
What beauty look on women do you love? No-makeup makeup, a great haircut, a good high heel, and their own personal style. I always feel that less is more.
Photos: Garren Breaks Down His Meticulous Beauty Routine
Thom Priano, Garren, and Howard McLaren. Photograph by Michael del Buono. Thom Priano, Garren, and Howard McLaren. Photograph by Michael del Buono.
Charlize Theron, hair by Garren for R+Co., W magazine, April 2015.
Hair by Garren, Amanda Seyfried W Magazine April 2014 Cover
Garren and a model, in the Sherry-Netherland salon, 2007. Photo by Matt Jones.

Matt Jones
Linda Evangelista and Garren, at the Garren New York salon, 1993. Courtesy of Getty Images.