Gene Wilder Had Very Particular Thoughts About Willy Wonka's Costume
Wilder brought his particular artistic sensibility​ to everything he did, right down to his character's costumes.
---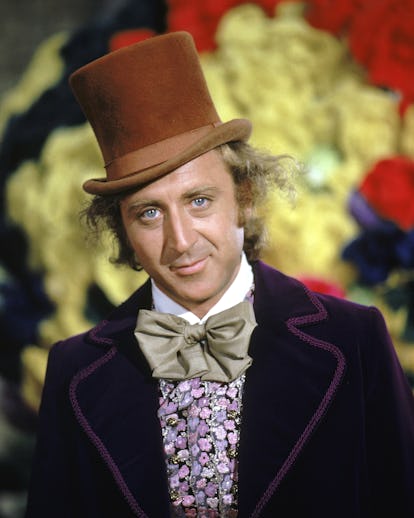 Getty Images
Gene Wilder threw himself into every project he took on. The actor, author, and director, who passed away today at the age of 83, thought about his parts from every angle, and his judgment always seemed spot on.
He co-wrote his character's courtroom monologue in The Producers, fought tooth and nail with a skeptical Mel Brooks to keep the "Putting on the Ritz" sequence in Young Frankenstein, and famously only took the role of Willy Wonka by insisting the character appeared at first with a limp only to lose control of his cane and recover with a perfect summersault.
"From that time on, no one will know if I'm lying or telling the truth," he told director Mel Stuart.
The Emmy-winning, and twice Oscar-nominated Wilder brought his own unique artist's point of view to everything he did, whether on stage or screen. That included his iconic costume in Willy Wonka.
Costume designer Helen Colvig had originally drawn up sketches that kept true to Ronald Dahl's description in the original book. It appeared to Wilder's eyes that the look was too pinned to that of a stereotypical 1920s dandy, thus potentially dating the character. Wilder wanted something more timeless, so, according to the book Letters of Note: Volume 2, he dashed off a letter to Stuart suggesting changes.
July 23rd
Dear Mel,
I've just received the costume sketches. I'll tell you everything I think, without censoring, and you take from my opinion what you like.
I assume that the designer took his impressions from the book and didn't know, naturally, who would be playing Willy. And I think, for a character in general, they're lovely sketches.
I love the main thing—the velvet jacket—and I mean to show by my sketch the exact same color. But I've added two large pockets to take away from the svelte, feminine line. (Also in case of a few props.)
I also think the vest is both appropriate and lovely.
And I love the same white, flowing shirt and the white gloves. Also the lighter colored inner silk lining of the jacket.
What I don't like is the precise pin pointing in place and time as this costume does.
I don't think of Willy as an eccentric who holds on to his 1912 Dandy's Sunday suit and wears it in 1970, but rather as just an eccentric—where there's no telling what he'll do or where he ever found his get-up—except that it strangely fits him: Part of this world, part of another. A vain man who knows colors that suit him, yet, with all the oddity, has strangely good taste. Something mysterious, yet undefined.
I'm not a ballet master who skips along with little mincy steps. So, as you see, I've suggested ditching the Robert Helpmann trousers. Jodhpurs to me belong more to the dancing master. But once elegant now almost baggy trousers—baggy through preoccupation with more important things—is character.
Slime green trousers are icky. But sand colored trousers are just as unobtrusive for your camera, but tasteful.
The hat is terrific, but making it 2 inches shorter would make it more special.
Also a light blue felt hat-band to match with the same light blue fluffy bow tie shows a man who knows how to compliment his blue eyes. To match the shoes with the jacket is fey. To match the shoes with the hat is taste.
Hope all is well. Talk to you soon.
All my best,
Gene
Who knew the man had such an eye for fashion?
The final costume didn't end up incorporating all of Wilder's original suggestions. There's no blue hat band, but the khaki-colored and notably non-jodhpur pants, coat pockets, matching hat and shoes and shorter hat did make the final edit. The suggestions helped make the costume iconic, and worth the reported $40,000-plus price tag it was offered at during a 2012 auction.
It's also a look children remeber to this day.
Ever mindful, according to his family, Wilder decided to keep his battles with Alzheimer's disease a secret until his death so as no to upset those children.
"The decision to wait until this time to disclose his condition wasn't vanity, but more so that the countless young children that would smile or call out to him 'there's Willy Wonka,' would not have to be then exposed to an adult referencing illness or trouble and causing delight to travel to worry, disappointment or confusion," said Wilder's nephew in a statement. "He simply couldn't bear the idea of one less smile in the world."
Watch W's most popular videos here: