Generation SPF
What would your skin look like if you had used the world's best anti-aging cream since the day you were born? Katie Becker finds out.
---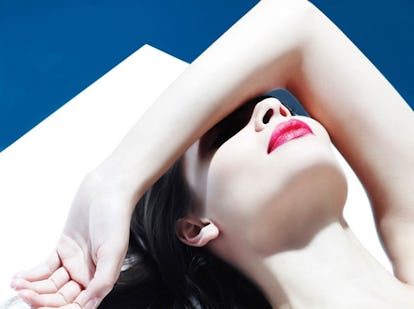 I grew up in Seattle, a place where the sun doesn't shine—or so it seems during the city's biblical stretches of rain. Still, as far back as I can remember, I have always worn sunscreen. As soon as the clouds broke for summer, I was slathered with SPF 30—or 50 if I was anywhere near a boat or a beach. Today I apply broad-spectrum block daily, even in winter and even if I'm indoors. After all, UVA rays can penetrate clouds and windows, triggering melanoma, wrinkles, and dark spots.
This might sound overly cautious, but as a 27-year-old, I'm hardly an anomaly. Thirty-five years ago this summer, the U.S. Food and Drug Administration introduced the SPF system, so those numbers have been around longer than I have. And in 1985—the year I was born—sun protection took another major step forward. "That's when SPF 15 and higher became available, we started doing skin-cancer screenings, and we launched the first melanoma-awareness campaign," says Darrell Rigel, clinical professor of dermatology at New York University and former president of the American Academy of Dermatology. While our parents may have spent their youth hitting the tanning oil, when we were kids, a bottle of sunblock was as likely to be found in our diaper bag as a bottle of formula. And now comes the interesting part. As we reach the age when the signs of sun damage traditionally appear, we get to find out whether growing up with SPF has, in fact, saved face.
Becker gets an analysis of her skin's sun damage.
According to Jennifer Linder, assistant clinical professor of dermatology at the University of California San Francisco, the answer is yes. In her practice, she says, she's now seeing a subset of 30-year-olds who look 20. "They're usually my pale patients, with moms who knew to cover them, so they were proactive about sun protection early on." The Manhattan dermatologist Gervaise Gerstner has made similar observations. "Their skin lacks the crepiness and little freckles on hands, necks, and chests that you generally see," she says of her supervigilant ­patients. Rigel goes so far as to assert that "on women who have been really good and taken full advantage of sunscreen, I may see no signs of photoaging at all—even at 30." He cites research conducted on Buddhist monks who never ventured out of their monastery. "At 80 years old, they looked 30."
While 80 may never be the new 30, the change is marked enough that cosmetics companies are starting to take note. According to Anne Carullo, senior vice president of global product development at Estée Lauder and Tom Ford Beauty, traditional foundation may soon be a thing of the past, replaced by sheer, barely there formulas. "Women from this generation don't want to cover up their skin," she says. "Nor do they need to."
I can relate: I regularly wear eye makeup and blush, but I've never worn foundation—mostly because I have nothing to hide. But in the interest of digging deeper, I visit the New ­Jersey headquarters of Canfield Scientific, where its Visia Com­plexion Analysis Machine can delve below the surface to detect future issues, like brown spots, before they emerge. The findings are compared with those observed in other women of the same age and ethnicity, basically grading skin on a curve.
As I watch the images of my face on the monitor, I feel confident—until I read the scores. Texture: 98th percentile. Wrinkles: 74th percentile. Red areas: 63rd percentile. UV spots: 11th percentile…How could this be possible? Well, genetics may play a role. "If you have dark skin, there are still risks, but you're more naturally protected," Rigel explains. But for German-Irish types like me, he says, even "one burn can be extra-damaging."
And, truth be told, I have been burned. Despite my diligence, I have occasionally neglected to reapply. And there was that time in 1999 when I went to San Diego for spring break and actually tried to get tan. But, ironically, my sunscreen might also be to blame. "Even when you were wearing high SPF, you may have been getting a lot more UVA damage than you realized," Rigel says. "SPF used to refer only to the level of UVB protection—even if the label said broad-spectrum. Some brands had high UVA protection, but if yours didn't, you might not have burned but still gotten damage."
This year, the FDA put into effect new rules governing the labeling of sunscreen. Most significantly, any broad-spectrum sunscreen must protect equally against both types of rays. But what about the damage already done? For that, Gerstner recommends Clear + Brilliant, a fractional laser treatment that she has seen improve signs of sun damage by up to 50 percent. She also reassures me that I'm far from the only woman my age to have been fried. Those preternaturally youthful 20-to-30-year-olds represent "about 10 percent of my patients," she says—a number the other dermatologists echo. "I'm not noticing a big overall change just yet."
So it turns out Gen SPF is not my generation but the next one. "Those of us who started wearing sunscreen as children are moms now," Linder says. "We don't see the childhood sunburns we used to, and teen girls are more likely to wear sunscreen daily than they were 10 years ago." She predicts that when these kids are 50, they'll look like they're 35. Maybe even 30. As for me, maybe I'll try a stint at a monastery.
Alex Cayley/Trunkarchive.com; Becker: courtesy of Katie Becker