George Clooney Once Gave His Friends Briefcases Filled With $1 Million
It pays to be friends with the Clooneys.
---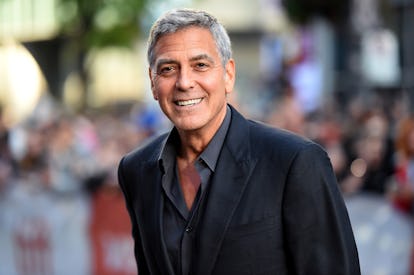 J. Merritt/WireImage/Getty Images
With a cool billion dollars' worth of booze bucks in the bank, George Clooney has made it abundantly clear that he isn't strapped for cash. But what's a tequila mogul to do with all that extra money lying around? Give it away to his friends, apparently.
According to Rande Gerber, Clooney's close friend and former Casamigos tequila business partner, the Ocean's 11 star invited his #Squad over and gifted all 14 of them with $1 million each in 2013 , told MSNBC's "Headliners,"People reports. "There's a group of guys that we call 'The Boys,'" Gerber told the outlet. "George had called me and the boys and said, 'Hey, mark September 27, 2013, on your calendar. Everyone's going to come to my house for dinner.'"
When the guests arrived — in a move straight out of Danny Ocean's playbook — Clooney had placed mysterious briefcases at each place setting.
"George begins to say, 'Listen, I want you guys to know how much you've meant to me and how much you mean to me in my life. I came to L.A., I slept on your couch. I'm so fortunate in my life to have all of you and I couldn't be where I am today without all of you. So, it was really important to me that while we're still all here together, that I give back. So I want you all to open your suitcases," Mr. Cindy Crawford said.
Inside the suitcases was $1 million worth of $20 bills. "Every one of us—14 of us—got a million dollars. Every single one of us," Gerber explained. "We're in shock. Like, what is this? He goes, 'I know we've all been through some hard times, some of you are still going through it. You don't have to worry about your kids, you don't have to worry about, you know, school, you don't have to worry about paying your mortgage.' I mean these are guys that took care of George and now he's giving it all back. And George said: 'Not only that, I have paid everyone's taxes so this million dollars is yours.'"
According to Gerber, some of the men in the room were working paycheck to paycheck at the time, but Gerber himself felt strange about taking the cash. "I pull him aside and said, 'I absolutely am not taking this million dollars,'" he told People. "Immediately, George goes, 'I'm just going to make one announcement. If Rande doesn't take the million dollars, nobody gets it.'" Obviously, Gerber ended up taking his cut—then donated it all to charity.
"This is who George is," he said. And as it turns out, the actor/director reaped the benefits of the good vibes he was putting out into the universe: Exactly one year to the day after he surprised his friends with the cash (September 27, 2013), he married Amal in Italy (September 27, 2014). "Now, that's good karma right there," said Gerber.
Related: Screen Test: George Clooney