George Clooney Is Stepping Back From Acting After Selling His Tequila Company for $1 Billion
"Acting used to be how I paid the rent, but I sold a tequila company for a billion f--- dollars."
---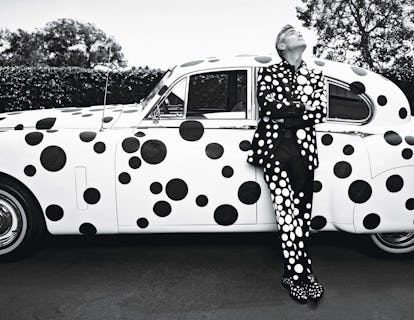 You may know George Clooney as an actor, but if you asked his accountant (or the IRS) what his profession is they might say tequila baron. Yes, Clooney was an original partner in the tequila company Casamigos which was recently sold for a cool $1 billion. While Clooney only took home his portion of the sale, it's still a major windfall. It also means that he's stepping back from acting.
"Acting used to be how I paid the rent, but I sold a tequila company for a billion f— dollars," is how he succinctly put it in a new interview with The Sunday Times. "I don't need money."
Clooney started the company with the real estate mogul Mike Meldeman and Rande Gerber (AKA Cindy Crawford's husband, or, as he may better be known at this point in time, Kaia Gerber's father) back in 2013 while the friends were on vacation in Mexico. Five years later, they sold it to European beverage company Diageo in what surely most have been the biggest celebrity-linked alcohol deal since that time Bethany Frankel sold Skinny Girl Margaritas.
Though, money isn't the only reason Clooney is putting acting on the back burner. He's also aware that at 56 he's no longer in the peak of his leading man prime.
"Look, I acted for a long time and, you know, I'm 56. I'm not the guy that gets the girl anymore," he said. He quickly added that at least he shouldn't be.
So don't expect him to join the cast of the next blockbuster anytime soon nor for him to ply grandfatherly roles well into his older age. He's concentrating more on his work behind the camera now, and will only take roles he's really passionate about. Of course, that's not exactly a new move for Clooney either. His last traditionally commercial film was 2007's Ocean's 13.
"I have money," Clooney said. "So I can fight to make movies I want to make. If you look at what I've been in over the past 15 years, for the most part they weren't going to get made if I didn't do them. Nobody was going to make Good Night, and Good Luck, Michael Clayton or Up in the Air, and I fought to get those out there."
The move away from acting however should not be read as a sign that perhaps he has his sights on political office.
"So many people since Trump was elected have really been pushing on me to get more involved in actual politics, specifically at the highest office," he said. "I don't have political aspirations."
So basically, what we can take away form this is:
George Clooney does not have very much acting ambition left.
George Clooney does not have political ambitions.
George Clooney does have a lot of money.
Related: Amal and George Clooney Are Housing a Yazidi Refugee and Giving Him a College Education
George Clooney Reveals His Cinematic Crush: