Chef George Mendes on landlord greediness, his hotness and more
Two-month old restaurant Aldea, on Manhattan's West 17th Street, is attracting attention both for its sophisticated Iberian-influenced food and for its attractive chef-owner, George Mendes, who has worked with big names like Ducasse and Bouley....
---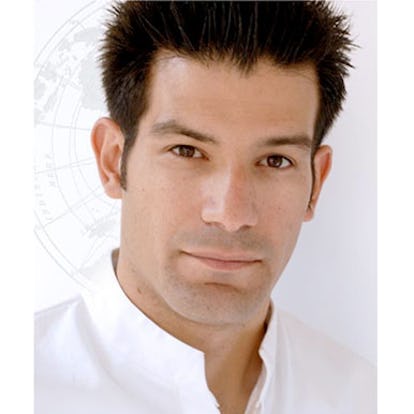 Aldea is often described in the food press as "long delayed." You left Toqueville, where you were chef de cuisine, two years ago with plans to open your own place. What was the hold up? To set the record straight, when I left Toqueville, I had found a space on 19th Street and we were days away from signing a lease but it fell apart due to landlord greediness. We spent the next 18 months looking for another location. My partners were always on board. I never had any issues with financing, since day one. What people were calling a delay was the process of finding the right space. And then when I got the right space, we signed the lease and it was a 100% build out from scratch so that took 8 months. So there you go, do the math. And good things come to those who wait. I remained patient, although there were days when I was about to kill people. But that's how it went and here we are today.
How is running a restaurant as an owner different from just running a kitchen, as you'd done at Toqueville? I'm a big details-maniac-perfectionist with everything from flowers to clean floors to perfectly set tables. It's my vision and my restaurant and I walk home every day exhausted.
Some reviewers and bloggers have mentioned your appearance. How does it feel to be called a culinary sex symbol? [Laughs] The looks only take me so far. If I can't put something good on the plate, what good does it do? I'm not running a fashion show here. This is not GQ. Yeah it's great and it makes me laugh when people say, "You're one of the best looking chefs or the sexiest chef." That only goes so far.
Aldea has an open kitchen, so do female customers ever come over and try to chat you up? Not yet. I'm married. Maybe my wedding ring shines from the kitchen.
Where are your favorite places to eat in New York? I love Two Boots Pizza in the West Village: the plain slice, the Newman and the Dude. Just talking about it, I want some right now. I wonder if they deliver here? Previously: Chef Sam Talbot on Montauk, marriage and Kelly Bensimon