Georgina Bloomberg On Her Father's Aborted Presidential Run
The Bloomberg scion seemed relieved the former mayor bypassed the mudslinging of the presidential race.
---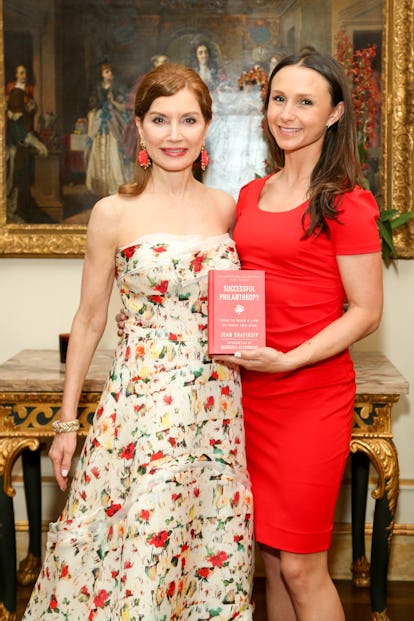 On Monday night, Georgina Bloomberg was in familiar terrain at a book party in the Upper East Side.
Society philanthropist Jean Shafiroff's new guide, "Successful Philanthropy: How to Make a Life by What You Give," was being toasted and Bloomberg was in attendance in her capacity as the author of the foreword. Politics was not necessarily in the air – although, isn't it always? – and seeing how her father, former New York City mayor Michael Bloomberg, was in the news recently for his presidential ambitions, it seemed a good opportunity to ask her thoughts on his decision to ultimately bypass the 2016 presidential race.
In fact, she seemed relieved.
"I obviously think he would have been great at it, and I would have been very supportive of him entering it," she said. "But as his daughter, I am very grateful he did not enter it just because I've been through campaigns and the mud-slinging before on a much smaller level, and it was not something I was really looking forward to being involved with on a much larger level. When you watch the news, you can't sit there and think, 'Wow I'd love one of my parents to be involved in that fight.'"
The younger Bloomberg also grew up with close proximity to another billionaire presidential candidate, Donald Trump and his family, giving her a unique perspective on the Republican primaries. "I've learned to separate the politician from the man, because it's something I always had to do with my father," she said. "Donald Trump and his family have always been very close [to me]. I'm good friends with his kids. I was not looking forward to having to watch our fathers go against each other."
According to the New York Times, former mayor Bloomberg would have entered the race if it looked likely that Trump and Senator Bernie Sanders were to be nominated. He even had campaign materials, such as a commercials and a website, at the ready. But with Hillary Clinton pulling ahead on the Democratic side, he decided against entering, citing his concern that if he ran, Trump would be elected president. On Bloomberg View, in an article titled "The Risk I Will Not Take," he wrote that Trump "has run the most divisive and demagogic presidential campaign I can remember," while also noting that "I have known Mr. Trump casually for many years, and we have always been on friendly terms."
A day before another set of primaries, this time in the West, some factions are still hoping the former mayor jumps into the fray and shakes things up, but his daughter seemed unmoved.
"Voting for a politician is very different then saying you like somebody or don't like somebody," said the Bloomberg scion, who is also familiar with the Clintons. "At the end of the day, they're both two people and two families that I genuinely love and respect and don't want to see anything bad happen to or anything bad said about."