Meet the Up-and-Coming Fashion Designer Who Is Making Tough Yet Sensual Menswear
Gesine Försterling took home the Chloé prize at this year's Hyères fashion festival.
---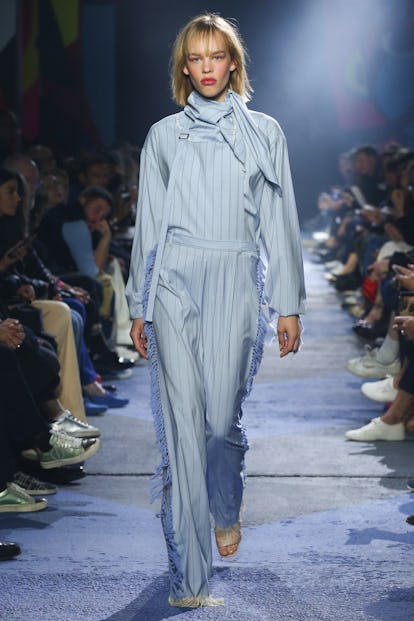 Jeremie Leconte
While Vanessa Schindler took home the grand prize at this year's Hyères International Fashion and Photography Festival, held annually at the Villa Noailles overlooking France's Côte d'Azur, Germany's Gesine Försterling received the prestigious Chloé prize, which comes with 15,000€ and the opportunity to collaborate with the French fashion house.
Försterling, 30, is a surprisingly versatile designer, with a passion for both men's and women's wear, as well as textile designs. This range comes through in her work, which plays with the stereotypes of masculinity and femininity. Her winning look for Chloé was a women's wear design with a hint of the boyishness that is inherent in French girl chic. But Forsterling's full collection for Hyères titled "Work?" was actually entirely men's wear. For the collection, the young designer leaned on her diverse experiences–working at an embroidery factory in Mumbai, India, and in costume design in Berlin, Germany. "Work?" utilizes the embroidery and weaving she learned in India, and juxtaposes these traditionally feminine details with hyper masculine, workwear-inspired silhouettes.
Here, the German designer explains her vision and talks about what's next.
What made you decide to go into fashion?
I was always fascinated by fashion since my childhood, but in a really naive way. I was always interested in fabrics and surfaces, and I always wanted to touch things, but fashion is, for me, another kind of art, and I'm always interesting what is going on in society and finding a way to translate this into fashion in a way this is so important. And really interesting.
Why did you apply to the Hyères competition?
I think every fashion student knows this contest. During my fashion studies I was thinking, "Oh wow, it would be so amazing to be part of it." So I decided to apply right after graduation. I thought, "Why not, maybe it's possible?" It was always a dream and then I got the call from Hyères that I was a finalist. It was amazing. I'm not working yet, so from then I used my time to update the collection and work on the Chloe look. I'm really excited about the future and I'm looking for a job.
Can you describe your winning look?
We went to the Chloe archives in Paris in February, and it was amazing to see all these looks from the beginning, and original sketches from Karl Lagerfeld. I wanted to show tell a story about a Chloe girl which is like also a strong girl, but at the same time really feminine and sensual. So I took some techniques from my men's collection, but also made it more refined in the shapes and embellishments to turn into a really free and feminine way. I wanted a really free and cozy look, with a bit of nonchalance and easiness, because that's what the Chloé girl is for me. I didn't use embroidery, I was thinking about it, but in the end I was thinking it was maybe too much for this look.
This was a womenswear design, but for the fashion festival you created men's wear. How did you start designing menswear?
This was my first menswear collection. I did womenswear before, and studied it in university, but I wanted to show power dressing for men that's both sensual and strong, and not something you see a lot in menswear, especially workwear or business attire. I wanted to visualize this contrast in the way I was using the material, because the weaving techniques I use are really sensual, when you see them you want to touch them, so it was perfect to contrast with really hard, strong workwear and embroidery.
You are from Germany and stayed there for school. Why did you do that?
The German fashion landscape is not the best, but the school I went to the Berlin University of art is, for me, the best school in Germany. It's still quite cheap to study in Germany, and I really love Berlin. I did my BA there and then I did my Masters there, as well.
Will you stay?
I would love to stay in Berlin, but it is really hard working in fashion Germany because you don't have big companies. To have your own brand is really hard, it's a lot of money.
Who would you like to work for?
For menswear I love Raf Simons, but I also like houses like Balenciaga, Dior, Chloé, of course, for womenswear. I'm really flexible. I've done menswear, womenswear, and I also love textile design, so I'm quite open for everything.
Related: Former Balenciaga Intern Vanessa Schindler Is Now One of the Hottest Rising Fashion Designers In the World
Meet the 8 Finalists of the 2017 Hyères Fashion Festival
Hermione Flynn, 31, is from New Zealand but now lives in Berlin, where she produces a collection and incorporates performance art, installation and film with fashion. Her "C(ocktail dresses)+ B(allgowns for men)" are a mashup of workwear and cocktail regalia.
Danial Aitouganov, 24, lives in the Netherlands, but he was born and raised in Tartarstan, Russia. After interning with Alexander Wang, he launched his own brand. This collection, titled "The Second Sex, Vol. II," mixes bold graphics and voluminous shapes with utility details.
Hyunwoo Kim's unisex collection, "Stranger from the Garden," was inspired by Roger Corman's cult-classic film "The Little Shop of Horrors" (1960), and combined nightgowns, trench coats and strange detailing. The 25 year-old from South Korea explains, "In the film, there's a horticulturist who sells blood sucking plants. When the customer asks where he got them, he says 'from the Japanese gardener.' In this collection I'm trying to know all about the gardener his outfit, lifestyle and mood."
Gesine Försterling, 30, previously worked in an embroidery factory in Mumbai, India and did costume design in Berlin. Her new collection, titled "Work?!", transforms men's uniforms and tailoring into new shapes with oversized logo embroidery and hand weaving.
Finish designer Maria Korkeila, 24, previously interned with Rick Owens in Paris. Her clothes look like a glimpse of bodies behind a shower curtain in photo prints, jacquards and layers of torsos and portraits on easy shapes that look like a mix of pajamas and workwear.
Marianna Ladreyt, 27, who is Cypriot and French, studied philosophy at the Sorbonne in Paris before turning to fashion. Her clothes reflect a utilitarian sensibility, using materials like nylon and silhouettes inspired by overalls.
Vanessa Schindler, 28, is from Switzerland interned at Balenciaga. Her collection revolves around experiments with urethane, a synthetic material like Latex, which she sculpts into otherworldly shapes.
Marine Serre, 25, is from France, and has worked for both Demna Gvasalia at Balenciaga and Raf Simons at Christian Dior. Her collection, "Radical Call for Love," combines 19th century Arabic women's costumes and athletic wear from the 1990s/2000s for a volatile blend of street and haute.