Getting Ready with Cindy Crawford for Tom Ford's Big New York Show
Tom Ford returned to New York and Cindy Crawford was there to witness the spectacle. As she was getting primped at her hotel, she talked about fashion, then and now, Ford's enduring appeal, and the advice she gives her children on modeling
---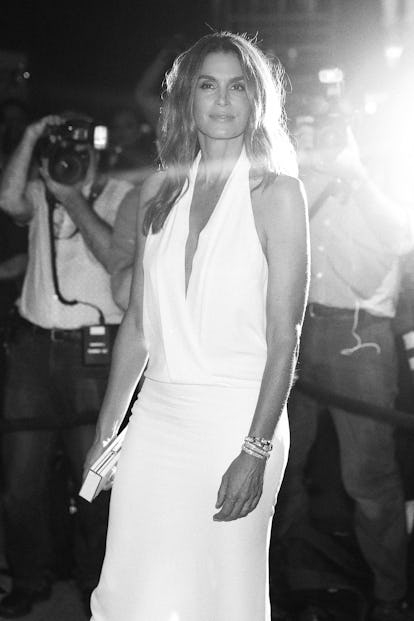 Getty Images.
Leave it to Tom Ford to bring an added dose of megawatt glamour and fashion royalty to New York Fashion Week. The designer, who made his triumphant return with a see-now-buy-now show at the Four Seasons, filled the late beloved restaurant with enough star power to rival an Oscars party – Tom Hanks and Rita Wilson, Julianne Moore, Jon Hamm, Hailee Steinfeld, Uma Thurman – punctuating the scene with his flock of iconic supermodel pals, like Cindy Crawford. Before the legendary super hit the red carpet in a plunging white gown by the designer, she was at The Lowell Hotel primping for one of NYFW's biggest moments on camera and reflected on fashion, then and now, Ford's enduring appeal, and the advice she gives her children on modeling.
Getting Ready with Cindy Crawford for Tom Ford's Big New York Show
It's New York Fashion Week again. What do you remember about your first-ever NYFW years ago? Oh, probably just being exhausted! In retrospect, when you are doing a show, more than any other time, it's good to have that relationship with a designer. You see them under stress, you are under stress, and I feel like my job as a model is really to make the clothes they have been slaving over for the past six months look really good. There is that camaraderie and relationships that develop during fashion week.
I know you have worked with Tom Ford quite a bit during the course of your career. What was a favorite, or most memorable, moment? There is really no better model for his fashion than him. Where some designers don't necessarily embody and dress like their own clothes, other than maybe Ralph [Lauren], where with Tom, you totally get it. It is in everything that he does. He gives us glimpses into how he sees the world through his films, his fashion, fragrance, advertising, etc.
You were front-row at Tom Ford's show yesterday. How was it? It was great. It was very Tom in the sense that it was elegant and chic and great people and understated. So fun! The shoes were really cool but I was wondering how the girls balanced in them. They looked very hard to walk in. I loved the colors and the jewel tones and the leather skirts. I think my favorite look was the red sequined number with the black belt—that was definitely something I could see myself wearing.
What's your most beloved Tom Ford piece in your closet? I really loved my dress last night because it felt like a white T-shirt. I felt so comfortable in it. I love all kinds of fashion but to me, the perfect dress is not about the dress. You just feel like yourself in it and you don't even have to think about the clothing.
Are you going to anything else during fashion week? We are friends with Laura and Chris Brock from Brock Collection so we just went to their show. That's kind of it except tonight we are going to the Daily Front Row awards because my daughter is getting breakout model of the year award. We are going to support her.
Wow! That's so exciting. Both of your kids, Kaia and Presley Gerber, are modeling now. What advice have you been giving them as they kick off their modeling careers? My son had a job working at a juice place and it's the same advice I gave him for that—be on time, don't be on your phone, be professional, be friendly and polite. In terms of who they want to be in front of the camera, or if they event like it, I don't think that's something you can teach. I have allowed them to do certain things because if you get the opportunity to work with someone like Bruce Weber or Steven Klein, Carine [Roitfeld], those are the best teachers they can have. Even though I wasn't dying for them to get started, (my daughter just turned 15), I have no problem with modeling. It has been so great. Would I have wished she would be maybe 15 when she started? Yes. But when you get incredible opportunities with someone like Inez and Vinoodh, I want her to learn from those people.
Kaia and Presley Gerber Are Ready to Work, Work, Work, Work
The landscape has changed a lot since you first started modeling, especially with social media. What do you think of those differences as they start their modeling careers? In some ways, I think it's a great tool because you can be your own publicist in a way. You can have a direct relationship with your fans and you can determine how you want to be seen. Sometimes a photographer sees you differently than you see yourself so you can curate the image that you want to portray. I also feel like it's exhausting to feed it. It's like that hungry little monster who is never full. It's always like, 'OK, what am I going to post? What am I going to post?' Sometimes Kaia doesn't post on her Instagram for 10 days because she just isn't into it and I don't pressure her to because you should only do it if it's fun. I also think when you are young especially, you post something without really thinking about it. Even me as an adult, we are all having to learn to think twice. Don't post until you have thought on it for a minute. In some ways, my kids are a lot better at than me because they grew up with it.
Have they taught you any good social media tricks? They are slightly embarrassed sometimes by things that I post. I am not allowed to really use hashtags anymore because they get annoyed if I used too many of them. They understand that my fans might be different than their fans though. I haven't gotten into Insta stories yet. I am usually late to the party on that kind of thing because it just feels like one more thing to handle. I like Instagram because I got it. I don't do Snapchat. I will look at other peoples' Stories but I am not quite sure when you would do that versus a regular one. I don't really have the need to in my life yet.
Career-wise, what are you focused on at the moment? Well, I have my skincare line Meaningful Beauty, so I am still focused on that. We are always trying to do the latest, the newest and improved. I also have my furniture line as well. I keep pretty busy but my new thing is helping my kids launch their careers. It's kind of great because usually with teenagers, they are busy doing their own thing and you don't to see them all that much. But this is kind of fun because it's a family affair and it has brought us closer together as a family.
What product are you most obsessed with right now? You always start with prevention. Day cream with an SPF and protecting your skin from the environment and the sun. The night is about replenishing and restoring. It's balancing those two things. That's the key.