Giada De Laurentiis Goes Back on Ellen to "Redeem Herself" After Awkward Nicole Kidman Segment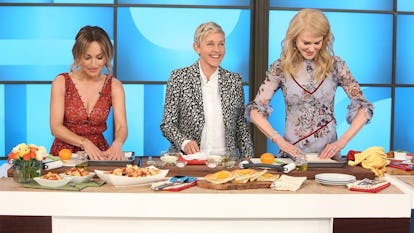 The Ellen Show
Last spring, history was made on Ellen when Giada De Laurentiis and Nicole Kidman attempted to make some arancini and focaccia together. What came out, instead, was an uncomfortable exchange with De Laurentiis chiding Kidman and host Ellen DeGeneres for their cooking skills and the Big Little Lies actress serving up some warranted side-eye. De Laurentiis, however, has since bravely returned to Ellen for another go at a cooking segment.
"Now this is to redeem myself from Nicole Kidman," De Laurentiis told DeGeneres, after asking the host, "She's not here, right? I know you surprise people with people coming out of things." She wasn't in attendance, but that didn't stop DeGeneres from joking about her.
"Last time you were here, we had a few hiccups," DeGeneres said. "It was Nicole Kidman's fault."
As it turns out, a De Laurentiis and Ellen DeGeneres cooking segment is just as awkward without any weird tension between the cooking star and Kidman. After throwing pizza dough at each other's faces and De Laurentiis accidentally dumping in a whole cup of salt where a pinch was needed, De Laurentiis made a cutting dig at Kidman. "I wish Nicole were here," she said after making a heart-shaped pizza sandwich. "She would like them."
Of course, she was referencing Kidman's reaction to the clementine and fennel focaccia that came from De Laurentiis' cookbook. When she took a bite of the snack, which had been pre-made before she and DeGeneres attempted to make one themselves, Kidman remarked, "It's a little tough." Her final comment came after she told De Laurentiis, "This is a family-friendly show," when the cooking host made a colorful joke about making balls of arancini.
"The woman who can't cook made the perfect ball!" she screamed at Kidman. "Who do I even do a cooking segment," she later asked, "I don't even know why I bother."
As for Kidman, she's spent the past year presumably not thinking about her cringe-worthy exchange with De Laurentiis. Outside of preparing for a second season of Big Little Lies, Kidman has been making good on her promise to work with more female directors. De Laurentiis, on the other hand, is still condescending to women over their irrelevant cooking skills.