Giambattista Valli: Prince Charming
With his genius for updated ladylike luxe, Giambattista Valli is the reigning social couturier.
---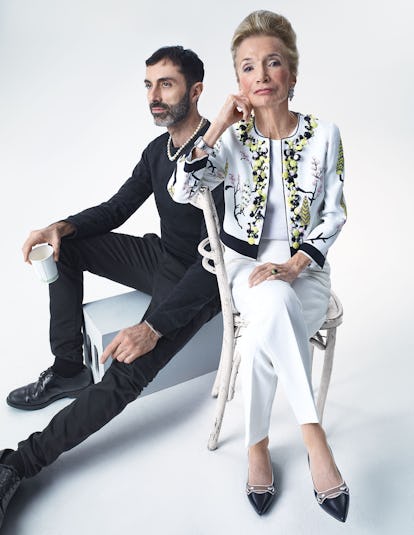 Photographer: Emma Summerton Stylist: Edward Enninful
Henry James famously wrote in his short story "The Real Thing" that true aristocrats can't be artists—but then he never met Giambattista Valli. The Paris-based Italian couturier, who was born into the rarefied circles of Roman papal nobility, translates with ease the grande bellezza aesthetic that runs in his bloodstream into a vision of contemporary feminine elegance both romantic and subversive. "He has the soul of a poet," says his close friend, the 82-year-old society legend Lee Radziwill.
Radziwill is the doyenne of a sisterhood of clients and friends of the designer, who are so devoted that the fashion press has dubbed them Valli girls. Among the highly pedigreed beauties are Queen Rania of Jordan, movie stars like Salma Hayek and Diane Kruger, and international fashion plates like Eugenie Niarchos, Charlotte Dellal, Dasha Zhukova, and Bianca Brandolini d'Adda. Valli's life meshes with theirs in a manner unusual even for more famous designers. He travels with Radziwill. When in Jordan, he takes tea with Queen Rania. Valli girls call the designer by his boyhood nickname, Giamba, embracing not just his ready-to-wear but also his eye-wateringly expensive couture. In fact, Valli has been at the forefront of restoring couture to contemporary relevance by bringing in a whole new passionate, highly visible young clientele who feel that he understands them."Giambattista loves women," says Kruger, a longtime friend. "And I mean in the real, 'no, we don't all fit a size zero' way. His clothes flatter a woman's shape. They make us feel beautiful."
As comfortable as he is in such exclusive circles, Valli has shown that he can also channel downtown cool, periodically blowing up the Internet with styles that become pop culture signifiers, such as the controversial pajama-top gown that Lena Dunham wore to the 2014 Emmys and the vast cloud of pink tulle that floated Rihanna into this year's Grammys. That gown spawned a hundred memes and put Valli's name on the lips of kids who'd never heard of haute couture. His label has grown up simultaneously with social media, and his instincts have allowed him to navigate the digital democratization of fashion without losing his cachet.
Now, as his 10th anniversary approaches, Valli is in an enviable position. At 48, he is among the minority of non-French designers granted the honor of a membership in the historic Chambre Syndicale de la Haute Couture—the others include Elie Saab, Giorgio Armani, and Donatella Versace. Since 2012, his gowns have made 100 red-carpet appearances on an ever-expanding list of celebrities such as Lupita Nyong'o, Jessica Biel, Penélope Cruz, Natalie Portman, Amy Adams, and Julianne Moore. His brand sells at 240 shops around the world, and he recently staged a runway show in Shanghai. He is the creative director of Moncler Gamme Rouge and has just successfully launched Giamba, a younger sister line, as well as a much-hyped capsule collection for 7 For All Mankind. His name is on a new line of MAC cosmetics, and his style is celebrated by friends like Francesco Clemente and Silvia Venturini Fendi in a volume recently published by Rizzoli. And Valli, impressively, has arrived at this point without being grafted to a famous legacy label and without reliance on advertising or backing from a conglomerate. He has done it on his own, a fact that makes him unique in his generation of designers.
"I love the idea of being an outsider, but do you know how much this kind of freedom costs? It's very expensive! I'm self-financed, self-everything, and I have to work a lot," he says. "Luckily, I don't do this job to be a billionaire. I do it because I adore my complicity with women." It's a damp winter afternoon in Paris, and Valli is strolling down the Rue du Faubourg Saint-Honoré toward his headquarters on Rue Boissy d'Anglas. Rake-thin, with cropped dark hair, wearing black jeans and a loden jacket that makes him look like a French schoolboy, the designer casts a searching eye over the glittering luxury shops. "I'm always looking for new ways of interpreting elegance. But it's not always easy to find. That, for example," he says, nodding toward a crowd of tourists milling outside a well-known brand's window fancifully bedecked with giant cardboard bags, "may be luxury, but isn't it a bit like a duty-free store? Real elegance has something that is hidden."
Valli's headquarters are in a 16th-century hôtel de ville that once belonged to another Giambattista: Jean-Baptiste Lully, the baroque musician from Florence who was the court composer for Louis XIV. Nowadays, the town house reflects Valli's powerful mix of tradition and modernity. In the ground floor boutique, stone walls and early modern furniture from the designer's own collection set off prêt-à-porter, bags, shoes, and the spectacular jewelry of Valli's long-standing collaborator Luigi Scialanga. Upstairs, a single couture gown is spotlit in each of the rooms and ateliers lined with museum-quality boiserie. Dominating the entrance is a photograph taken by Valli of a muscular French porn star posed as the famous Neapolitan sculpture Veiled Christ. It is an arresting image that leaves no doubt that this small kingdom has a single ruler.
"I won't dress somebody I don't like," declares Valli, seating himself in his mirrored showroom. "My list of no's is longer than my list of yeses." Up close, he has sculptural Roman good looks and a mercurial charm. His conversation leaps from fluent English to French to Italian and is peppered with references to art, film, and literature. He's not wearing the strand of antique Indian pearls that has become his signature but instead has several pendants tucked under his black cashmere sweater, one inscribed by Radziwill. "I got the biggest compliment from Lee not long ago," he says. "She said that what she loves about me is that I'm not a snob. I like who I like, and maybe that's why I get along with celebrities, because I have no kind of fan relationship. Lena, for example, I wanted to meet not because she was famous but because she interested me. But there are many celebrities I wouldn't work with." Then he flourishes his tea mug, which is decorated with the face of Miss Piggy. "But I'm her fan!" he says with a grin. "Check out her pearls."
Valli's blend of decorum and mischief is typical of his native Rome, the city of popes and Federico Fellini. "I grew up in a town where there was no room for the bourgeoisie," he explains. "There was the populace and the aristocracy. It made me very comfortable with…I don't know how to word it—opulence. In Rome, you might be walking down the street and see part of a Roman temple, or go to Mass at a church and see a Caravaggio. Everything is so accessible that we don't easily get impressed."
His childhood in his family's house behind the Piazza Navona was privileged-—private school, language courses in England, ski racing during the winter holidays. But his parents initially frowned on his precocious interest in fashion. "At that time in Italy, fashion was considered ridiculous, not a real profession." His sole ally was the family seamstress, Caterina, who taught him how to sew and gave him scraps of fabric to dress a cache of Barbie dolls. Early inspiration came at 7, when he watched Luchino Visconti's epic film The Leopard and was struck by the famous scene in which a peasant beauty, played by Claudia Cardinale, shocks high society with a burst of loud laughter. "Suddenly, I saw this glorious woman and how her laugh—so free, so vulgar—broke up that atmosphere of ossified aristocracy."
As a teenager, he feverishly absorbed the zeitgeist of the late 1970s, dreaming of Studio 54 and sneaking into runway shows in Milan. Eventually, he earned a degree in fashion from Istituto Europeo di Design in Rome and took courses at Central Saint Martins, in London. While still a student, he began a long friendship with Yves Saint Laurent, to whom he was introduced by Kenzo Takada; after school, he cultivated a series of legendary workplace mentors. The first was Roberto Capucci, the grand master of alta moda. Then came Fendi, where he headed up Fendissime, Fendi's younger line, followed by a stint with Mariuccia Mandelli at Krizia, before moving to Paris, in 1997, to work for Emanuel Ungaro.
By 2001, Valli was the head designer of Ungaro's ready-to-wear and haute couture, and he quickly attracted a following of international clotheshorses. When he left Ungaro to strike out on his own, they followed him. His first show, in spring 2005, boasted Kruger and Radziwill in the front row and Dita Von Teese on the runway. He was soon the go-to designer for the young, stylish, and ultrarich. In 2008, he began a frenetic schedule, adding pre-fall and resort lines as well as starting his collaboration with Moncler Gamme Rouge. In 2011, he presented his first couture collection.
Asked whether he would ever work again for another label, he shakes his head, saying that it is too much like being a "luxury salary guy." He then adds, "When I left Ungaro, I got a call to design for a famous house that has the initial V. But I would have had to put my own house on hold, so I refused. Because, I said to myself, 'I have always dreamed of the day that "V" would stand for Valli.'" Soon after, style watchers had clocked him as the designer responsible for Margherita Missoni's boho wedding dress and the frothy gown in which Jessica Biel wed Justin Timberlake. Then, last year, there was a coup d'Instagram with photos of the recently married Amal Clooney wearing a Valli couture minidress in Venice. "It was great on her because she had the perfect legs, the perfect attitude," Valli says. "Then there were so many people copying it—you could see something becoming iconic overnight."
Valli designs most of his collections in his art-filled apartment in Paris's trendy Canal Saint-Martin neighborhood. His days begin early, with yoga and meditation, followed by hours of sketching ideas on the curious elongated figures with oversize extraterrestrial heads that he favors. His inspirations show a polymath's sweep: the art of Alighiero Boetti, Louise Bourgeois, and Nan Goldin; films from early Michelangelo Antonioni to Kim Kiduk; Gio Ponti design; music from baroque to Curiosity Killed the Cat to dubstep; Capodimonte porcelain; Greek, Roman, and Asian philosophers; biographies and novels in three languages. One of his favorite books is Sei Shonagon's The Pillow Book, a supremely elegant glimpse into a feminine mind.
Valli grew up surrounded by independent women: His great-aunt was the first female engineer in Italy, and his earliest friends were uninhibited aristocratic beauties with their own eclectic style—like Ortensia Visconti, the niece of the director who so influenced him, who'd go out for a pizza wearing her grandmother's Fortuny gowns over jeans. To serve this image, Valli has created a visual language that incorporates elements from his mentors—the dramatic ruffled volumes of Capucci, the sweeping silhouettes of Saint Laurent, the ultrafeminine drapery of Ungaro—into a signature style that gives grand romanticism a touch of anarchy.
A subtle sense of danger lies beneath the surface prettiness of his secondary line, Giamba, whose latest collection features floaty babydoll dresses accessorized with leather bondage harnesses. The more classic ready-to-wear line is haunted by Antonioni-style nihilism, and his exquisite couture gowns mix tradition with playfulness. What attracts customers of all ages to Valli's clothes is that they are utterly becoming. "When I'm dressing an individual client, what interests me most is her gesto," he says."The unique way she crosses her legs, moves her hands. My job is to help her express her special charm, her identity. A bit like a psychiatrist. That's why I wear black. I want to be as inconspicuous as possible, like a shadow, because the point of light—of fire—should be the woman."
A few months later, on the eve of Valli's eighth couture show, his headquarters is bursting with women. The entryway sofas hold a bony thicket of chattering models, while, farther into the hive, makeup artists and hairdressers test looks; petites mains in white jackets toil over mountains of candy-colored tulle. Visiting fashion editors drift in and out of the inner sanctum, where the designer is conducting fittings in front of a mood board that posits an impossible conversation between Janis Joplin and Coco Chanel. Valli multitasks as imperturbably as any orchestra conductor.
In between correcting models' walks, fielding questions from assistants, and making microscopic adjustments to hemlines, he finds the energy to hold forth on couture itself. "Either you know how to do it or you don't," he says, shooting a sharp glance across the room at a model fastened into an absinthe-colored silk gown the size of a hot air balloon. "Too many designers these days think that if you do a minidress with superexpensive embroidery, it's haute couture. But it's not. You want to see that someone knows the art of draping fabric and how to create new volumes and make them wearable. Look at this," he says, pointing out a densely ruffled evening skirt. "That's 350 meters of tulle, and it looks effortless. You don't feel the work of the atelier because of the mastery. I want something that looks like they did it in five minutes, and you put it on and 'Wow.' Couture dresses should float on air, like dreams—or nightmares."
The next evening at the Grand Palais, greeting one another like sorority sisters at homecoming, are Valli's glamorous acolytes: Bianca, Dasha, Tatiana, Sonia, Melusine, Alexia, Livia, Elena, and many others. Spread out along the front row, they share the family resemblance of long-legged international fillies with glossy tresses and Cartier smiles. The collection is a blend of couture conservatism with edgy chic—the Janis Joplin vibe of slim tunics over trousers contrasts with the ladylike jackets and neat veiled heads alluding to Coco. At the end, the runway explodes in a pure Valli fantasia of voluminous pastel gowns like drifting flowers, slightly punked by waistbands reminiscent of Korean hanbok.
Backstage after the show, Valli, the shadow, wearing all black, is enveloped by a colorful female cloud. As the cameras flash, he hugs and kisses each woman ecstatically, exclaiming, "Here she is—my darling, my lover, my wife!" Those waiting for their hugs look on jealously, and one beauty mutters in Italian, as her friend is embraced, "She looks more like a mother than a 'wife.' " But these little outbursts are but one more demonstration of how devoted Valli girls are to their Giamba. For a moment, he basks in their affection, the happiest man in Paris. The sight of him reminds me of something he'd told me earlier: "I do 50 percent of the job," he said. "The other half is the interpretation of my creation by the right woman. Because in the end, what is a dress without a woman? An empty house."
Giambattista Valli Holds Court with the Ladies
Giamba Juice Giambattista Valli, with his friend and supporter Lee Radziwill.

Makeup by Romy Soleimani at Tim Howard Management; manicure by Yuki Miyakawa.

Photographer: Emma Summerton Stylist: Edward Enninful
Valli Girls From left: Model Vanessa Moody, actress and muse Alba Clemente, actress Allison Williams, and models Astrid Holler and Alix Angjeli.

Photographer: Emma Summerton Stylist: Edward Enninful
Chic Chicks From left: Photographer Emma Summerton, model Sasha Pivovarova, film producer Allison Sarofim, and actresses Diane Kruger and Nicola Peltz. All wear Giambattista Valli Haute Couture, Giambattista Valli, and Giamba. Sarofim's own Verdura cuffs.

Hair by Jimmy Paul for Bumble and bumble; makeup by Francelle; manicures by Yuko Tsuchihashi for Chanel. Set design by Nicholas Des Jardins at Mary Howard Studio. Models: Vanessa Moody at Women Management; Astrid Holler, Sasha Pivovarova at IMG models; Alix Angjeli at the Lions NY. Set Design by Viki Rutsch at Exposure NY. Produced by JN Production. Digital Technicians: Matthew Thompson, Clare Chong. Photography Assistants: Ed Singleton, Alex Craddock, William Takahashi, Sam Nixon. Fashion Assistants: Ryann Foulke, Dena Giannini. Hair Assistant: Lucas Wilson. Makeup Assistants: Mami Iizuka, Aya Kudo.

Photographer: Emma Summerton Stylist: Edward Enninful
Hair by Jimmy Paul for Bumble and bumble; makeup by Francelle; manicures by Yuko Tsuchihashi for Chanel. Set design by Nicholas Des Jardins at Mary Howard Studio. Models: Vanessa Moody at Women Management; Astrid Holler, Sasha Pivovarova at IMG models; Alix Angjeli at the Lions NY. Set Design by Viki Rutsch at Exposure NY. Produced by JN Production. Digital Technicians: Matthew Thompson, Clare Chong. Photography Assistants: Ed Singleton, Alex Craddock, William Takahashi, Sam Nixon. Fashion Assistants: Ryann Foulke, Dena Giannini. Hair Assistant: Lucas Wilson. Makeup Assistants: Mami Iizuka, Aya Kudo.