Gigi and Bella Hadid's New Favorite Sunglasses Will Cost You Less Than $100
The sisters cannot get enough of these Matrix-inspired sunglasses.
---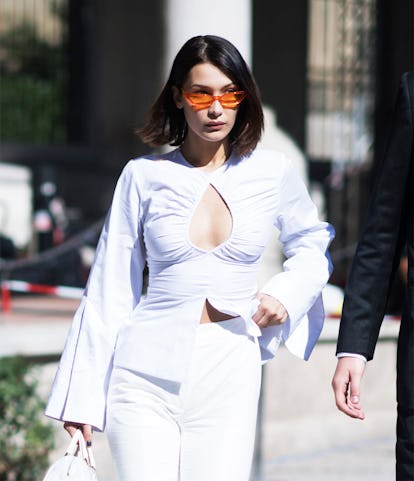 The Hadid sisters are as famous for their sartorial prowess off the catwalk as they are on it, making the New York sidewalks—or wherever they are traipsing about—their own runway, and regularly landing on best-dressed lists with their own personal sense of style.
Long story short: when Bella and Gigi flaunt an accessory, people notice, which is why a pair of thin-framed glasses from Australian designer Poppy Lissiman are now flying off the shelves. Bella was photographed sporting a pair of pink 'Le Skinny' glasses during Milan Fashion Week, back in the fall, and then a week later was spotted in a black pair. This month, her older sister wore a mandarin pair to mom Yolanda's birthday party, and a jet black pair this past week.
The sunglasses are squarely inspired by Keanu Reeve's eyewear in The Matrix. "I get a sense of Aussie pride watching that movie," Lissiman said of the film, which was shot in Sydney, the country's capital, and the city where she currently resides. Lissiman was also inspired by the Motorola Razr, the cell phone you just had to have in the early aughts. "I wanted to create a really petite angular pair of shades as I could see that vibe was going to have a comeback."
And come back it has. Bella is known for her black, body hugging Matrix-inspired ensembles, so it makes sense she snagged a pair of Lissiman's shades."It happened really organically," the 29-year-old designer said. "The product wasn't forced onto them. I know they're wearing them because they genuinely like the pieces, so there's a sense of pride in that."
While the 'Le Skinny' shades come in seven color ways, the girls have gravitated towards the brighter ones. As for Lissiman? "I wear the 'Barbara' and 'Dakota' styles the most because I have fine, pointy features, so rounder glasses suit me the most."
Of course, the best part of all? Most styles cost under $100, with a few topping out around the $120 mark, meaning that you too can look like a Hadid—or at least protect your eyes like one.
Related: Gigi Hadid's Stylist Breaks Down the Supermodel's Best Looks of 2017
Gigi Hadid Loves Fashion Week