Gigi Hadid And Zayn Malik Unknowingly Auditioned For A Matrix Reboot On Their Latest Date Night
The Inspector Gadget reboot we deserve.
---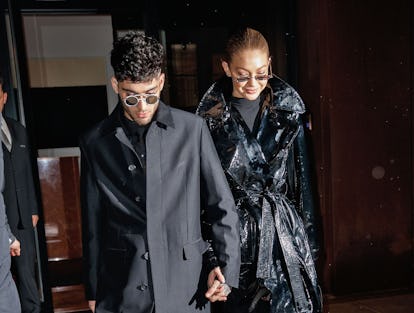 Photo by Gotham/GC Images
When you are one of the world's biggest supermodels, you have your pick of just about every designer ensemble. Ditto a former boy-band member turned solo phenomenon. So how do you prepare for a big night out? Let's hypothesize.
It is a Friday night. Hadid is putting together her outfit for a night out with boyfriend Zayn Malik, and she decided to go with the sleek long black trench and sunglasses look even though it was, you know, nighttime. Malik saw Hadid's ensemble and thought it was really cute (they do take style inspiration from one another after all) and decided that he, too, would go with a sleek long black coat and nighttime shades. The result? Twin secret spy looks that all but made the pair frontrunners for any future, inevitable Matrix reboots.
The Daily Mail identified Hadid's outerwear as a "glossy PVC coat" by Helmut Lang, and close-up photos reveal she paired it with crocodile-patterned pants, a matching handbag, and pointed boots, to drive that super sleek look home.
Hadid also showed her boyfriend of two years some birthday love on Instagram, posting pictures and videos of the singer with the sweet note, "love this man more than I could ever put into words, & am inspired by his drive to be and do better everyday ✨ cheers to YOUR YEAR my @zayn – happiest happiest birthday & 25th year of life !! I'm proud to be by your side x"
In another video, titled "birthday boogie," shirtless Zayn dances in a patterned coat, sans specs. You kids and your sensible outerwear!
Related: Gigi Hadid and Zayn Malik Celebrated Their Two-Year Anniversary With a PDA-Filled Instagram
This Holiday Season, Wear Matte Red Lipstick like Gigi Hadid