Gigi Hadid's Stylist Breaks Down the Supermodel's Best Looks of 2017
Mimi Cuttrell shares behind-the-scenes secrets of Gigi Hadid's best outfits.
---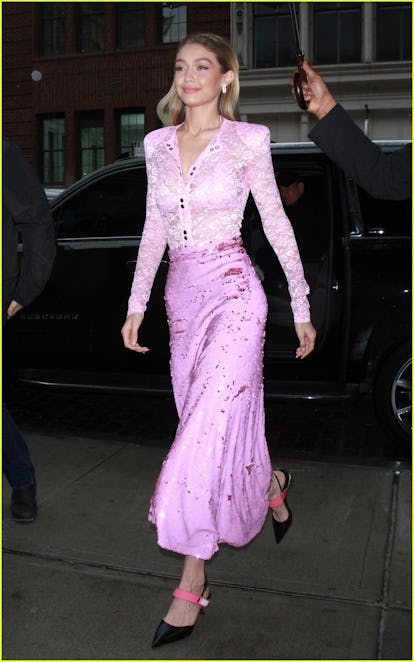 It's been a busy year for celebrity stylist Mimi Cuttrell. The 26-year-old former college student turned fashion assistant, stepped out on her own to style some of this year's biggest street-style breakouts like Sara Sampaio and Kaia Gerber. Most notably though, Cuttrell has secured one client who never fails to make a fashion statement: Gigi Hadid. Through award shows, TV appearances and press junkets Cuttrell has used her chic-taste compliment the already stunning Hadid, creating looks which have been memorialized on every best-dressed list and every Instagram feed alike. Here, Cuttrell took a moment with W took look back on 2017 and share her favorite styling moments, tricks of the trade and more.
Dream clients: Marilyn Monroe, Natasha Richardson, Angelina Jolie, Grace VanderWaal, and Millie Bobby Brown.
Favorite look you've styled Gigi in this year: Just a few weeks ago, when she did the Today Show. I went with an all pink Nina Ricci look that was fun and classic. It was one of my favorite outfits to watch Gigi bring to life.
Favorite Gigi red carpet look of 2017: Definitely the Women of the Year Awards where Gigi wore the nude Zuhair Murad gown. It was such a powerful and elegant look that was a perfect fit for the award she was receiving that evening. How do you start to style a look? I start with talking to designers before their collections come out, it gives me the ability to see what their strongest pieces will be. Once the collections are released, I obsessively scour Vogue.com. One of the things I find most exciting is discovering new designers who have yet to hit the spotlight. I start with choosing clothing, moving on to accessories and the perfect handbag to finish the look. My favorite handbags at the moment are Jason Stalvey, they're incredibly well-crafted with a timeless design.
What is the biggest difference when styling Gigi for red carpet vs street style: The biggest difference between red carpet and street style when styling is the amount of glamour that can created by a red carpet look. The hair, the makeup, the jewels, the shoes, the clutch: so many aspects go into a red carpet look so it's bound to be a grand moment!
How does your method of styling change between the two? I would say my red carpet styling is a bit more feminine, enchanting, and that it has a story behind it. I've always had a weakness for jewelry and I find it exciting to create dramatic statements with what jewelry is selected. I'm lucky to work closely with Lorraine Schwartz and Jacquie Aiche who have both helped me create amazing moments that I'll never forget on the red carpet. My street style styling is more relaxed and wearable on an everyday basis. It changes with what my client is feeling that day. I honestly enjoy both methods of styling so much I get excited every time I see it all come together.
Most exciting project you worked on with Gigi this year: Styling Gigi for New York Fashion Week. We had so much fun collaborating on different looks. In my favorite look, Gigi wore embellished Marc Jacobs jeans, a hot pink Phillip Lim sweater and sparkly Louboutin slides. She was just as excited to wear it as I was to style it! Best thing about working with Gigi: Gigi is not only the most down to earth lady I know, but she also inspires me to be a better person everyday. She makes all of the hard work and long hours more than worth it. Favorite brands to work with the past year: Ralph and Russo, Holzweiler, Prada, Fendi, Jason Stalvey for everyday bags, and Tyler Ellis for chic red carpet clutches.
Describe your style in three words: Comfortable, straightforward and chic. Favorite stores in Los Angeles: Space.NK, Maxfield, and I love visiting Monica at What Goes Around Comes Around. I've been working with her and their team for a while and their one of a kind collection is always up to par. Favorite Stores in New York: Barney's, a New York staple. I can always count on finding inspiration with their perfectly curated brand matrix. I also love ABC Home, the colors and textures at any time of the year make my imagination run wild. And Prada in SoHo! Not only does it have an amazing inventory, the store itself is visually stunning. Style icons: Cindy Crawford, Angelina Jolie, and Johnny Depp. Best recent discovery: Peppermint Matcha Latte at Cha Cha Matcha in NoLita.
Last purchase: Vintage Louis Vuitton hair ties, a vintage Issey Miyake puffer coat and an English cream golden retriever. Something you'd never wear: Chokers. Most prized possession in your closet: My Fendi Velvet Peekaboo bag. Related: Supermodel Gigi Hadid Has the Perfect Off-Duty Style in Her Genes
Gigi Hadid Loves Fashion Week