Exclusive: Get to Know the Designer of Gigi Hadid's New Go-To Bag
The supermodel has been carrying Stalvey's mini-bags nearly nonstop over the past few weeks.
---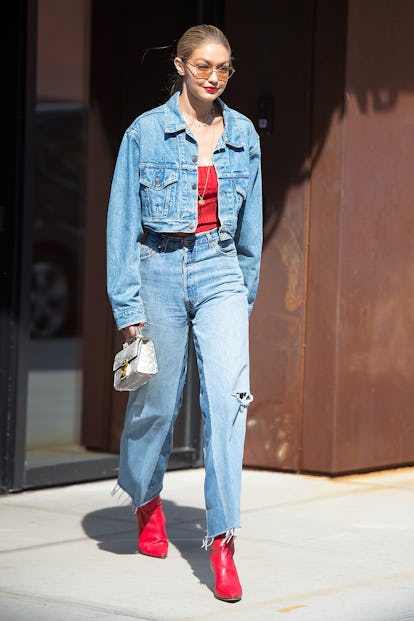 Gotham
Time and time again, Gigi Hadid has let it be known that when it comes to her fashion icons, Rihanna rules above all. It would seem that one key ingredient of Rihanna's style has really resonated with Hadid: supporting young designers. Case in point: Stalvey, the luxury handbag line founded in 2014 by designer Jason Stalvey, which Hadid has been carrying almost exclusively when it comes to hitting the streets this summer. Hadid has been spotted with the brand's mini-top handle bag on over ten separate occasions over the past few months, accenting her New York summer looks with versions of the style in natural lizard, black lizard and white alligator. Here, the designer talks about how his bags ended up in Hadid's hands, and his tips for how to style a mini bag.
How did you first get started on designing handbags?
Honestly, it was a bit of a fluke. I wanted an alligator duffel and couldn't find many options on the market. I didn't know much about skins and craftsmanship at the time, but I knew that the ones I found weren't at the quality I had seen on high-end handbags. Not realizing the process would be so involved—and take years of research—I figured I would create one myself. Once I had immersed myself in the process and created the first bag, people started responding to what I was doing and the ball just keeps rolling.
What are the key styles of the brand?
I think the one style that sums up what the brand is about is the baseball cap—it's about taking an unexpected every day essential and turning it into something that's uber luxurious.I'm very much a casual kind of guy—usually wearing a t-shirt and a baseball cap—so when we first did the baseball cap, it was more of less for myself. I think the factory thought I was a bit crazy taking precious alligator skin and making a cap out of it, but it has turned out to be one of our best sellers.
What is important to you in designing a bag?
Functionality. I'm an extreme perfectionist and always have been, so naturally I want every product to be gorgeous and perfectly crafted. However, regardless as to how beautiful it is, if it doesn't function well, I didn't do my job correctly. I'm a huge believe in cost-per-wear and if something doesn't function well, people won't want to use it and it wont be a good investment for them.
Tell me about the design process.
My process comes out of a need to solve a problem rather than felling a certain inspiration. If I see a design that throws the eye off a little because it's not quite the right shape… or say a shoulder strap that doesn't sit correctly… I get the urge to polish it and improve upon it.
How did the brand land in Gigi's closet?
It was a combination of factors that came together all at once. I have known Gigi's makeup artist, Patrick Ta, for a number of years and I ran into him in the West Village one day with Mimi Cuttrell, who is Gigi's stylist. When Patrick introduced us, she quickly pulled up images of our products on her phone saying that Gigi actually loved the bags.
Have you met Gigi yet?
We have Facetimed once or twice, but would be great to meet her in person.
Why do you think she has clearly responded so well to the top handle style?
Goes back to functionality and ease of use; Gigi seems to be an on the move kind of person and I can only imagine that she responded to the bag because it works easily into her day to day. And, of course, she looks super hot carrying it.
What makes that style so special?
It's a very classic shape that has been made to feel fresh. And at a moment when so much in fashion comes with all sorts of embellishments, I think there is a lot of beauty in pieces, particularly accessories, which are clean and modern.
What is your favorite way to style that bag?
I loved when people started sending me pictures of Gigi using the bag as a phone charger—she had on this beautiful flow-y pink outfit, had her mobile in her hand with a charging cord coming out of the bag. The size bag she has been carrying so much only 20 centimeters… she must have only had a Mophie charger, her AMEX, and perhaps a lipstick inside. That's kind of the epitome of what our brand is about; luxury with ease.
Who else would you love to see wearing Stalvey?
Would love for anyone to wear a piece that I've made—especially if they enjoy it half as much as Gigi seems to have!
Gigi Hadid Has Perfected Her Model Off-Duty Style
Like most teens in 2012, Gigi Hadid had a love of cool printed pants. Worn with her natural wavy hair and tan accessories, the young model showed an early sense of style.

GETTY
Less than two years later, Hadid had blossomed from traditional teen to mega model off-duty—and she had the leather jacket, black skinnies, and leopard print boots to prove it.

GETTY
The model was all smiles at the 2014 Kids' Choice Awards with a fun blue and white look befitting of the occasion…

GETTY
And again showed off her stellar off-duty style in a striped shirtdress and Chanel boots in New York.

GETTY
The model is known for her versatility. Here, she wears a minimalist Calvin Klein Collection number at the brand's 2014 Reveal fragrance launch party.

GETTY
And really showed her star power at the 2015 Vanity Fair Oscar Party with a slinky Versace dress.

GETTY
The shimmering Atelier Swrovski and Michael Kors jumpsuit she wore to the CFDA Awards…

GETTY
And, most recently, the branded Mikhael Kale jacket and Christian Louboutin booties she sported at the MuchMusic Awards. #Hadid for the win.

GETTY
Out on a date with then-boyfriend Joe Jonas at L'Avenue, Hadid opted for a sporty Versace dress in Paris, France, September 2015.

GETTY
Hadid and Kendall Jenner wore straight-off-the-runway Balmain looks (and swapped hair colors while they were at it) during Olivier Rousteing's Fall 2017 Balmain after party in Paris, France, March 2016.

GETTY
A longtime fan and model for Rousteing, Hadid wore another one of his designs for Balmain attending a dinner he hosted during the Spring 2016 collections in Paris, France, September 2015.

GETTY
Hadid wore a daring sheer Yanina Couture dress with a La Perla bodysuit to the Daily Front Row "Fashion Los Angeles" awards, where she observed little sister Bella Hadid nab the Model of the Year award, in West Hollywood, California, March 2016.

GETTY
Hadid made headlines with her new (later revealed to be faux) bangs, but her Versace suit was no less attention-getting. Here, she walks the red carpet at the MTV Movie Awards in Burbank, California, April 2016.

GETTY
Hadid was in the midst of promoting her first collection with Tommy Hilfiger when the designer was honored at the Daily Front Row's Fashion Media Awards — so, appropriately enough, she wore a daring iridescent gown by Hilfiger to support the designer, in New York, New York, September 2016.

GETTY
Hadid proves there's Tommy for all occasions, here under the brutal New York City heat dome, July 2016.

GETTY
Hadid, in Atelier Versace chain mail, joined sister Bella (who walked her first-ever Victoria's Secret show last year) on the pink carpet at the lingerie brand's afterparty in Paris, France, November 2016.

GETTY
Hadid put the rest of New Yorkers to shame in the chic-est possible look during the polar vortex: a Victoria Beckham coat, Mansur Gavriel bag, Karen Walker sunglasses, and Freda Salvador boots, in New York, New York, December 2016.

GETTY
Ever the early adopter of a street style trend, Hadid works a pair of plaid Miaou jeans, looking every inch the British punk goddess in Paris, France, March 2017.

GETTY
Hadid broke the cardinal rule of New Yorkers everywhere, wearing a slouchy all-white ensemble after a bout of fresh snow and before Memorial Day with an M2Malletier bag. You can take the girl out of Calabasas, but you can't take Calabasas out of the girl.

GETTY
Gigi Hadid's enviable crop top selection showcases her enviable abs. Here, she wears an embellished Sally LaPoint sweatsuit in New York, New York, April 2017.

GETTY
Gigi Hadid seen on the streets of Manhattan on September 08, 2018 in New York, NY. Photo courtesy of Getty Images.

GETTY
Gigi Hadid looks crisp in an all white suit on October 23, 2018 in New York City. Photo courtesy of Getty Images.

GETTY
Denim-on-denim for a Rangers game as Gigi Hadid is seen arriving at MSG on 34th street on March 12, 2018 in New York City. Photo courtesy of Getty Images.

GETTY
Gigi Hadid seen on the streets of Manhattan on October 09, 2018 in New York, NY. Photo courtesy of Getty Images.

GETTY
Gigi Hadid seen on the streets of Manhattan on December 11, 2018 in New York City. Photo courtesy of Getty Images.

GETTY
Model Gigi Hadid is seen on February 26, 2019 in Paris, France. Photo courtesy of Getty Images.

GETTY
Model Gigi Hadid is seen on February 28, 2019 in Paris, France. Photo courtesy of Getty Images.

GETTY
Model Gigi Hadid attends the "Americans In Paris" Cocktail Party Outside Arrivals as part of the Paris Fashion Week Womenswear Fall/Winter 2019/2020 on March 03, 2019 in Paris, France. Photo courtesy of Getty Images.

GETTY
Gigi Hadid is seen at Cipriani 42nd Street for the Variety's Power of Women on April 5, 2019 in New York City. Photo courtesy of Getty Images.

GETTY
Gigi Hadid arrives at Marc Jacobs and Char DeFrancesco wedding reception at the Pool on April 6, 2019 in New York City. Photo courtesy of Getty Images.

GETTY
Model Gigi Hadid Reveals the Secret to Her Signature Runway Walk