Estée Lauder's New Global Beauty Director Is Not A Fan Of the Contouring Trend
"It's changing who you are and how you look like, and I always say that the end of the day what matters in life is to be happy."
---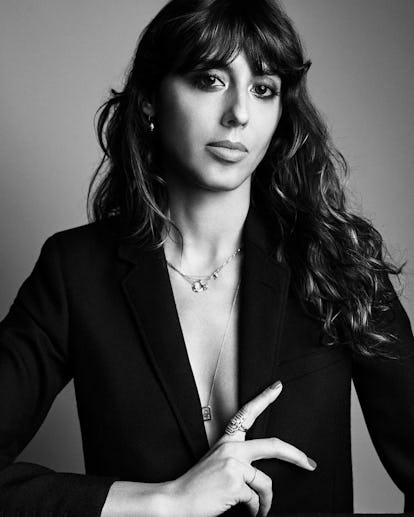 It's no secret that when it comes to effortlessly chic makeup and naturally tousled waves, French girls just do it better. And Estée Lauder's new Global Beauty Director, French makeup artist Violette, is no exception. Mixing her love of art into a new and innovative direction for the brand, the French beauty reassures us that "it's not going be generic-brand Estée Lauder." On a mission to redefine how women approach and understand makeup, Violette shares her optimistic visions of a beauty industry moving towards "an acceptance of who we are," and that when it come to makeup–you should always break the rules.
As the new Global Beauty Director, what do you hope to bring to the Estée Lauder house?
For me, it's about giving a heartbeat to the brand. It's not going be generic-brand Estée Lauder, but I think Estée Lauder herself and I have so much in common that I'm working with her in my mind always. So it's still her maison, and I am just a guest.
What I'm focusing on is incredible texture, incredible colors, and the product has to be amazing. I'm very picky on this. Where everybody's like, we're all working so hard on having like a perfect product, forget about trends, that's the main thing. And have products that can allow us to express ourselves and have no boundaries—just be happy with how we feel.
What do you find most inspiring about Mrs. Lauder and her brand?
It's the history. There's something very historic about Estée Lauder. I feel like it's always been somewhere in an American life. It's very iconic, and there is an emotional connection to the brand. It's not just superficial, people are linked to this brand through their memories. It's a brand that respects women, because it cares about enhancing their beauty.
I could say that I met Estée a few weeks ago, and I'm still meeting her. I'm really shocked by her modernity in her time. She was such a visionary. We have so much in common. Her philosophy was not about selling her products, but about selling the look. This idea of, "What do you need vs. what do I think you need." She created this brand as a woman in an era when being a businesswoman was absolutely not a thing. And she created it herself and now it's part of history.
From where and whom do you find your inspiration from? Who are your favorite beauty icons?
I'm not a makeup fan. I know it sounds weird, but to me, it's just a way to do my thing. I'm more an art fan. I am obsessed with art. I'm obsessed with paintings. I find my inspiration in pure pigments that I find at art supply stores. I am obsessed with flowers—I can go to a flower shop and be inspired by the color of petals all day. Also fabrics, because I did fashion design school. I can go to a fabric store and look at the fabric color and texture and get really inspired by this.
So my mood board at home will be a mix of flowers, fabric pieces, paintings, prints, and stuff. It's all over the place. It's very rare that I find makeup inspiration through already existing makeup. It's a way for me to forget about what is already done. I'm sure I do things that are, you know, done already, but I'm not aware of this. I'm just doing it in a very genuine way. It helps me to be focused on what I feel, and also what I hear from women that write to me.
What is the product you are most excited about to create with the Estée Lauder team?
Eye shadows. I think maybe you will expect me to say lipstick, but they have lots of good lipstick coming out. So my excitement's already satisfied. But eye shadows, I'm working on this already, and I'm so excited.
What are your favorite makeup trends right now? What trends do you wish would go away?
I'm not a trend person, so I don't know which trends. I don't care about trends. What would go away? I'm a very pacifist person, do whatever you want to do. It's fine for me. I do whatever I want to do, so there are no trends that I wish to go away, because I can deal with it.
What are trends from the runway that can be easily transformed for an everyday look?
With runway looks, it's more about what gives me a vibe. For example, Yves Saint Laurent had this major glitter in fabrics, which translates to makeup, and inspired me to to go back to my first love, which is glitter. It's more, again, the fabrics when I'm doing a fashion show, and then I will see the designer. He will tell me why he did this and show me his collection, and definitely this will inspire me the most.
In which direction do you hope the beauty industry will go towards?
Definitely an acceptance of who we are. That's why I'm not in love with the contouring trend and false lashes and all this because it's changing who you are and how you look like, and I always say that the end of the day what matters in life is to be happy. If you change your features every day and then you remove it at night, you will have that contrast and shock of having to remember who you are, and I don't think we should "have to remember." We should celebrate who we are, because remembering who we are means we forgot.
So I really hope beauty will go in that direction and I think there are so many people that are ready for this because, since I've started to communicate with women through social media a few months ago, that's all I feel like people have wanted. So at least my audience is super active about this. So that's great, so fingers crossed.
What are the biggest differences between American beauty practices and French beauty practices?
I think that there is something very, "I don't care", in French beauty that makes everything a certain way. So people say, "They're effortless." Well, we are not effortless. The way we do skincare is crazy. The way we're super picky about everything is crazy. Everything is expected to be effortless, but there is this "I don't care" thing about everything. Also, it kills us to look like we try too hard.
So it's a mix of these two philosophies, and, for example, I've noticed French people never ask me, "Oh, why do you use your fingers when you do your makeup in your tutorials?" Or, "Do you feel weird about doing your makeup in public?" Or, "Oh, why don't you wear foundation?" Because it's still part of the culture to be like, "I don't care, I do it wherever I want to do it," or, "I don't care, I use my fingers because I don't carry brushes, it's too complicated, it's too professional." A French girl will have a lipstick that she will use on her eyes and her cheek and on her lips. That's the kind of philosophy.
Americans are more like students—not in a bad way, but in a good way. French girls are very rebellious, they don't really want to listen. I'm the first one to be like this. They don't like rules. I think in America, there's something about liking rules, liking to do what is "right"…there is a lot of respect. That's something I really enjoy, but then it translates to beauty when they have the patience to look for what you're "supposed to" do, learn how to do your foundation, learn how to do your liner. But then you may forget about doing something completely crazy, that in the end might help you look cool.
So I think that there is something both cultures need to learn from each other, because one thing Americans do really well is that they celebrate the woman. They put lipstick on, eyeshadow, glitter. I've seen so many women, like, bold, and not scared of this. And I think some women might be like, "Oh my God, this is too much. This is too much, I will never wear this." This fear, maybe, or snob-ism. I was like this before. It took me like 20 years to try liner for the first time. Not fear, but, like, "No, this liner's too much. Trying too hard."
So, yeah, a little bit of snob-ism. And, basically, American women are not snobby. They are so genuine, and so, like, "Oh, this is so nice. It looks so good on you, it's so fresh." It's something I love the most, so I think that French people, we can learn more from them and give a little bit more of a, "I don't care" or when you say in French, "Je m'en fous".
What are the biggest misconceptions when it comes to makeup? What products should we use or not use?
There's no rule about this. Do whatever you want. Don't hesitate also to switch, like, maybe your blush goes on your eyelid. Some products you should not because they have ingredients that are not right for certain areas, but most of the time it's okay. So have fun. Everybody should do whatever they want. But maybe stop lash extensions, because I don't like it.
When it comes to foundation, how and when should we use it?
So there are three schools of thought on this. One, women feel they need it. They have skin issues, they need it, and it helps them so much. Totally agree. Second, they need it as protection, like a mask they put on that feels like, otherwise, without it they are naked. But they don't need it. The third one is they just wear it because they think this is the way. You know?
That's why in the first videos on my YouTube channel, I said, "Don't wear foundation. Don't wear foundation." Some people tried to fix it in their brain that maybe foundation is not right and you should only use it if you need it. Now that I am a little deeper in with women, I can reeducate at least my audience about having another kind of relationship with foundation, which means to use it like a painter. A little touch where you need it. But think, "Okay, do I really need it?"
How to pick your color, all of this, that's gonna be my new thing. I never, never use it over all of my face. I really use it as a way to enhance and hide, but never as an overall makeup thing. Overall, I think that a woman should ask herself first, do I really need it? And if she does, use where she needs it. And no foundation on the nose to pretend that you're not wearing anything.
What products are best for to multi-use?
Lipstick, to me, is the best, and blush. Lipstick because I always put it on my cheeks as a blush and on my lips. I have one product, boom, it does everything. And blush, I love blush on my cheeks, but also on my eyelids because I love the velvet texture, and the colors are muted tones. Super pretty. Like peach tones, or nude or sand. Super chic.
Favorite beauty rules to break?
All of them.
The Best French Girl Hairstyles Straight from the Paris Fashion Week Runways
Backstage at Isabel Marant Fall/Winter 2017 show, models display their effortlessly tousled swept back locks.

Photo by Getty.
At Christian Dior's Fall 2017 fashion show, models with voluminous, brushed out curls walked the runway wearing black berets.

Photo by Getty.
At the Celine Fall/Winter 2017 show, models wore their hair in sleek, natural waves that looked as if they were air-dried–to perfection.

Photo by Getty.
Models showcased a variety of hairstyles at the Lanvin show, some wearing their hair in natural waves, while other models sported the classic sleek side pony.

Photo by Getty.
Models at Louis Vuitton Fall/Winter 2017 show wore their tousled locks swept over in wild, natural curls. Like bed head, but better.

Photo by Getty.