Meet the Designer Behind LaContrie, The Ultimate—And Award-Nominated—French Brand of Chic, Bespoke Bags
Nominated for the ANDAM Fashion Award, designer Edwina de Charette talks bags, French style, and more.
---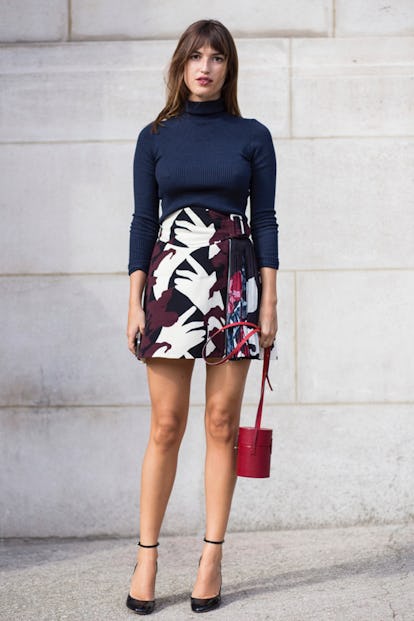 In a time when the go-to It-bag comes produced in series, your new summer bag comes courtesy of an old-fashioned leather craftsmen in a Parisian shop just off the famous Rue Saint-Honoré. Enter LaContrie, the bespoke leather goods brand that has quickly become a favorite of chic Parisians, including Inès de la Fressange, Lolita Jacobs, and Pierre Niney.
Founded by designer Edwina de Charette in 2010, the brand prides itself in hand-crafted handbags made in the two-story headquarters-slash-store in the heart of Paris. There, customers can customize just about everything about their dream purse, including size, thread, zipper, leathers, hot-stamping, and hardware.
Beyond It-girls, the fashion industry has also clearly taken notice. Earlier this year, the brand was named one of three finalists for the ANDAM Fashion Award for the accessories category, along with Ana Khouri and Le Gramme. The ANDAM prizes "offer to young brands growing financial support and mentorship program essential for the structuring and development of their company"—along the lines of the CFDA/Vogue Fashion Fund in the U.S.—and will awarded on June 30th. Ahead of the grand prize reveal, de Charette talks bags, French style, and more.
How did LaContrie get first begin?
I was brought up in a privileged environment that taught me that objects could be beautiful, and was looking for a bag that would last all my life, and I could eventually give to my daughter. LaContrie started the day I understood that it was very difficult to find someone to make made-to-measure bags. A ''bag tailor'' did not exist. When I found a craftsman capable of making a bag for me, I fell in love with leather-working.It is a super fun process where clients can choose everything. It starts with the shape, the size, the type of handles and all options of leathers, colors, thread, metal finish, zippers and pockets.
What was the biggest influence or inspiration behind the brand?
My love of craftsmanship and ''savoir faire'' push me towards designing leather goods. We are inspired by tradition. Being in the workshop is an inspiration in itself, as well. Since we are a small and self contained company, all employees can see the whole production process, so everybody shares the same values. And I have outside influences of course. I am influenced by the needs of everyday life. I also look to sport, army, and utility bags; for example, the Sourdière bag is inspired by vintage photography bags.
What places do you find most inspiring to your work and design?
Museums, visiting suppliers, and Paris, in general. But I also find a lot of inspiration in old movies.
What is your process to create every piece?
I start out with sketches, then we make textile prototypes to check the volumes. When we are satisfied we then move on to leather prototypes with hardware and zippers.I spend some time using the prototype, then we might make some adjustments at this stage to the design.
What is the most difficult part of creating the pieces?
Making designs that are contemporary and timeless at the same time.
Who are the woman that wear your bags?
We do not have a typical client because they can choose either a very sober, traditional style of bag or something in totally outrageous colors. LaContrie adapts to the style of its customers.
When did you feel the label was on the right track?
When Inès de la Fressange came to make her own LaContrie bag. Later, collaborating with Virgil Abloh on the OFF WHITE x LaContrie collection really showed that we can also be cutting edge.
How has your personal aesthetic and inspiration evolved over the years?
Younger, my style was ever-changing. Now I concentrate on developing a basic, timeless aesthetic.
What are three words you would use to describe your own style?
Classical, sporty, and easy-going.
What makes you feel most confident?
I'm never totally confident. Wine and chocolate help!
Who are your style icons?
Among my personal icons are Lauren Bacall, Sinead O'Connor, Clint Eastwood, and A$AP Rocky, to name a few.
Butterflies of Paris: How Street Style Stars Do Paris Fashion Week