Top Hat: Milliner Gigi Burris Knows What Modern Women Want to Wear
In honor of the Kentucky Derby, milliner Gigi Burris talks all things hats and headpieces.
---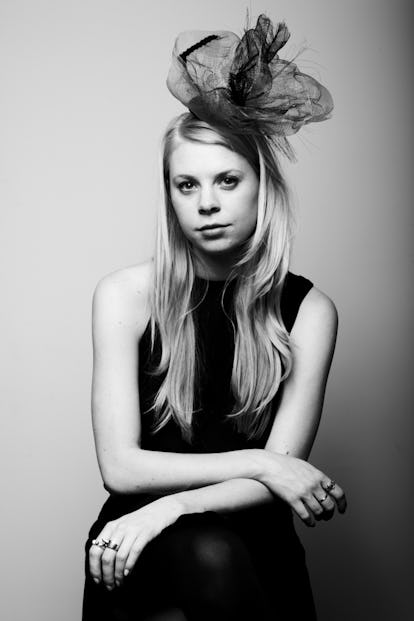 Gigi Burris, the 2016 CFDA Swarovski Award Nominee, creates coveted hats and headpieces each season. Since her launch in 2009 after graduating from Parsons, Burris has focused on both couture pieces as well as a budding wholesale business that expands from blush colored headbands to raffia beach hats, which have become the best-selling staples of her collection. Here, Burris discusses her fall collection, what it's like to grow a business, and sparking confidence in women.
How did you get your start in fashion? Why did you decide to go into designing accessories? I graduated from Parsons School of Design in 2009, where I was nominated for the Designer of the Year award [my senior year]. I had always loved millinery, particularly the romance of the dying craft, so I created matching hats for each RTW look [in my senior collection]. It was the hats that began to receive attention from stylist and clients, and it was an organic start to the business.
What was the experience of getting your business off the ground? When you start your own business the learning curb is incredibly steep. Even now, as we are a very small operation, I am constantly learning and absorbing new things. We are very proud of the humble beginnings though. I think when you do everything yourself it allows you to delegate in a more strategic way.
What style do you find is most popular with your customer? For our spring/summer 2016 collection, the barbed headband, which features our signature twisted biot feather, and our Endless Ete Raffia hat are the most popular styles. We found that women are really wanting brims to protect them from the sun in a stylish way and the Ete feels easy and cool.
What accessories trends are you seeing among women right now? Women are purchasing and wearing accessories that bring them joy, and not leaning towards the safe items. For example, we offer one style in pink, black and tan, and it is the pink that has had the strongest reaction.
What hat styles do women love to wear now? Women love something with a bit of a risk that gives them confidence. We've seen a wide brim fedora trend, wide straw hats, and also comb styles.
When did you feel the label was on the right track? It is something that we constantly have to assess. Defining what is the right track for us versus what might be right for other brands can pose a challenge. In all honesty, whenever I see a woman wearing a piece that she has purchased from Gigi Burris Millinery, that brings me the biggest sense of accomplishment. At the end of the day, it is about the woman who wears your pieces.
Has there been a favorite moment since you launched? Seeing my pieces worn by Madonna on stage was a pretty amazing moment.
Let's talk Fall 2016. Where did you get started, and what did you want to communicate? Fall 2016 was inspired by the film Last Tango in Paris. It is about a sensual yet gritty femininity. We used Swarovski crystal beads and rhinestones for a Bianca Jagger spirit in veilings and headbands. There is a '70s undertone in the earthy palette.
Talk about your plans for the future. What's next? It is an incredible honor to be nominated for the CFDA Swarovksi Award, it will be my first [attending the] CFDA Award, so what's next for me is figuring out what to wear to that!
Watch W's most popular videos here:
Photos: Top Hat: Milliner Gigi Burris Knows What Modern Women Want to Wear
Gigi Burris. Photo courtesy the designer.
Photo courtesy the designer.