Gigi and Bella Have Their Own "Gift of the Magi" Moment at Paris Fashion Week
The supermodel sisters smuggled a secret treat for one another on the way to work, each without the other sister knowing.
---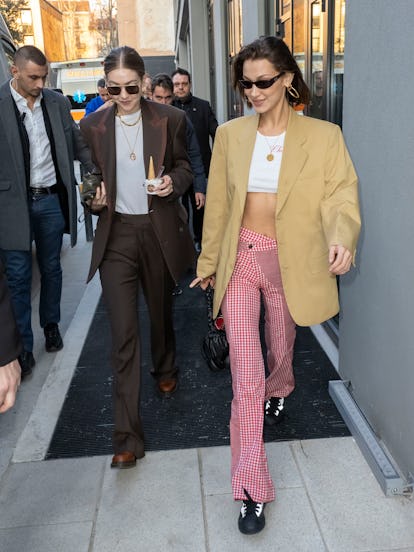 Photo courtesy of Getty Images.
When two supermodel sisters take on Paris Fashion Week, one has to expect that the behind-the-scenes content shared on each sibling's social media will be good.
Case in point: Gigi and Bella Hadid, who have been serving up double trouble street style and runway looks during the major cities this Fashion Month, while taking photos of their every move backstage and in between shows with an on-trend disposable camera.
But before they could go to work this morning for the third day of Paris shows and hit the runway together at Lanvin, Bella shared a photo of what she considers to be one of the "top 5 cutest things ever" on her Instagram Story.
"I get into the car this morning," the text reads on her post, "so excited to give Gigi the croissant I smuggled for her before work."
"Little did I know," she continued, "she smuggled one for me too 😫." The text explaining each sister's prework gesture was overlaid on a photo of the two smuggled pastries, wrapped in white cloth napkins, crumbs and flakes probably spilling out onto the seats of the car. Though they are only 18 months apart, the Hadid sisters appear to share a (thoughtful) twin-like brain.
But the comic irony of each Hadid sister secretly smuggling a croissant for one another without the other sister's knowledge is a tale as old as time, really. Not even O. Henry, author of "The Gift of the Magi" (the 1905 short story in which a young, down-on-their-luck married couple buy Christmas gifts for each other in secret only to discover in a twist ending that the present purchased for each spouse required some sacrifice), could come up with something as soul-stirring as this narrative shared on Hadid's Instagram Story.
Related: Moschino Fall 2020: Backstage With Gigi Hadid and Her Disposable Camera