Gigi Hadid Is a Master Chef in the Family Kitchen and at Home With Zayn
Our favorite supermodel and W cover star on her family, her relationship, and being a Kobe Bryant superfan.
---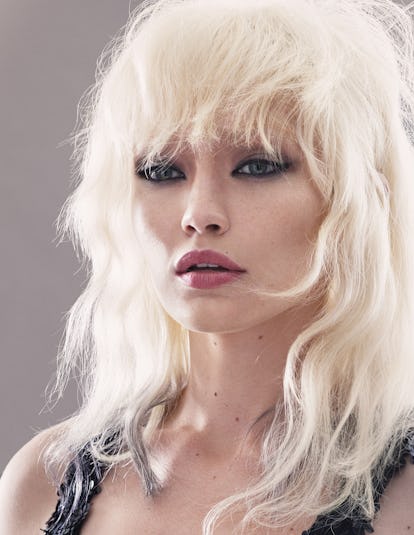 Photograph by Mert Alas and Marcus Piggott; Styled by Carlos Nazario.
Gigi Hadid is the all-American girl: polite, energetic, beautiful, and the daughter of two immigrants—a Scandinavian mother and a Middle Eastern father. She grew up in Malibu, a leggy blonde who played volleyball and rode horses. When she was 2 years old, she started modeling for Baby Guess, and by the time she was 5, her face was on a billboard across from the Beverly Center in central L.A. It made her happy then, but things changed later as her fame skyrocketed. "When I know I'm on a billboard, I can't even go near the block," she told me once. "I get hot sweats. I ask my friends to send pictures for me because I can't go anywhere near it."
She grew up surrounded by famous and powerful people: She is closely connected to everyone from the Kardashian-Jenner clan to four presidents of the United States. As a girl of the world, even before she was a celebrity, Gigi could have easily become jaded and spoiled. But, luckily, she has always followed a bit of sage advice: "You better be the nicest, most hardworking person in the room," her mom, Yolanda Hadid, a former model and one of the Real Housewives of Beverly Hills, told young Gigi, "because if you're not, then there's always going to be someone prettier, nicer, and more hardworking."
So, on an unseasonably cold fall day, at 11 a.m., Gigi arrived at a photo studio to shoot our cover. That same morning, she had landed in New York on an overnight flight from Brazil, where she had been working, and had stopped at home for a quick shower. I half-expected her to be jet-lagged or cranky, but she was upbeat and bubbly. In jeans, sneakers, and a zippered warm-up jacket, Gigi looked like she was still in high school, heading off to volleyball practice.
If you had a superpower, what would it be?
Teleportation. Yesterday, I was shooting in Brazil, and now I'm shooting in New York. If I could just snap my fingers and be right where I need to be, things would be so much better for me.
Would you ever want to be invisible?
Something that I think about a lot is that I kind of took anonymity for granted. When I first moved to New York, I loved walking down the street. Now when I do that, I wish I could be invisible. Sometimes, I think about wearing wigs, but I don't want to be seen in a pink wig and for people to be like, Oh, my God, she's going insane! So I stay in my house.
Growing up, what posters were in your bedroom?
I was a rider, so I loved Olympic horses. I had horses on my wall. When I was a kid, I listened to Josh Groban, Michael Bublé, and Andrea Bocelli, but I don't think I had posters of them. I did have a Kobe Bryant poster. And I think I had a Kobe trash can, too.
A side note: The last time we spoke, Gigi told me that her best birthday party ever was on her 13th birthday. Her parents brought her and some friends to a Lakers game, and she dressed like a superfan: She wore a yellow-and-purple wig, her braces were yellow and purple, and she had on her very own Kobe uniform. Years later, at a Taylor Swift show in L.A., Gigi finally saw Kobe in person. "Taylor was like, 'Go over. Say hi,' " Gigi recalled. "And I couldn't. Kobe Bryant is one of the only people who make me starstruck."
Did you ever wear your superfan costume for Halloween? What was your favorite Halloween costume?
I wore my Kobe uniform to school. It wasn't a costume! A couple of years ago, I was Sandy from Grease for Halloween—the version of Sandy at the end of the film.
Dirty Sandy!
Yes! I was dirty Sandy! I had a little unlit cigarette in my mouth, the teased hair, the red lip, and the smoky cat eye. I felt really badass.
What was your first pet's name?
Angel. My cat.
And what street did you grow up on?
East Valley. So: Angel East Valley is my porno name. Good to know.
Since this is our Holiday issue, what is your favorite holiday memory?
Being in the kitchen cooking with my family. We all like to prepare a different dish, and I always do a crazy dessert buffet where I make trains out of candy and little snowman cupcakes. But my first memory comes from a photo: When I was a baby, my father put me in a massive cooking pan with vegetables. It looks like I'm about to be boiled as a soup.
You won MasterChef for cooking, and you also bake—people are rarely good at both, since they require two very different mind-sets: Cooking is instinctual, and baking needs to be exact.
I like both. My favorite thing with cooking is to always try to make something new. I will ask my boyfriend Zayn Malik, "What do you want today?" and I'm pretty good at pulling it off. On my days off, cooking is something that keeps my mind going without having to think of too many serious things.
A digression: Hadid is a connoisseur of the hamburger. On MasterChef, she decided to make a burger to impress Gordon Ramsey, the tyrant chef who is known for his hamburgers. "He's the king," Hadid said. "I knew if I impressed him with my burger, I would win. And I did."
Do you have any irrational fears?
I'm cool with spiders and heights and clowns. But I don't like getting out of the shower and for the toilet seat to be open. I'm like, I have water on me, and the toilet has water in it, and I just won't shower with the toilet open. I guarantee now you're going to look at the toilet and it's going to make you feel weird if it's open while you shower.
Do you have a secret skill?
At the movies or on TV, I can always figure out the murderer. I studied criminal psychology in school, and people know that all my favorite TV shows are that kind of psychological puzzle, usually involving a murder.
Maybe you can become a cop!
Maybe not a cop, but a profiler. I would like to do that. Not many models go on to solve crimes!
For now, catching criminals will have to wait. An assistant interrupts us to tell Hadid that she has to start hair and makeup—the photographers Mert Alas and Marcus Piggott are transforming her into Debbie Harry, circa 1975, when the singer was the reigning queen of punk. Earlier, Gigi had stared intently at a corkboard covered in photos of Harry from that time.
"I've always studied how models made pictures," she told me. "It's always been important to me to make a picture better. I can look at a shot and see where I fit into it, what I can add to the picture. I don't want to be just another person on the page." She paused. "I want people to see the new picture with me and one day remember it the way we remember these pictures of Debbie Harry."
Iconic? I asked.
"Iconic!" Gigi said. "What else is there?"
Gigi Hadid Transforms Into Debbie Harry, Queen of Punk
Photograph by Mert Alas and Marcus Piggott; Styled by Carlos Nazario.
Gigi Hadid wears a Chanel tank.

Photograph by Mert Alas and Marcus Piggott; Styled by Carlos Nazario.
Gigi wears Isabel Marant top, pants, and sandals; Raen sunglasses; Sasha Samuel earrings.

Photograph by Mert Alas and Marcus Piggott; Styled by Carlos Nazario.
Gigi wears Gucci dress and bracelet.
Gigi wears Mert & Marcus 1994 x DSquared2 jumpsuit; Eres bra; Intimissimi boy shorts; Alexander McQueen boots.

Photograph by Mert Alas and Marcus Piggott; Styled by Carlos Nazario.
Photograph by Mert Alas and Marcus Piggott; Styled by Carlos Nazario.
Gigi wears Mert & Marcus 1994 x DSquared2 top and pants; Eres bra; Isabel Marant sandals.

Photograph by Mert Alas and Marcus Piggott; Styled by Carlos Nazario.
Photograph by Mert Alas and Marcus Piggott; Styled by Carlos Nazario.
Gigi wears Alexandre Vauthier dress.

Photograph by Mert Alas and Marcus Piggott; Styled by Carlos Nazario. Casting by Edward Kim at the Talent Group; Model: Gigi Hadid at IMG Models. Hair by Tomi Kono for R+Co at Julian Watson Agency; Makeup by Diane Kendal at Julian Watson Agency; Manicure by Deborah Lippmann for Deborah Lippmann at Starworks Artists. Set design by Devin Rutz. Produced by Leonard Cuinet-Petit and Silvia Nicoletti at Across Media Productions; Retouching by Dreamer; Fashion Assistants: Vesper Wolfe, Szalay Miller, Kendall Cordes; Tailor: Thao Huynh at 7th Bone Tailoring.