How To Do Monochromatic Millennial Pink Makeup Like Gigi Hadid
The supermodel proves that millennial pink is still alive and well.
---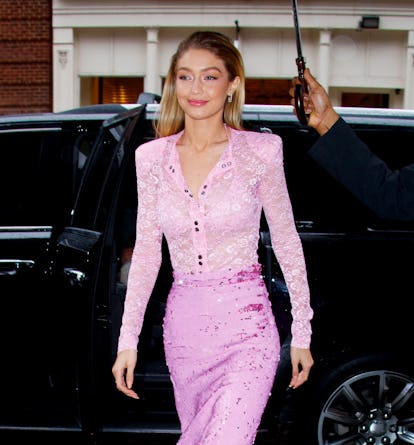 Jackson Lee
While the final days of the fall season still lay ahead of us, supermodel Gigi Hadid seems to already be ready for the spring. Stepping out on Monday morning in a show-stopping all pink ensemble during an appearance on The Today Show, the Maybelline model made quite the colorful entrance—but it wasn't just her matching Nina Ricci embellished rose colored blouse and skirt that had heads turning. Rather, it was an effortless spin on pink beauty, with coordinating eyes, lips and cheeks, that made the most lasting impression.
Wearing her signature sleek cat eye with a soft dusting of pink colored eyeshadow, along with perfectly rose stained cheeks and a glossy Barbie pink lip, Hadid's modern and feminine take on monochromatic beauty is definitely a look worth stealing for the holidays. It's also one that comes runway-approved: everywhere from Dior to Gucci, opted for one-color looks, and if there is anyone who can transform runway beauty into real life, it's Hadid. The model finished of her coordinating look wearing her golden blonde locks swept back in soft waves with healthy, radiant skin and a polished nude manicure.
With the recent launch of her highly anticipated Gigi Hadid x Maybelline makeup collection, it is no surprise that the supermodel has been test driving her makeup line, wearing a variety of daring beauty looks on the streets of New York City and London, where she has dilligently been promoting the line by showcasing her favorite looks from her Coast to Coast collection. The long time face of Maybelline has sported just about everything from vibrant red lips (much like the color she named after sister Bella) and bronzed cheekbones to golden smokey eyes and messy top knots, proving herself to be a very worthy spokesperson indeed—not that you had any doubts.
Related: Gigi Hadid's Maybelline Collection Is Out Now, and It Answers Beauty Questions We Didn't Know We Had