Gigi Hadid Sounds Off, After the Paparazzi Threaten to Sue Her
Her lengthy comments got resounding support from Kylie Jenner and Taylor Swift.
---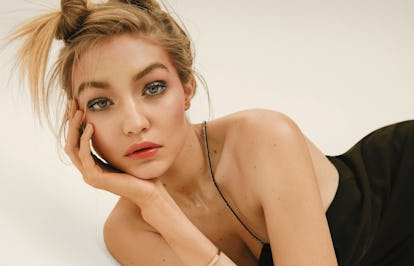 Inez & Vinoodh
On Thursday night, Gigi Hadid let her 40 million Instagram followers know that she was being "legally pursued" for posting a since-deleted photo of herself taken by the paparazzi, which she had smiled and posed for. "I understand that this is part of my job, this was an appropriate situation for 'the press' to attend, and also that this is how paparazzi make a living," she wrote, before contrasting how rare those circumstances are compared to the more often non-promotional occasions of being photographed when, for example, leaving her apartment. "Anytime I feel that my privacy is being unreasonably intruded upon, doing everyday things feel harder to face," she wrote, making the case that such occasions not only cause her discomfort, but are also unsafe, adding that the paparazzi have caused her and many people she knows to get into car accidents.
While Hadid went into the specifics of the photo originally mentioned, saying that she would have been happy to have credit the photographer had she known their name, she also used the opportunity to speak out further about the negative effect that paparazzi have in general. "All this to say that it is not spoken about enough the mental/emotional toll that this kind of pressure has on people, days I (& countless others) have stayed inside because I just don't want my photo taken or to have that attention/suffocation while just trying to live as normally as possible," she continued.
Taylor Swift, Kim Kardashian, Kaia Gerber, and Hadid's ever-supportive sister Bella—not to mention their mom and dad—are among those who've contributed to the 800,000-plus likes since. The comments section has also prompted plenty of support from celebrities, found amid criticism from fans that such is the life of a public figure—a point which Kylie Jenner, for one, was quick to rebuke. "We're 'public figures' and it's legal for them to invade our privacy. it's pretty disappointing," she commented with a sad face emoji. "We gotta change this."
Coco Rocha also left a lengthy comment, arguing that anyone who is photographed should have the right to the photo, making the point that "your image is your brand, it's the entire DNA of your business. You spent years developing this image, they spent 2 seconds clicking a button." Hadid wrote back, seconding Rocha and saying that she will "fight to change" the issue; posted her comment to her Instagram Story; and weighed in on some of the backlash to Rocha. (In response to the comment "this is a problem that affects .005% of the population. So I think it's best that you and all your colleagues get together, including your money, and lobby for a law that protects you," Hadid again pointed out that she considers "the worst part" to be that "this also affects young fans who are being sued for ridiculous amounts for having update accounts !!!!")
Khloé Kardashian also chimed in, getting more than 10,000 likes of her own. "Perfectly said!!!! I was sued for HUNDREDS of thousands for posting a picture of myself," she wrote with an agonized emoji. "I don't understand how it's right that they literally stalk us and taunt us AND they are allowed to sue us for posting OUR OWN PHOTO." Even fellow supermodel Gisele Bündchen, who recently made what was widely seen as a jab at models like Hadid, describing herself as "older" and "wiser" than models who are active on Instagram while speaking with Vogue, which she's since apologized for, jumped on the platform to show her support, adding "That's right !" with a fist emoji.
Hadid's message also resonated so much with Emily Ratajkowski that she reposted it to her own Instagram. Kim Kardashian again liked the photo, along with Amy Schumer. (The latter spoke out on her own Instagram that night in a post that Ratajkowski also liked, featuring a screenshot of an article about Rihanna declining to play the Super Bowl halftime show to show her support of Colin Kaepernick with the caption, "wouldn't it be so cool if @adamlevine and @maroon5 stepped down too? What do you guys think?")
Ratajkowski, who frequently fields criticism online, also responded to comments dismissing the issue, pointing out that fame also comes with wealth:
Hadid's post also notably defended her fans, aka the "Gi-Force", and addressed them directly: "to all the fans who are getting their accounts taken down or being sued themselves, please know that if I could help more I would, and I think about you all the time." She also addressed the paparazzi: "I understand that this is how you make your living, and I respect that this is something I must accept with my job. But there is a line. We are human beings."
Hadid's BFF Kendall Jenner didn't react to the post, though perhaps that was because she'd had enough for the day; just a few hours earlier, she'd sounded off on social media herself, calling out TMZ for their "so beyond unsafe" move of sharing her home's location in showing aerial footage of a reported stalker trespassing on her property. Her series of tweets minced no words in its conclusion: "You should be ashamed of yourself."
Related: Gigi Hadid on the Loneliness of Fame and Her "Guilt of Privilege"