Gillian Jacobs Is Cool On the Outside, A Wreck On the Inside
Or at least her character is on Judd Apatow's new Netflix show, Love.
---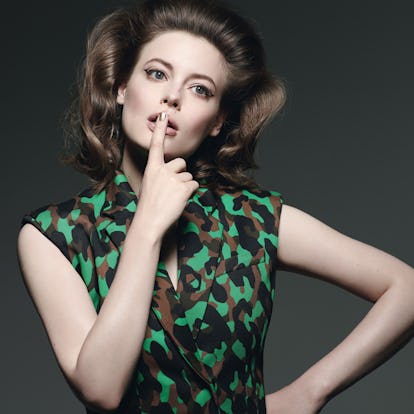 Photographer: Mark Segal Stylist: Sally Lyndley
After starring in the NBC hit sitcom Community, Gillian Jacobs has made the role of Imposing Young Woman her specialty. First there was Mimi-Rose Howard, an artist of unnerving composure, on the HBO show Girls. Now comes Mickey, one half of the central relationship in Love, Judd Apatow's naturalistic Netflix series out now. An emotional wreck with a cool exterior, Mickey has the kind of blasé confidence that strikes fear in the heart of her eventual paramour, Gus (Paul Rust)—and in the head of the actress herself.
"She feels like the type of girl who always intimidated me," says Jacobs, 33, who doesn't share Mickey's predilection for recreational drug use and hot boxing. "I don't smoke weed in real life, so my castmates are teaching me how to do it on the fly. I tend to play characters who are much more experienced in those things than I am."
For Jacobs, who studied at New York's Juilliard, acting has served as a form of social therapy. "It all started because I had no friends and was talking to myself on the playground in elementary school," she says. "The teacher called my mom and said she should put me in an extracurricular activity. Acting class was the first time in my life that I felt understood or accepted."
Hair by Ramsell Martinez for Oribe at Streeters; Makeup by Darlene Jacobs for Lancome at Starworks Artists; digital technician: Justin Ruhl; photography assistants: Seth Gudmunson, Zac Hahn; fashion assistant: Mary Ossovskaya.