5 Minutes With Gina Gilbert
The Serge Normant for John Frieda hair colorist shares her beauty hits and misses.
---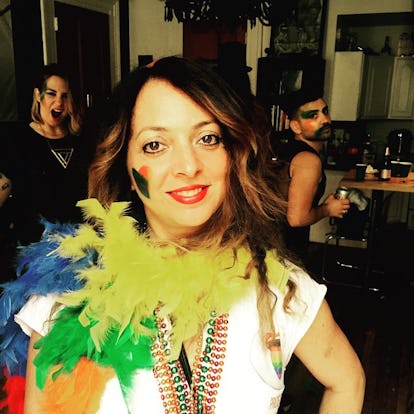 Before going backstage at New York Fashion Week, I popped into the Serge Normant for John Frieda Salon for a quick blonde touch up with colorist Gina Gilbert. And a catch up, of course. Here, the celeb-beloved pro reveals her first beauty memory, the model who changed her life, and more.
First beauty memory: Standing in line in a grocery store when I was 14 and seeing Cindy Crawford on the cover of Vogue, and from then on, I became obsessed.
Worst beauty mistake: Self tanner. Do I really need to elaborate?
What's currently in your purse: Laura Mercier Concealer, Stila lip gloss in Beso 10 and Gucci Lipstick in 190. It's this great semi-sheer plum shade.
Current obsession: Organic Avenue Dragon Breath shot. I take one every morning. It totally energizes me.
Favorite off-label beauty item: Avocados. When you eat avocados, it shows in your hair and your skin. They're so good for you!
Beauty pet peeve: Hot roots. It's how colorists describe brassy, orange color.