Molto Giorgio
After 40 years in fashion, Giorgio Armani has designed enough collections to fill a museum. And so he did.
---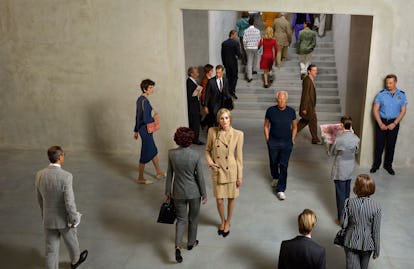 Photographs: Alex Prager Stylist: Robert Rabensteiner
The first time Giorgio Armani visited Milan, he didn't like it. "My father had an office there when I was very young, and I went to see him," the designer recalls. "I was frightened. Milan seemed so big and chaotic compared to Piacenza, the city where we lived. I hated the noise and the crowds. But I did like going to the cinema with my father at the end of the day, and I loved risotto alla Milanese."
Armani, now a remarkably youthful 81, with a deep tan and cropped white hair, moved to Milan in 1949, when he was a teenager, originally to study medicine, and has lived there ever since. "It was only then that I realized what an important city it is," he recounts, sitting backstage after showing his Emporio Armani fall collection this past March. "Milan is a true metropolis: strong and fearless but welcoming, too. Little by little, I came to realize that I could become someone here."
And so he has. After forsaking medicine for fashion, Armani, or King Giorgio, as the Italian tabloids call him, has become one of Milan's most famous citizens. Fashionistas may sniff at the conservatism of some of his collections, but he has an indelible place in fashion history as the man who revolutionized the working wardrobe in the late 20th century and wrote the rule book on red carpet dressing. As the sole owner of Italy's second-biggest luxury empire (outsold only by Prada), he is one of the world's richest fashion designers. And Giorgio Armani is among the most valuable global brand names: one that spans hotels, restaurants, cosmetics, furniture, lighting, perfume, and spectacularly expensive yachts.
Giorgio Armani, photographed in June 2015, at his museum in Milan.

Photographs: Alex Prager Stylist: Robert Rabensteiner
Models all wear looks from the Giorgio Armani archive. Costume designer and stylist: Callan Stokes. Produced by Max Brun and Lola Toscani at Art + Vibes.
The exterior of Armani/Silos. Courtesy of Armani.
An overhead view of the museum's interior. Courtesy of Armani.
Evening dresses grouped thematically in the Exoticism galleries. Courtesy of Armani.
Evening dresses grouped thematically in the Exoticism galleries. Courtesy of Armani.
The entry of the museum, with a dress featuring a portrait of Armani. Courtesy of Armani.
One of the Color Scheme spaces. Courtesy of Armani.
Iconic Armani campaign. Courtesy of Armani
Iconic Armani campaign. Courtesy of Armani
Iconic Armani campaign. Courtesy of Armani
Iconic Armani campaign. Courtesy of Armani
Iconic Armani campaign. Courtesy of Armani
Yet fashion is still the heart of his business, which is why Armani spent nearly $55 million in celebration of his company's 40th anniversary on, among other things, a museum dedicated to his collections. Named Armani/Silos, after the abandoned storage containers it occupies, which were built by Nestlé in the 1950s, the museum is located opposite the Tadao Ando–designed Armani Teatro, southwest of the city center, where Armani stages his fashion shows. It opened to the public in early May to coincide with the start of Expo Milano, the gigantic World's Fair that runs through October 31, with King Giorgio as its official fashion ambassador. "The idea of the museum is to show my work since the start," Armani explains. "And I wanted to show all of it, not just to choose between different pieces. They are grouped together in themes—minimalism, androgyny, black and white, graphic, flowers, and so on—from the earliest designs to the most recent ones."
The story told by Armani/Silos begins in 1975, when Armani, then an assistant designer at Nino Cerruti, and his boyfriend, Sergio Galeotti, sold their Volkswagen Beetle to finance the opening of a fashion house. Armani's early collections had an immediate impact, lightening and softening the rigid, chunky career wear that existed for women in the 1970s. "At the time, he was completely radical," says the British designer Paul Smith. "Soft tailoring. Rounded shoulders. No front crease in the pants. He used incredible fabrics, like textured crepes, and completely new detailing."
Thanks to a smart licensing deal with GFT, the Italian textile group, Armani was able to capitalize on the excitement over his designs. He also had his share of lucky breaks, like a request from the American filmmaker Paul Schrader to dress a young Richard Gere in American Gigolo. In 1982 Armani appeared on the cover of Time magazine with the headline Giorgio's Gorgeous Style. He and Galeotti made a great double act, with Armani focusing on the collections and Galeotti managing the business. But in 1985 Galeotti died of AIDS, leaving Armani heartbroken. Unable to bear the thought of replacing him in the company, Armani took on Galeotti's responsibilities, teaching himself the codes of business and eventually learning to relish his new role. As a designer, he focused on refining the discreet elegance that had become his signature.
"Armani created a modern uniform for men and women who want to be effortlessly and appropriately—that's a key idea for him—well dressed," says Sonnet Stanfill, a fashion curator at the Victoria and Albert Museum, in London. "His aesthetic is very Milanese: pure, pared-down, always beautifully made." Better than anyone, Armani realized that many of the people who can afford to buy expensive clothes are neither under 25 nor size zero, and that they crave unfashionable qualities like comfort and anonymity. Designing subtly colored and cut suits that flatter less-than-perfect figures may not ignite the blogosphere, but it can be immensely lucrative.
The conventional way to open a privately funded museum is for the founder to sign checks and entrust a crack team of architects, interior designers, curators, and archivists to realize his or her vision, but that isn't Armani's way. The man who still scrutinizes every single product and advertisement that bears his name, and not only finesses the styling of each look in his runway shows but also does preparatory sketches for the makeup and tells the models how to pose, made a unilateral decision to appoint himself the architect, interior designer, curator, and de facto director of Armani/Silos.
A team of specialists was assembled to help him, but Armani led the process, spurring it on at breakneck speed. The legal negotiations with Milan's city planners proved so arduous that he did not get the go-ahead until Christmas Eve 2014. Construction crews then raced to finish the building in time for several hundred Armani devotees—including the Italian screen sirens Sophia Loren and Claudia Cardinale, contemporary Hollywood power players like Cate Blanchett and Leonardo DiCaprio, and the Italian prime minister, Matteo Renzi—to descend on Armani/Silos for its opening night, April 30, before crossing the road to watch a special 40th anniversary couture show.
The celebratory show was a triumph, with Blanchett chatting up Loren in the front row and Tina Turner leading the applause. Even the usually restrained Armani seemed overcome when the audience rose for a standing ovation. After saying his goodbyes, Armani, who had hosted a dinner the previous night (Tom Cruise was one of the guests), was chauffeured away to prepare for a visit to Expo the next day, followed by a night at La Scala to attend the premiere of a production of the Puccini opera Turandot.
Armani/Silos is not the only major architectural project to have opened in Milan during Expo 2015. The World's Fair, an event last held four years ago, in Shanghai, has been regarded by the Milanese as a sorely needed opportunity to put their city and nation back on the map after a grueling period of economic recession and the scandals of the former prime minister -Silvio Berlusconi's "bunga bunga" regime. "This country has been through a hell of an ordeal, and now we are finally seeing the first signs of recovery," observes the Milan-based artist Francesco Vezzoli. "Expo doesn't address the fundamental problems, but it should act as a catalyst by bringing a new energy to Italy. This year, Milan has felt like a bourgeois family polishing the silver before rich relatives come to visit."
The preparations for Expo—where 140 countries staged exhibitions on the theme "Feeding the Planet, Energy for Life"—were marred by allegations of corruption, and the opening was spoiled by the failure to complete some pavilions, including Italy's own, on time. Yet 11.3 million tickets were sold in the first 10 days, and visitors flocked to Milan to see the other additions to the city. North of the center, a mammoth business development has emerged between Porta Nuova and 10 Corso Como, the famous fashion store. To the south, Miuccia Prada and her husband, Patrizio Bertelli, opened the Fondazione Prada contemporary-art center in a former 1910s distillery. Designed by the Dutch architect Rem Koolhaas, it presents works from the foundation's extensive modern- and contemporary-art collection, as well as temporary shows and special commissions, and features a bar designed by the filmmaker Wes Anderson as a tribute to 1950s Milanese cafes.
Had he wished, Armani could have hired a starchitect like Koolhaas to work on Armani/Silos, as he did in 2000, when he appointed Ando to design his Teatro. "Ando is fantastic, just fantastic," Armani declares. "But this museum was a very different project. We wanted to demolish the building and start again from scratch, but we weren't allowed to and had to conserve the structure. Besides, I wanted my clothes to be the stars of the show, not the architecture. The simpler the building, the better."
Similarly, Armani has collaborated with acclaimed curators on past exhibitions, including Harold Koda, the curator-in-charge of the Costume Institute at the Metropolitan Museum of Art, and Germano Celant, the artistic director of Fondazione Prada, who both worked on his blockbuster retrospective in 2000 at the Guggenheim Museum, in New York. "They did a wonderful job," Armani acknowledges. "But it is very, very difficult for me to delegate decisions about my designs, because each piece is like a son to me. Every time Koda decided to leave something out, I felt as though I'd been stabbed in the heart."
Designing and curating the new museum himself enabled Armani to retain sole control. He has restored the 48,000-square-foot structure and divided each of the first four floors into a sequence of galleries, where 600 looks are organized thematically. "At the time of the Guggenheim show, I liked the idea of challenging preconceptions by showing less predictable aspects of the collections," Armani says. "This time, there are more classic pieces, but mixed with the others. We don't want it to be boring." The top floor is split between a display of shimmering evening dresses, an education space, and a digital archive where visitors can discover the evolution of individual outfits, from Armani's preparatory sketches to the runway shows, red carpet appearances, and advertisements. Armani is planning to restore the surrounding buildings, which he also owns, using one to house his archive and others as offices. He then intends to relandscape the road and sidewalks.
"In Italy, Armani is a hero, almost a saint," Vezzoli asserts. "He's one of the smart, creative entrepreneurs who have replaced politicians as our national heroes. There are no politicians for Italians to believe in, so they have put their trust in Giorgio Armani and Miuccia Prada." As if to prove Vezzoli's point, Prime Minister Renzi attended the opening party of the Fondazione Prada three nights after the Armani/Silos bash. The Italian postal service marked Armani's 40th anniversary by issuing a commemorative stamp bearing one of his sketches of the museum.
Forty years after founding his label, Armani shows no signs of slowing down. If he has formulated a succession plan, he has yet to share it. There is more work to be done on Armani/Silos, but his schedule should be a tad easier now that the museum has opened. Armani can, presumably, look forward to spending a little more time at his house on Pantelleria, an island near Sicily, and to more frequent visits to one of his favorite haunts in Milan, Anteo Spazio Cinema, an art house theater near the soaring towers of Porta Nuova.
"When people see me taking my seat there, they look puzzled, as though they're thinking, Is it really him?" Armani says, chuckling. "Then they come up and ask, 'Are you really Giorgio Armani?' and offer to shake my hand. They're always very nice, and very Milanese. You know, my heart will always be in Piacenza, but I am Milanese too."
Models all wear looks from the Giorgio Armani archive. Costume designer: Callan Stokes. Produced by Max Brun and Lola Toscani at Art + Vibes. Hair by Franco Chessa at W-Management; makeup by Arianna Cattarin at W-Management; manicures by Annie Ghizzoni at W-Management. Photographer's studio director: Josie Heiman; digital technician: Andrea Cederle; lighting technician: Leonardo Dragonetti. photography assistants: Tyler Parker, Francesco Zigliotto. fashion assistant: Stephanie Kherlakian.