Girls Gone Wild
Lena Dunham and co. celebrated the show's third season with a bash in New York.
---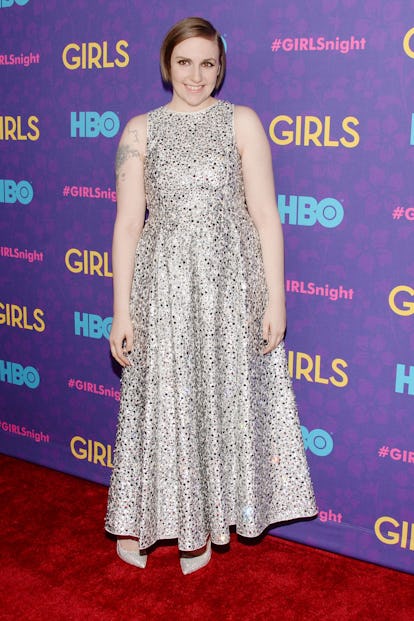 Part of the appeal of Girls has always been the accessibility of its four main characters, who—while lovely and intelligent—do not sport high fashion garb on high maintenance bodies. But the show's enormous success means that the Girls actresses have now become quite chic in real life, a fact that was readily apparent at the premiere of the show's third season, held Monday night at Jazz at Lincoln Center's Rose Theater. There on the red carpet was Anna Wintour making a beeline for the series' creator and star Lena Dunham, who sparkled from shoulder to ankle in a silver Rochas dress. The slender Allison Williams (the perfectionistic Marnie) gracefully moved from reporter to reporter in crystal-studded Dior. These ladies have become well-versed in red carpet glam—with good timing, as the show is nominated for two Golden Globe awards this coming Sunday.
"For the first season premiere, I almost threw up in the car because it was my first time doing red carpet," said Zosia Mamet (Shoshanna onscreen), who also waited until 2 a.m. last year to choose her Golden Globe ensemble. Needless to say, she'll be better prepared this time around.
Jemima Kirke, who plays the bohemian Jessa, has had almost the reverse experience. After posing for a photographer in the canned "hand on the hip" pose she explained, "I think I got worse at it. In the beginning I was like, this is great! Just smiling at the camera. And then I saw the pictures and I was like, oh no, that's why people practice. So now I pose."
Dunham, meanwhile, seemed laissez-faire about the whole deal. "I've always loved fashion. People haven't always loved my fashion, but I love fashion. And you begin to take it less seriously," she said, adding, "I often change shoes. I'm not a heels person."
No kidding. As she introduced the screening of three episodes to a packed auditorium, she slipped off her white pumps saying "I feel comfortable with you guys" and proceeded to deliver her speech barefoot.
At the after party, guests raided buffets of friend chicken and waffles and Brussels sprouts and bars doling out pink-hued Salty Dog cocktails. A huge installation of a G train car and subway platform boasted billboards for Girls (and implicitly for the Greenpoint neighborhood in which much of the show takes place). But it seems not all attendees have been seduced by the Brooklyn as it's depicted in the show. One middle-aged couple, picking at kale salads, eyed the set-up warily.
"What's that?" asked the man.
"It's the G train," said the woman. "It takes you from Queens to Brooklyn. It's dangerous."
Lena Dunham in Rochas. Photo by Patrick McMullan.
Allison Williams in Dior. Photo by Patrick McMullan.
Jemima Kirke. Photo by Patrick McMullan.
Judd Apatow. Photo by Patrick McMullan.
Zosia Mamet. Photo by Patrick McMullan.
The G train installation at the Rose Theater. Photo by Patrick McMullan.
Jenna Lyons. Photo by Patrick McMullan.
Andrew Rannells. Photo by Patrick McMullan.