Allow Gisele Bündchen to Guide You Through a Meditation
The supermodel, environmentalist, author, and mother of two credits the practice with providing calm to her days—and has partnered with an app to bring this peace to others.
---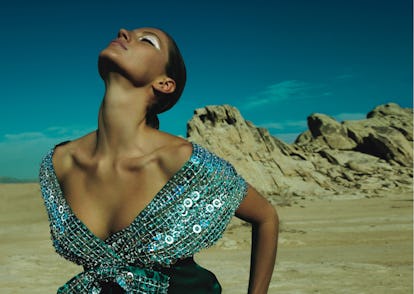 While 2020 is hard at work rolling out the next series of "now what?" moments, tending to your emotional and physical well-being is vital. This is something Gisele Bündchen knows—and according to the supermodel, meditation has always been a priority. During the coronavirus pandemic, usage of apps like Calm and Headspace have surged since mid-March, as people cooped up at home, (including Bündchen herself,) have turned to meditation, seeking some relief.
But Bündchen found solace in meditation during trying times, even before quarantine, she said. To urge others to get into the practice, the supermodel has partnered with Insight Timer—a free meditation app she's been using for the past four years, for a series of guided meditations; including upcoming live meditation events to coincide with World Mental Health Day in English on October 10th, and a second on October 19th in Portuguese.
"As human beings, it's easy to allow our days to get away from us. We spend so much time being 'on,' sometimes we forget to take care of ourselves," Bündchen told W. "I'm no different. There have been periods in my life when I realized I needed to take a step back, reset, and ground myself. Meditation does that. Every morning, it centers me and helps me get ready to take on the day."
If you're not familiar with Insight Timer, it is currently the world's largest free meditation app for anxiety, stress management, and sleep. There are over 55,000 guided meditations in 44 languages with a variety of instructors presiding—including the Dalai Lama himself. Bündchen's first guided meditation "Hope in Times of Uncertainty" is available now on the app.
The mother of two credits meditation with not only transforming her life but creating balance—and if there's anyone that can excel at creating some semblance of equilibrium in their lives, it's Bündchen, who wears the hats of mother, wife, supermodel, author, and environmentalist simultaneously.
When it comes to meditation, Bündchen says she is a realist; she's well aware of the challenges that complete focus and concentration can bring when people are first committing to a meditation routine.
"For people who are thinking about starting a meditation practice, take it slow," she said. "Remember, it's like introducing any new habit to your routine. At first, it requires some discipline, but once you start feeling the benefits, it becomes automatic and effortless. I also feel that guided meditations are often the best way to start. That's why I created 'Hope in Times of Uncertainty,' to help people get started on their paths."
When asked how Bündchen manages to stay sane while balancing all of the obligations in her life, (specifically in the mornings with small children,) she pointed to meditation as the sacred moment she likes to set aside to prepare and set the tone for the day. "I like to start my morning on a positive note," she said. "Before the kids get up, I always take a few minutes to meditate. Meditation lets me check in with myself to see what I need, mentally and physically, that day. Once I find that clarity, I feel stronger. In turn, that makes me a better mother, wife, sister, daughter, and overall person. Meditation helps me become the best version of me."