After Tom Brady Skipped White House Celebration, Gisele Bündchen Tweets About Anti-Trump Protest
Donald Trump can't be pleased.
---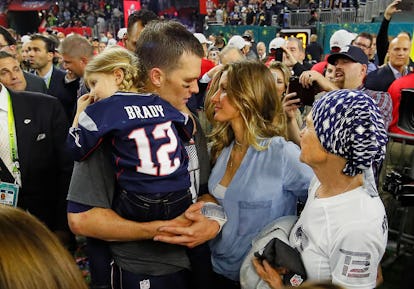 Kevin C. Cox/Getty Images
Marriage is all about compromise, and it seems that one compromise Tom Brady is making for Gisele Bündchen is the decision to stay out of it. President Donald Trump celebrated the New England Patriots at the White House on Wednesday, but the Super Bowl winners were missing their star quarterback, with Brady skipping the ceremony. The very same day, Bündchen took to Twitter in a since-deleted message to express her support for next weekend's People's Climate March, which is set to protest the environmental policies of the Trump administration. She wrote, "On April 29th in Washington- D.C. – March for climate, jobs, and justice. To change everything, we need everyone." Meanwhile, Brady sent out a statement explaining his absence from the White House event in vague terms. "In light of some recent developments, I am unable to attend today's ceremony, as I am attending to some personal family matters," he wrote.
Might those personal family matters include showing solidarity with his wife? Earlier this year, Brady revealed that he agreed to stop talking about politics publicly at Bündchen's behest. "I talked to my wife, and she said I can't talk about politics anymore…I think that's a good decision, maybe for our family," he said. Those comments came after Brady found himself unexpectedly central to the 2016 election, as Trump claimed him as a "great friend of mine," saying that Brady had assured him of his vote. Around the same time, Bündchen denied that she and her husband were Trump supporters.
Whatever relationship Brady and Trump once had, it seems to be over. Despite praising a number of individual players at the White House ceremony, Trump did not mention Brady once, according to the Daily Intelligencer.
There, of course, remains the possibility that the timing of Bündchen's protest post was coincidental, and that the athlete was truly unable to attend the ceremony. When some of his fellow Patriots announced their intention to skip the event for political reasons earlier this year, Brady reflected on his past White House visits, saying, "Putting politics aside, it never really was a political thing. At least, it never was for me." As the Daily Intelligencer notes, Brady's mother is presently battling cancer, a possible candidate for the cited "personal matter."
Brady or no Brady, it is clear that the New England Patriots as an organization remains interested in a relationship with Trump. Patriots coach Bill Belichick has been constant in his support for Trump, never explicitly endorsing him but decidedly singing his praises in a letter touted by Trump before the election. Meanwhile, the Patriots' owner, Robert K. Kraft, reportedly contributed $1 million to Trump's inauguration.
Related: Gisele Bündchen and Football: A Timeline of Sideline Cheering and Elevator Rants
What's Trending on W: