Givenchy's "Three-Toed" Heels Are a Reference to Alexander McQueen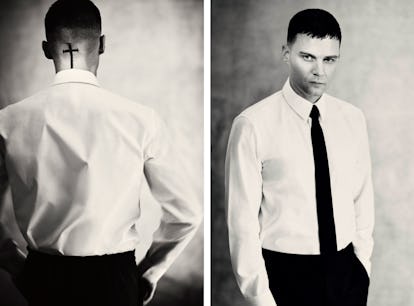 Paolo Roversi
Yesterday, Matthew M. Williams made his highly anticipated debut as the latest creative director at Givenchy by unveiling a crisp look book which laid out not only both the men's and women's spring 2021 collections, but his vision for the storied French brand. Williams, a former Kanye West associate as well as the man behind streetwear-favorite brand ALYX, certainly brought his of-the-moment bonafides to house. There were chunky slide sandals, horned baseball caps, belt bags, and, in a nod to both a recurring motif in the house's history and the love locks of Paris, an in-depth meditation on the stylistic possibilities of locks.
Though, there was one recurring detail that social media really, well, locked onto: the "three-toed" heels Williams proposed for women.
Again and again, models wore strappy heeled sandals that divided the digits into three distinct segments. Stylist Lotta Volkova highlighted the effect by pairing the shoes with brightly colored socks. The effect was sort of like Margiela's signature Tabi boot, itself inspired by traditional Japanese worker shoes, which separate the big toe from the rest, resulting in a sort of hoof effect.
The reactions on Twitter to the collection inevitably focused on the shoes.
We assume that most (but perhaps not all) costumers will wear the shoes without their corresponding socks, which might make the shoes seem a little less extreme.
Although you might assume Williams was directly referencing the Tabi, or perhaps giving a nod to the Young Thug song "Givenchy," which includes the lyric, "Givenchy my toes and my bros and my hoes," his inspiration actually came from one of his predecessors at the house: Alexander McQueen.
McQueen served at Givenchy from 1996 to 2001 before returning to concentrate solely on his own burgeoning brand. But he certainly left his mark at the house of Hubert.
In fact, Williams took the three-toed motif directly from McQueen's fall winter 1997 collection for the house, though he added his own signature heel and decidedly more attention-calling styling.
Related: Kanye West and LVMH-Approved: Meet Designer Matthew Williams