GmbH Casts European Immigrants in SS18 Campaign
"We wanted to see brown men and women like ourselves — something we never saw growing up."
---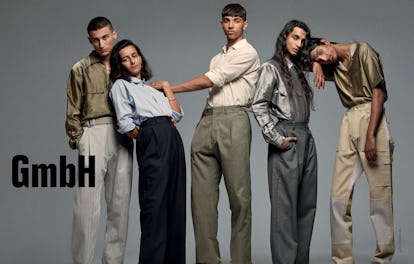 GmbH
Fashion and politics have becoming increasingly intertwined over the past year in part thanks to rapidly changing political landscape in America and abroad. Now, Berlin-based GmbH is the latest brand to draw inspiration from their beliefs. For Spring 2018, the design duo, who were nominated for last year's LMVH prize, cast solely European immigrants in their campaign.
Aside from putting forward an inclusive campaign — which fashion could certainly use more of, despite diversity peaking in print ads last fall — GmbH also wanted to call attention to Europe's immigrant roots. "We thought of the expression 'Gastarbeiter' commonly used in Germany, meaning guest worker – as visitors – they were expected by their host countries to only stay temporarily, but they never left," designers Serhat Isik and Benjamin Huseby tell W in a statement. "We, the children, are at once European, but also told we do not truly belong. In Denmark the parliament recently declared that children of immigrants are not to be considered Danish, a sentiment not unfamiliar to us. 'Where are you from? No, but where are you really from?"
The campaign, which is also personal to GmbH's designers as both hail from immigrant parents, is also about their own definition of family. "For our SS18 campaign we wanted to really show the children of these immigrants that helped rebuild Europe after the war in all their beauty," reads the statement. "We cast models and friends we thought in various ways could embody our idea of 'Europe Endless'. Wether Jeenu, who is from Oslo with Sri Lankan parents, Sahar from Copenhagen of Azerbaijani heritage or Moses from London who is part Jamaican and part Indian. We shot in a deliberate classic Avedon studio style, thinking as a young brand: why not aspire to something more than just be 'street and cool'. But also we wanted to see brown men and women like ourselves, in a campaign like this, something we never saw growing up. It's really like a GmbH take on Avedon's classic campaigns for Versace from the 80s. But we have no supermodels, or big budget – just our family."
This isn't the first time a brand has put the spotlight on immigrant models to send a political message. Last February during fall 2017 fashion week, Muslim designer Anniesa Hasibuan presented a show modeled solely by immigrants as well as second-generation children of immigrants, as Allure reported. For GmbH, their connection to immigrants goes deeper than just their ads, as the designers' parents inspired their Spring 2018 collection as well.
"The collection started as always by looking for inspiration in our everyday lives," the designers said in their statement. "We started thinking about our fathers and their relationship to dressing as migrant workers coming to Europe to reconstruct Europe after the war. We thought about their idiosyncratic sense of dressing, but also the common threads in the style of men wether from the Middle East or other predominately Muslim countries. We thought of colors, textures and material that might remind us of them, Serhat's grandad and dad from Turkey working in the mines in Germany, but still dressing in an aspirational way, or Benjamin's dad from Pakistan working in his video store in Norway, obsessed with 80s Italian fashion."
Related: I Am an Immigrant: Fashion's Biggest Names Issue a United Statement