The Golden Touch
Dressing like Dree—Hemingway, that is—just got a little bit easier.
---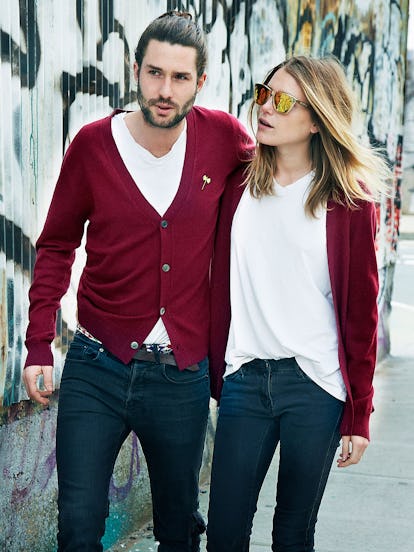 For British designer Peter Semple, fashion isn't about quantity, it's about quality—a point he has made perfectly clear with his newest project, co-helmed by his brother Richard, Golden Axe London. "We liked the idea of making a product in very short runs to keep the line exclusive and special for the people who receive them," Semple explained. "We want our customer to feel that the cardigan they buy was made specifically for them." And with each delicately embroidered, hand-numbered cashmere sweater made in only four colors (British classics: burgundy, navy, black, and racing green), two shapes (button and shawl), and available in as few as two unisex pieces per run, that has become a reality.
Already a favorite of London's style set—including model Poppy Delevingne—it's no surprise that Semple cast New York-based It couple Leadbelly owner Phil Winser and the model/actress Dree Hemingway in the brand's evergreen lookbook. "I think they both have such great taste," Semple said, "I went to an event with them once, and Dree was wearing very elegant leather trousers and heels with a scruffy, old Adidas Equipment t-shirt." That kind of mix-and-match with confidence is what it's all about. New York, get ready.